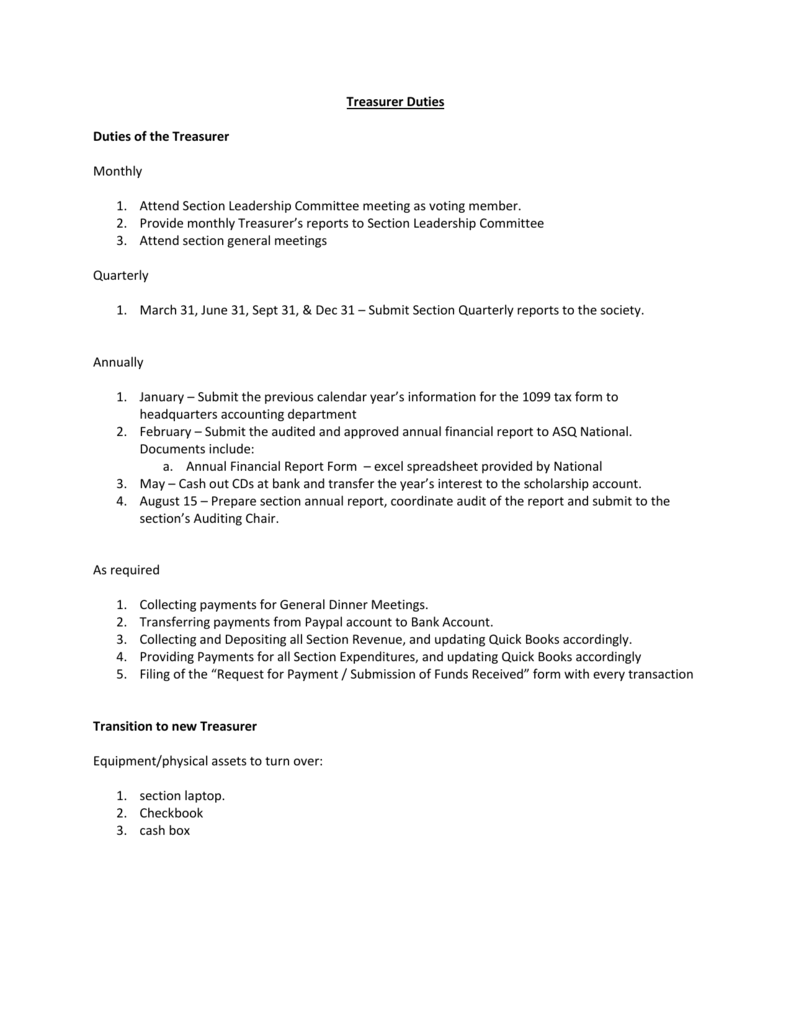 Treasurer Duties
Duties of the Treasurer
Monthly
1. Attend Section Leadership Committee meeting as voting member.
2. Provide monthly Treasurer's reports to Section Leadership Committee
3. Attend section general meetings
Quarterly
1. March 31, June 31, Sept 31, & Dec 31 – Submit Section Quarterly reports to the society.
Annually
1. January – Submit the previous calendar year's information for the 1099 tax form to
headquarters accounting department
2. February – Submit the audited and approved annual financial report to ASQ National.
Documents include:
a. Annual Financial Report Form – excel spreadsheet provided by National
3. May – Cash out CDs at bank and transfer the year's interest to the scholarship account.
4. August 15 – Prepare section annual report, coordinate audit of the report and submit to the
section's Auditing Chair.
As required
1.
2.
3.
4.
5.
Collecting payments for General Dinner Meetings.
Transferring payments from Paypal account to Bank Account.
Collecting and Depositing all Section Revenue, and updating Quick Books accordingly.
Providing Payments for all Section Expenditures, and updating Quick Books accordingly
Filing of the "Request for Payment / Submission of Funds Received" form with every transaction
Transition to new Treasurer
Equipment/physical assets to turn over:
1. section laptop.
2. Checkbook
3. cash box
Intangible assets to turn over:
1. Transition bank account information and authorization including:
a. cancellation of old bank signature cards
b. authorization of current treasurer's bank signature cards
Records to turn over:
1.
2.
3.
4.
5.
6.
Provide past year's quarterly financial reports to the society.
Provide past year's current financial records.
Provide previous section annual report and audit report.
Provide Bank CD information and renewal dates.
Provide PayPal account password
Provide Quick Books account information and password
Knowledge Transfer:
1.
2.
3.
4.
Provide location for Society Bylaws, Policies and Procedures, and SOA
Communicate 1099 tax form information
Explain GL codes and assigning.
Ensure new Treasurer's personal email account is linked to [email protected] email
address
5. Provide the section local website address (www.indyasq.org) and the path for obtaining the
"Request for Payment / Submission of Funds Received" form along with any other relevant
information.
6. Incoming treasurer should review the information at http://asq.org/member-leadercommunity/positions/voice-of-the-customer/index.html to become familiar with the resources
available.