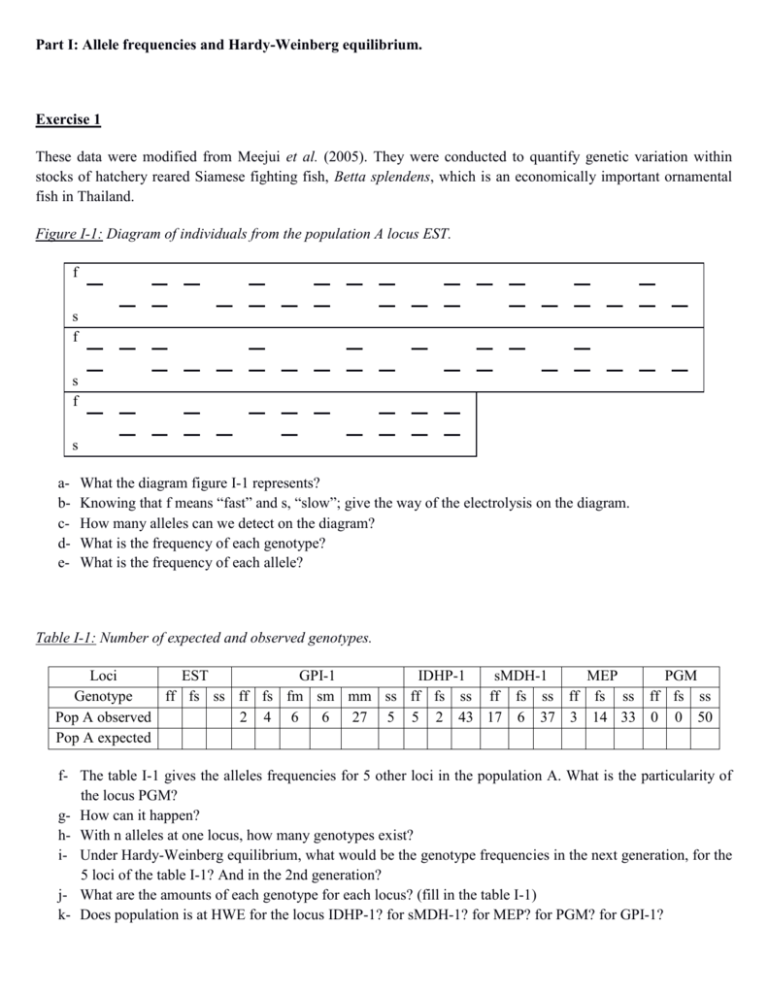 Part I: Allele frequencies and Hardy-Weinberg equilibrium.
Exercise 1
These data were modified from Meejui et al. (2005). They were conducted to quantify genetic variation within
stocks of hatchery reared Siamese fighting fish, Betta splendens, which is an economically important ornamental
fish in Thailand.
Figure I-1: Diagram of individuals from the population A locus EST.
f
s
f
s
f
s
abcde-
What the diagram figure I-1 represents?
Knowing that f means "fast" and s, "slow"; give the way of the electrolysis on the diagram.
How many alleles can we detect on the diagram?
What is the frequency of each genotype?
What is the frequency of each allele?
Table I-1: Number of expected and observed genotypes.
Loci
EST
GPI-1
IDHP-1
sMDH-1
MEP
PGM
Genotype
ff fs ss ff fs fm sm mm ss ff fs ss ff fs ss ff fs ss ff fs ss
Pop A observed
2 4 6
6
27 5 5 2 43 17 6 37 3 14 33 0 0 50
Pop A expected
f- The table I-1 gives the alleles frequencies for 5 other loci in the population A. What is the particularity of
the locus PGM?
g- How can it happen?
h- With n alleles at one locus, how many genotypes exist?
i- Under Hardy-Weinberg equilibrium, what would be the genotype frequencies in the next generation, for the
5 loci of the table I-1? And in the 2nd generation?
j- What are the amounts of each genotype for each locus? (fill in the table I-1)
k- Does population is at HWE for the locus IDHP-1? for sMDH-1? for MEP? for PGM? for GPI-1?
Exercise 2
In their study, published in Nature (1964), Spencer et al. found three allelic variants (A, B, C) of the red cell acid
phosphatase enzyme in a sample of 178 English people. All genotypes were distinguishable by electrophoresis, and
the frequencies in the sample were:
Genotype
Frequency (%)
observed
AA
AB
BB
AC
BC
CC
9.6
48.3
34.3
2.8
5
0
a- What are the allele frequencies in the sample?
b- Why were no CC individuals found?
Exercise 3
Sine oculis (so) and Cinnabar (cn) are two autosomal recessive alleles in Drosophila melanogaster. They are very
closely linked and can be treated as if they were alleles at one locus. The "heterozygote", so/cn, is wild-type and is
distinguishable from both homozygotes; (so/so has no eyes; cn/cn has white eyes if the stock is made homozygous
for another eye color mutant, brown, bw). In a class experiment 4 males and 4 females of an so/so stock were put
in a vial together with 16 males and 16 females from a cn/cn stock and allowed to mate. There were 20 such vials.
The total count of progeny, classified by genotype, was as follows:
so/so
135
so/cn
359
cn/cn
947
a- How do these numbers differ from Hardy-Weinberg expectations?
b- Suggest a reason for the discrepancy.
Suppose that the allele frequency in these drosophila cultures is 0.5. This is done by putting 10 males and 10
females of each stock in each vial. The supply of so/so females ran out and only 4 were left for the last vial. So, to
preserve the intended allele frequency and numbers of parents, this vial was made up as follows: 16 ♂ + 4 ♀ of
so/so with 4 ♂ + 16 ♀ of cn/cn. The student who got this vial was a bit surprised by what you found.
c- What genotype frequencies would you expect in the progeny?
d- How do these numbers differ from Hardy Weinberg expectations?
e- Suggest a reason for the discrepancy.
Exercise 4
In a sample of 1617 Spanish Basques, the numbers of A, B, O, and AB blood types observed were 724, 110, 763,
and 20, respectively. These blood groups are due to three alleles, IA, IB, and I0, with IAIA and IAI0 having blood
group A; IBIB and IBI0 having blood group B. IAIB having blood group AB: and I0I0 having blood group 0. The best
estimates of allele frequency in the Basque sample are 26.61% for IA, 4.11% for IB, and 69.28% for I0.
a- Calculate the expected numbers of the four blood group phenotypes.
b- Is the population at the Hardy-Weinberg equilibrium for this locus?