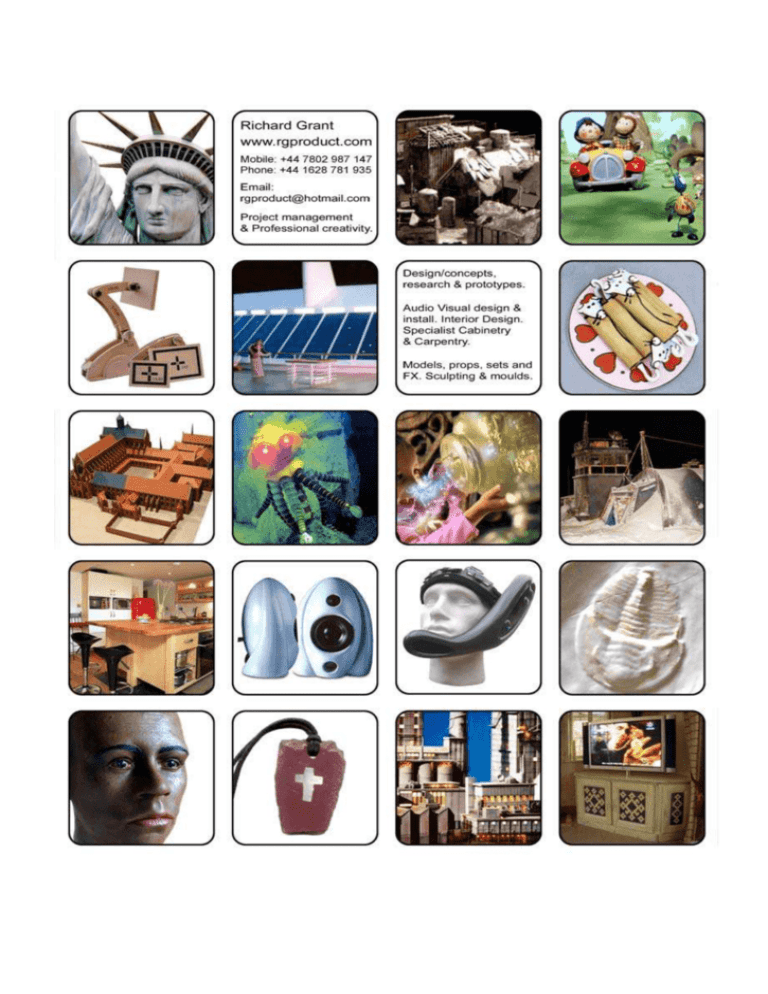 Richard Grant: CV
Email: rgproduct@hotmail.com
Mobile: +44 (0) 7802 987 147
Phone: +44 (0) 1628 781 935
www.rgproduct.com
Profile:
Broad experience of Global multi-discipline creative projects, lifelong creative thinker, maker and enabler.
Technically and conceptually strong across the board. Able to communicate complex theoretical, technical and conceptual ideas to an audience
or face to face.
Areas of expertise include: Interactive + themed show development, Product/interior design, Brainstorming, presentations + pitches, design
engineering, asking the tough questions, Project management and planning, Sales + cross marketing, labour planning, H+S etc.
Excellent negotiator and trouble shooter, Experience with top flight clients and teams/crew.
Example projects:

"Tim Burton/Alice In Wonderland" Disney Europe/533 Agency.
o
Logistics director/Tour Manager for Global Territory Viral marketing Live action Set install.
o
Ensure smooth running of entire show IN/OUT and standby.
o
Design, logistics, technical and H+S input.
o
Liaise with all crew, teams and Disney Territory staff.

"AGOG Creative Effects" – Oxford. Bulgarian based film: Director- Peter Weir.
o
UK based Effects Coordinator; Prepped and specced Three Juggernaut specialist equipment loads.
o
Developed Effects test elements and sourced/commissioned specialist items
o
Paid and haggled for supplied equipment. Company Cheque book Signatory.

"Sarner" Design Director project role. Theme Park, Dark ride/walk and concept design.
o
"Shakespeare's Birthplace" visitor centre re-design.
o
Senior member of design and spec team working across all disciplines
o
Involved, people flow, H+S, Lighting, display, architecture and Art Direction.
o
Client facing, pitch and project document creation. Written and Graphic.

"Imaginarium of Dr.Parnassus" – Terry GilliamFeature film. Main unit Bray Studio.
o
Complex 1/6th & 1/12th scale model development and build. Mould, sculpt, model and set work.

"Alien V. Predator", Prague (BMI Film Award). Main Model unit. www.avp-movie.com
o
Developed breakaway 1/6 scale Whaling station models, allowing for collapse and rapid re-assembly.
o
Extensive scale snow dressing including major pyramid model and numerous sets/models.
o
Worked across all disciplines and departments.

"Band of Brothers", Bray Studio. (Working for Mattes+Miniatures).
o
Special Effect models, sculpts and mould work for "Band of Brothers" (Spielberg-Hanks production).
o
Lead model maker "Heinz" ice station model/Advert.
o
Lead model maker for "Plots with a view" motion control shoot.
o
Lead model maker for "Atlantis" documentary and motion control / blue screen shoot.
o
Model Work for "Bottom" feature film.

COSGROVE HALL FILMS Ltd, Manchester.
o
Extensive stop-frame animated feature props and model construction and finishing. Projects include: "Rotten Ralph",
"Noddy" and "Lavender Castle".

InvisibleAV, UK. Interior design, bespoke cabinetry. www.invisibleAV.com
o
Structural/concept design for audio/visual scenarios. Interior design concepts, 2D composite mock-ups and sketches.
o
Proposals, quotes and manufacturing commissioning, complete turnkey design and build service.

RDF MEDIA / Channel 4, Maidenhead. www.rdfmedia.com
o
Carpenter and maker for Channel 4 "House to Home" programmes. Ad-lib/scripted presenter interaction.
o
Featured Oliver Heath and Sarah Beeny (Property Ladder etc).

MUSIC ON-LINE, Manchester. Creative lead, full time position-1 year.
o
o
o
o
Art Direction, quality control and Project management; including collation of assets/media, commissioning work from freelancers and phone/face to face client meetings. Current accounts include Sony Music, Outcaste Records, and React
Records.
Developed on-line marketing strategy for new and established artists, graphic and concept design for corporate and on-line
image. Projects designed to maximize user interaction and response to on-line presence. Ensuring email databases were
used and collated effectively.
Maximize cross marketing potential, plan mail outs to current mail-list members to encourage new artist/product discovery
and increase web site/feature traffic and interaction.
Conceptual, strategy development and retail sales of bespoke database driven "community tools", allowing client to set-up
and manage their sites interactivity.
Post Grad:
Sep' 1996
Dec' 1996

HOTHOUSE DESIGN CENTRE. Longton, Stoke - on - Trent.
Rapid prototyping and Industrial design (ceramics). Industry sponsored post-graduate course.
o
Working closely with BLUE ROOM/B+W (Worthing) and WEDGWOOD (Burslem) developing future concepts.
Degree:
1993 / 1996

BRUNEL UNIVERSITY. Uxbridge, High Wycombe.
Ba. Hon. THREE DIMENSIONAL MULTI DISCIPLINE DESIGN. 2:1.
Dissertation: "Proportion and scale in Architecture".
Education & training:
1991 / 1993

BURNHAM GRAMMAR SCHOOL. Burnham, Buckinghamshire.
o
A Level Technology and Geography
1990 / 1991

MAIDENHEAD COLLEGE OF ENGINEERING.
O.N.C. ELECTRICAL ENGINEERING.
o
Full time paid apprenticeship with FORD IVECO.
o
Machining, fabrication, electronic board and engineering theory.
1985 / 1990

DESBOROUGH BOYS SCHOOL. Maidenhead.
o
GCSE examinations successfully taken.
A full portfolio, covering most disciplines and materials is available to view.
Specific hard copy/emailed examples can be sent upon request.