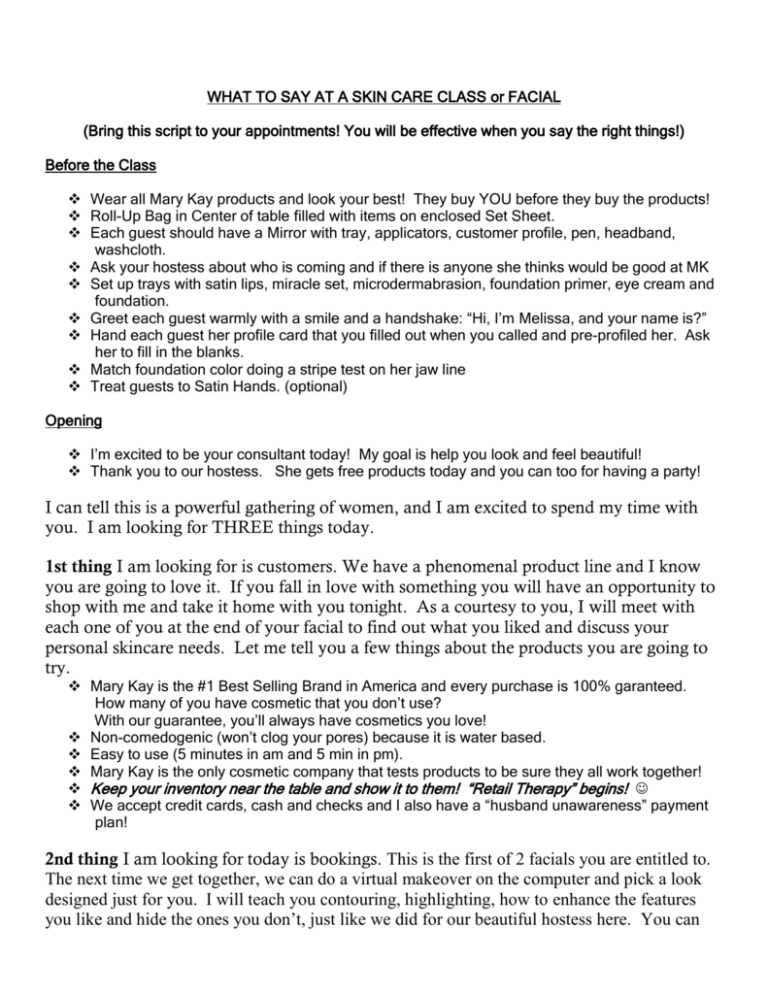 WHAT TO SAY AT A SKIN CARE CLASS or FACIAL
(Bring this script to your appointments! You will be effective when you say the right things!)
Before the Class
 Wear all Mary Kay products and look your best! They buy YOU before they buy the products!
 Roll-Up Bag in Center of table filled with items on enclosed Set Sheet.
 Each guest should have a Mirror with tray, applicators, customer profile, pen, headband,
washcloth.
 Ask your hostess about who is coming and if there is anyone she thinks would be good at MK
 Set up trays with satin lips, miracle set, microdermabrasion, foundation primer, eye cream and
foundation.
 Greet each guest warmly with a smile and a handshake: "Hi, I'm Melissa, and your name is?"
 Hand each guest her profile card that you filled out when you called and pre-profiled her. Ask
her to fill in the blanks.
 Match foundation color doing a stripe test on her jaw line
 Treat guests to Satin Hands. (optional)
Opening
 I'm excited to be your consultant today! My goal is help you look and feel beautiful!
 Thank you to our hostess. She gets free products today and you can too for having a party!
I can tell this is a powerful gathering of women, and I am excited to spend my time with
you. I am looking for THREE things today.
1st thing I am looking for is customers. We have a phenomenal product line and I know
you are going to love it. If you fall in love with something you will have an opportunity to
shop with me and take it home with you tonight. As a courtesy to you, I will meet with
each one of you at the end of your facial to find out what you liked and discuss your
personal skincare needs. Let me tell you a few things about the products you are going to
try.
 Mary Kay is the #1 Best Selling Brand in America and every purchase is 100% garanteed.
How many of you have cosmetic that you don't use?
With our guarantee, you'll always have cosmetics you love!
 Non-comedogenic (won't clog your pores) because it is water based.
 Easy to use (5 minutes in am and 5 min in pm).
 Mary Kay is the only cosmetic company that tests products to be sure they all work together!
 Keep your inventory near the table and show it to them! "Retail Therapy" begins! 
 We accept credit cards, cash and checks and I also have a "husband unawareness" payment
plan!
2nd thing I am looking for today is bookings. This is the first of 2 facials you are entitled to.
The next time we get together, we can do a virtual makeover on the computer and pick a look
designed just for you. I will teach you contouring, highlighting, how to enhance the features
you like and hide the ones you don't, just like we did for our beautiful hostess here. You can
choose to do this just you and me or you can do you and me and free. (explain your hostess
plan)
3rd thing I am looking for is Business associates. I have made the decision to promote
myself this month and in order to do that, I will need to build my personal team of
consultants. I am looking for women who need more, want more and are willing to do the
activity. Mary Kay taught us that at every skin care class there is someone who has been
praying for a better way of life. Has either been surfing on-line for a 2nd way to make
income or has reached a point in their life where they are asking..."is this all there is?" Or
are desiring to add more financial security to their future or more fun to their life. Soooo I
invite you to watch me today and see if this is something that you would be interested in
doing.
Your Mary Kay Story (share briefly, from the heart, your own story, here's mine…)
"I story"
I was introduced to Mary Kay in December 2007. I had every reason in the world not to
start a new business.
I had no sales experience,
I knew nothing about skincare or make-up,
I didn't like women
I didn't have any idea how to find clients,
and the most important reason, I was too busy with my family. And not to mention I was 6
weeks pregnant with my second son.
I had just lost my mom, took in my nieces who had witnessed a shooting and drug abuse.
Our lives were so chaotic which was why I quit my job as a structural engineer.
I was approached by a woman in Wal-Mart who offered me a free facial. After I
purchased some products she then asked me to have coffee and listen to the MK marketing
plan. I had no interest because I didn't think educated women sold lipstick for a living. I
told her I wasn't interested and she said that's ok, would you just listen. I agreed.
She showed up in a pink caddy, had a 5 caret diamond ring on her finger she had earned in
MK and she was making $100k per year selling lipstick. I started listening more intently.
I joined MK for the unlimited income potential, you see as long as you work for someone
else, they will always limit your success.
I began my business as a means to create supplemental income for our family. Within my
first year I earned a free car and became a sales director working about 15-20 hrs a week.
Directors in MK make anywhere from 5k to 20k per month.
I have been a director for over 4 years and have been driving a pink caddy since October
2012.
I wanted to become a director so that I would have a bigger circle of influence because I
wanted to share the gift of MK from a larger platform.
Some of the blessings MK has given me are:
Amazing girlfriends and so much fun
Personal growth
Freedom and Flexibility
Financial Freedom
Teaching Skin Care
 Begin by having each lady lift her mirror up and look at her complexion up close. Ask them
what they see?
 I want you to remember how your skin looks and feels now so you can compare it when we are
done.
 OK so there are 5 basic steps to great skin- do you know what they are?
(Cleanse, Exfoliate, tone, moisturize, protect)
Satin Lips Mask
Effectively exfoliates dead surface skin cells that cause lips to appear dull and lifeless.
3-in-1 Cleanser.
Our 3 in 1 cleanser takes care of the first 3 steps all in one; it cleanses, exfoliates and tones.
I think that is why they call this line "timewise" because it saves you time.
 70% of problems that women get with their skin are due to improper cleansing.
 The other 30% is due to hormonal changes, stress, or medication.
 The reason it is so important to exfoliate your skin is that we have dead skin cells all over our
body. When they are left on the face, they give the skin a dull, blotchy look.
 Also, blackheads and blemishes form when the pores haven't been cleaned properly.
 How many of you have gotten ready in the am, and noticed your makeup looks faded by noon?
 That's because if we don't exfoliate, we are just taking great care of dead skin!
Step 1 Microdermabrasion Refine
This is my favorite product!!!
Refine is an advanced exfoliator with aluminum oxide crystals, it feeds and nourishes skin
from below, bringing oxygen to the top of the skin to stimulate circulation, creating a
healthy, more radiant glow. The two-part system goes to work immediately to fight fine
lines, make pores look smaller and revitalize skin so it looks noticeably softer and
smoother.
Step 2 Microdermabrasion Replenish
Replenish is immediately absorbed into the skin to instantly smooth and soften. It feeds
and nourishes the skin from above with an exclusive Mary Kay ® triple tea complex
Aids the rejuvenation process, and protects against environmental pollutants.
Soothes the skin, and helps to bring it back in balance
Prepares the skin for the next step in skin care.
Day Solution
The second step is our Day solution. Think of this as a veil of defense for your face. The
day solution helps prevent lines and discoloration before they occur by blocking damaging
UVA/UVB rays with spf 35. Plus calming peptides help to relax expression lines.
 Day Solution is used between cleansing and moisturizing in the morning.
Night Solution (demo on the back of one hand)
At night your second step is our Night solution. The night solution contains a system of
vitamins A,C and E and antioxidants combined with collagen enhancing peptides that help
fade away deep lines and wrinkles. Collagen is what gives your skin elasticity and the
ability to bounce back. I like to think of the difference between a face with collagen and
one without is like the difference between a grape and a raisin. It also aids in evening out
skin tone.
 Can you see the difference in the skin on the back of your hand?
Satin Lips Balm
Lip Balm contains a special complex of ingredients, including vitamin A and E derivatives
and Ceramide 2, to help moisturize dry and rough lips. The balm moisturizes the lips for at
least six hours, while providing an invisible barrier to keep the lips hydrated.
Age Fighting Moisturizer
The next step is to moisturize. Our Age Fighting Moisturizer is an emollient rich lotion
which gives your skin 10 hours of hydration and accelerates the skin's natural renewal
process.
 Who knows the #1 reason for wrinkles? Its lack of moisture!
 Our products are water-based, and that's why they don't leave a greasy after-feel.
Share Marketing Plan
While we are letting our moisturizer soak in I would like to play a little game and give you
the chance to ask me questions about the company. I have a gift for you just for playing
along so grab your purses. I am going to call out a letter and if you have something in your
purse that begins with that letter, be the first to pull it out and shout out what it is, and I
will give you a ticket. You can also get a ticket for asking me a question about the
business.
M-money
R-Recognition
S-Self Esteem, Self Confidence
C-Car
A-advancement
B-Be your own boss
Ok so flip over your profile card and in that pink area # 1-4 for me. I am going to ask you
4 questions.
1. If you were ever, in your wildest dreams, to become a Beauty Consultant, what would
be your #1 reason?
2. What would be your biggest question about the career opportunity?
3. If you were to become a beauty consultant what qualities do you have that would make
you good?
4. What is your interest level in giving Mary Kay a try?
a. I prefer to pay full price and just be a customer.
b. I am annoyingly intrigued and would love to have coffee and find out more.
c. I am ready to make a decision and give it a try!
Firming Eye Cream
A luxuriously rich eye cream so advanced it improves firmness, brightens, provides intense
moisturization, plus minimizes fine lines and wrinkles.
Foundation Primer
Foundation Primer acts as an invisible "buffer" that not only fills in imperfections, but also
acts like a "magnet" to give your foundation real staying power. Applied after moisturizer,
the lightweight gel glides on effortlessly and dries quickly, and is formulated to diffuse light
which helps reduce the appearance of fine lines, wrinkles and pores. Plus, the formula is
not only oil-free, but also contains an ingredient that absorbs excess oil as an added bonus.
It also provides a layer of broad-spectrum SPF 15* sun protection!
Foundation
The last step in any skincare regimen is Foundation. Foundation protects your skin from
the impurities of the environment, kind of like how paint protects the siding on your house.
We have 4 different types of foundations and a color to match any skin tone. Today you
are going to try our timewise liquid foundation. It is non commodegenic and contains
antioxidants to keep your skin looking young. The luminous wear adds moisture to your
skin and has a beautiful JLO glow finish. The matte wear controls oil and shine all day
and has a polished matte finish.
 Isn't it great that you'll never have that make-up line because we matched you perfectly?
 Mineral Powder Foundation has oil-absorbing properties & gives great coverage quickly!
Closing the Facial
 As you are touching your face, ask: "Doesn't your skin feel great?"
 Ok look around the room and tell eachother what you notice about eachother's skin.
 Ten years from no one will know what color cosmetics you used, but they will be able to tell
how you are aging by how well you took care of your skin!
 Ok did you absolutely love your facial?
 How many of you know someone who is overworked, under pampered and underappreciated?
 Ok well here is your opportunity to give her the gift of pampering.
 Here is how it works, go ahead and flip to the back of your profile card. There are 7 spaces for
referrals. I am going to give you $1 towards your purchase today for every referral up to 10,
so if you fill up the 7 just keep going in the pink area.
 The best part is that the friends you refer to me get $10 at their facial towards any purchase as
a gift from you.
 It is a race, whoever gets to 10 first gets my little gift here.
 Get your cell phones out because you'll need them to win!
 On your mark get set go!
Table Close















Before we finish up tonight, let's take a minute to talk about your husbands and boyfriends.
Do any of your men have a hobby? Choose one of the ladies – what is his hobby?
Golf! Wow! How much does it his hobby cost?
They will elaborate, and it is usually an expensive hobby.
Isn't it funny how guys spend whatever it takes on their hobby!
They want us to look beautiful, but sometimes, they just don't understand about makeup!
That's why we have the Husband Unawareness Payment Plan!
He'll never know the difference except for the way you look and feel!
The above close is important to say because women are emotional buyers!
Romance the Travel Roll Up Bag You can get the Travel roll Up Bag for free with my top 2
packages.
I find most women do the Ultimate Miracle Set, the foundation primer and the foundation. Line
up those products for them to see on the table.
Ok now I am going to pass out this set sheet that has all my specials on it.
If you can do me a favor and answer the questions on the left that really helps our individual
consultations go much faster.
Does anyone have questions for me?
I am just going to clean up a little as you are filling out your sheet.
Closing Individually
 Collect all skin care profiles.
 The hostess can serve refreshments at this time.
 Does anyone need to leave early? If so, start with this guest. If not, start with the most excited
guest first (use your "women's intuition" for this, you will be right!)
 The closing is done away from the table one on one, perhaps in the family room.
 This is very important because it is impolite to discuss someone's money in front of someone
else. Ladies want to buy, but they may not want their good friends to know they are making
payments!
 For the payment plan, you split the Roll Up Bag or Ultimate Miracle Set into 2 or 3 payments.
 Did you have a great time? What did you enjoy the most?
Looking at the set sheet
Ask if she had a good time. Do you think we have you in the right shade of foundation?
Then look at her answers to these questions.
1. Do You like how your skin looks and feels?____________
2. Do you understand how using products from
the same line benefits your skin? _______________________
3. What do you like best about what you tried today?
__________________________________________________
4. If money were no object which sets would you
choose today? ______________________________________
__________________________________________________
5. Since wishes and finances can be different what sets would
you like to order today? ______________________________
__________________________________________________
6. What payment option would you like to use? (Circle one)
Cash Check Card 2 Payments Creative Financing
7. At your second appointment, would you like:
___ A one-on-one color and glamour consultation?
___ A small party* with 2-3 friends to earn FREE product?
___ A girls-night-out party* with 6-8 friends to earn LOTS
of FREE product?
Date for second appointment __________________________
 Well, Karen, I see that the Ultimate Miracle Set is what you would like to start with today. (start
filling out sales ticket). Was there anything else you needed? Keep selling until she says no.
If she says that she can't afford the products she wants, then politely ask her what's holding
her back from getting what she wants? Gently remind her of her payment options. If she still
can't get the Ultimate Set, then ask her if she'd like the skin care set and go from there. If she
doesn't buy or buys less than what she wanted she would make a great hostess. Ask her, if
the skincare was free and in your bathroom would you use it?
 Then move to booking party.
Once you have closed the sale, book her party or color apt:
 Ok Karen, now we need to schedule your color apt. Now do you want to do that you and me or
you and me and free? I have openings on (day) and (day) at (time) and (time), which would
work better for you?"
 What would you most like to get for free?
Look at her answers on the back of the profile card:
 I see here that you put a b for Question 4, tell me about that?
 Give her an opportunity to ask you questions, she will most likely give you her objection.
 So I would like to have my director meet you and answer your questions and explain the
business in full detail. What would work for you in the next day or two to meet for coffee?
 If she doesn't want to have coffee, Then say, you know I understand your concerns, but would
you be willing to call into a hotline # and listen to a message from my director (or national), to
have more information. I find that women like to make decisions with as much knowledge as
possible.
 And if its ok with you, I would love to have my director give you a quick call and follow up after
you have listened. I promise she won't twist your arm, it is just how I get credit for sharing our
business opportunity, and she is really nice.
 Ok what would be a good time for her to call you either tomorrow or the next day?
Customer Service
 I will give you a call in 2 days, 2 weeks and 2 months to be sure your products are working
perfectly for your skin and that you love your colors!
 Enroll them in the Preferred Customer Program.
 Send them a birthday card the first week of their birthday month: "How old you are is your
business, how old you look is mine! Enjoy a 10% discount during the month of your birthday!"
 Call their husband during their anniversary month to help him give gifts from her wish list.
After the Class
 Call your Director to give her the names and numbers of your team building prospects and to
get her advice on any areas you need help with.
 Send each guest a thank you postcard, regardless of what she bought. People will always
remember how you made them feel.
 Log your 2 day, 2 week and 2 month follow up in your monthly spiral notebooks.
 Book any guests for skin care classes that you didn't get to do at the class.
 Schedule team building interviews for any guests that you didn't get to share with at the class.
 Remember that practice makes perfect! Confidence is the result of experience!
If you aren't selling lots of sets, improve on:
(1)
(2)
(3)
(4)
Teaching the benefit of each product to meet their specific need.
Staying with the script to control class time and say important key phrases.
Closing after the skin care and closing individually.
Being enthusiastic enough! Have FUN!
"Outstanding sales depend on your ability to think from the customer's point
of view and understand and respond to your customer's best interests.
Successful sales people know how to interpret what they hear their
customers say" – Mary Kay Ash
You Can Do It!