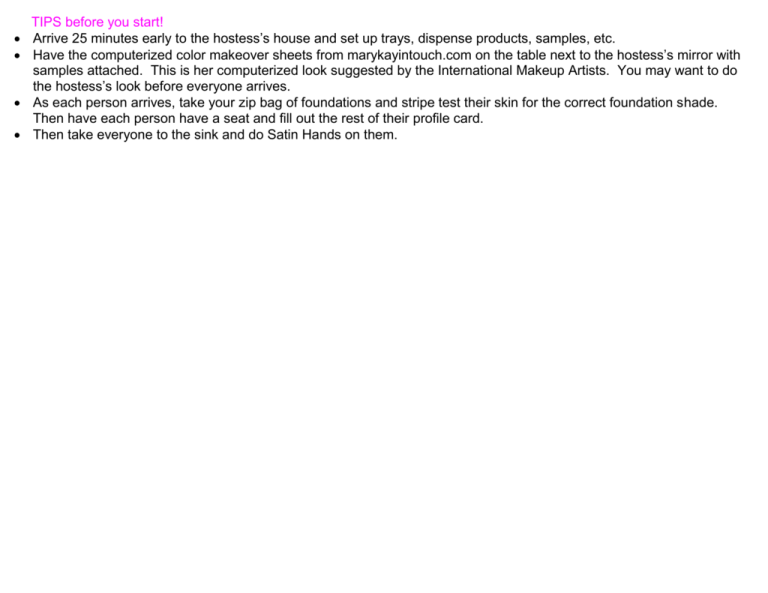 



TIPS before you start!
Arrive 25 minutes early to the hostess's house and set up trays, dispense products, samples, etc.
Have the computerized color makeover sheets from marykayintouch.com on the table next to the hostess's mirror with
samples attached. This is her computerized look suggested by the International Makeup Artists. You may want to do
the hostess's look before everyone arrives.
As each person arrives, take your zip bag of foundations and stripe test their skin for the correct foundation shade.
Then have each person have a seat and fill out the rest of their profile card.
Then take everyone to the sink and do Satin Hands on them.
PAGE 1
 Hi Everyone. I'm _____________. Welcome and thank you for coming today. This is my flipchart with my notes. If it looks
like I'm reading, that's because I am. I just don't want to leave anything out.  (smile)
 ___________ (hostess) a very special thank you to you for inviting me over and sharing your friends and home with me. (If
presenting the hostess with a gift, do it now). We're going to try some of our most innovative, fun and anti-aging products, but
the most important thing is that all of you relax and have some fun!
 I'd love to get to know everyone better, so let's do a few introductions. (Name + what you do (work or stay at home with kids)
+ one positive thing you know about MKC). I am excited for you to experience the #1 best-selling brand of SC and Color
cosmetics in the US for many years. If you've tried our products before, I hope you will enjoy the pampering and new products
that we've recently developed. Ladies, thank you for supporting (hostess). Some of you came because you are excited about
improving your skin and getting a new look, some may have come reluctantly and some of you may not know how you actually
got here.  But, you gave your word, and you're here. Thank you for being a woman of your word! Our girlfriends and family
are what make hosting a party fun! HOSTESS gets to be QUEEN for an HOUR – give her a crown to wear & call her "queenie"
 Share hostess program! (Half-back or Triple Hostess Credit) – whe you share your next appointment with a few friends…
 What are we going to be doing today? … our Pampering Session will be broken into 3 parts:
 I'm going to teach you how to take care of your skin so you have healthy, younger-looking skin for years!
 We are going to do a quick glamour look for you!
 Then, I'll meet with you individually at the end to answer personal questions, help you with products selections
and to schedule your FOLLOW-UP APPOINTMENT.
 I always see my clients twice - today I'll teach you the basics and at your FOLLOW-UP appointment we'll make sure you
are 100% satisfied with your products and introduce you to some other products in our line. I will also custom design a
personalized color look for you using our computer software. An international makeup artist at MK Inc will pick a look for you
based on your hair color, skin color, eye color, etc. So, please be sure to fill out your entire profile including question #6.
o Now … How many of you need to get out the door in less than 5 minutes sometimes because you are running late, have
children that dilly-dally or hit your snooze too many times? Raise your hand for me???
o Now … how would you like it if someone said to you, _______________ WOW, you look great! I know I haven't seen
you in a long time, but you look so put together … what are you using? If you'd like someone to say that about you,
raise your hand for me! 
… I think every woman needs to know how to achieve both looks so …
 Today we're going to focus on how to look younger and how to get out the door in less than 5 minutes. Then at your FOLLOWUP appointment I'm going to put together a "wow" look using the computer software from the International Makeup Artists so
you can get all kinds of compliments. How does that sound??"
Page 2
Let's get going … Anyone need a headband? OK … time to remove your eye makeup.
OIL FREE EYE MAKEUP REMOVER.








Voted #1 in the nation by Redbook magazine.
Gently removes eye makeup or lipsticks without tugging or pulling.
2 layers: conditions the lashes and removes product
KEY: SHAKE IT!
Takes off even waterproof mascara
Opthamologist tested, fragrance-free, OK for sensitive skin & suitable for contact wearers.
Set on … swipe to the side
Our OFEMR OUTSOLD the TOP 10 LEADING BRANDS combined; we have the #1 eye makeup remover in the country!
Now I'd like to introduce you to Mary Kay Ash and share a brief story about me.
o Mary Kay Ash was a visionary leader who started this Company because she wanted to give women an opportunity that
could enrich their lives. In the early 60's, she recognized that women needed an opportunity to achieve financial
success while balancing their lives around the values and priorities that were important to them – like having God first,
your family second and your career third. Mary Kay Ash was way ahead of her time. The business community admires
and respects her as much as the MK Sales Force. Mary Kay has received many prestigious awards but the one I am
most proud of is that she was recognized as the greatest female entrepreneur in American history. Her male
counterpart for that award? Henry Ford!
o Our company has been around for over 45 years! Women still love Mary Kay -- the woman and the products! That's
because women who get to know this company really discover that MK is a lot more than pink jars and pink cars. Mary
Kay is a multi-billion dollar company and we operate in more than 30 countries in the world. Mary Kay Inc is debt free
and has never been in a better financial position than we are right now. How many other companies can say that in this
economy? I am proud to tell you that Mary Kay doesn't test on animals. I am also proud to tell you that our consultants,
directors and company have donated over $6 million dollars this past year to fund the Mary Kay Ash Charitable
Foundation. The purpose of that foundation is 2-fold: to find cures for cancers that affect women and to help stop the
cycle of domestic violence against women and children. How many of you have personally been affected by cancer or
domestic violence or you know someone who has? I think we all have and it's important that we keep fighting to end
those 2 terrible things!
OK – we're going to play 2 games today:
 The first one is called the "FOLLOW-UP" game. Every time I say the word "FOLLOW-UP", the first one to shout
"FOLLOW-UP", will get to hold this gift. I'll say it many times throughout our party, and then person who has it last, will
get to keep it for free!
 Secondly, I like participation! When I ask questions, be the first to answer and you'll get a ticket. There will be several
times throughout our party to earn tickets. At the end of the session, the person with the most tickets, wins a really cool
prize!
Page 3
 Women are always curious why I started a MK business. Before I tell you, I have some quick questions for you about
your current situation. Don't answer out loud … just think about your response.
o At your current job … do you have all the flexibility in the world or do you wish you had more? Control over
your vacation time, starting & ending time? Can you come and go as you please? If you are a mom, can you
go on field trips whenever you like? What about sick kids, sick parents? Real flexibility.
o At your current job … do you get the praise and recognition you would like to get? Are you told how much they
appreciate you? Do you get thanked often? Are you rewarded with diamonds, cars, world-class trips? Do you
feel truly valued?
o OK, here's the tough one … Are you paid what you're worth? If you gave it your guts for the next 5 years, could
you SUBSTANTIALLY change your financial situation? Not just a 3-4% increase for the year. I'm talking
$10,000 to $40,000 to $100,000 increase over the next 5 years? Ask yourself … how many years have you
already given and how have they rewarded you so far?
o Part time MK consultants who consistently work about 10-15 hours a week holding parties and sharing our
company facts, earn about $18,000-$22,000 per year and usually earn a company car to drive. On average, a
beginning MK sales director makes about $40,000 per year and top directors make well over $100,000 per
year … all while working from home, setting their own hours. Maybe you could never see yourself doing this
now, but I ask you again, are you rewarded and paid what you are worth? Are you happy with your job? What
about your life? Are you fulfilled and excited? Are you living a life that you've designed, or a life that someone
else has chosen for you? Whether you're needing a little more cash, or fun, or balance or results for the hard
work you put in, Mary Kay could be your answer.
Page 4
o SHARE YOUR I STORY!!! -- CREATE YOUR OWN I STORY and share it with passion!
This is Sheryl's I Story! My MK journey began 15 ½ years ago. I was 23 years old and had just graduated from
college with a degree in communications and business. I had 5 jobs and was planning my wedding. I wasn't
looking for something else to fill my time … I was just frustrated with my lack of balance and lack of control over
my life. Once I heard the facts about this business plan and this company, I said yes and I became a small
business owner through MK Cosmetics. I started out slowly doing a couple parties a month. Then I took my first
"real" corporate job in the Human Resources Dept at the largest bank in WI and continued to do a couple parties a
month for the next couple years. I liked my job, but after honestly evaluating what I wanted in my life, I decided
that I wanted to put more effort into my business. My goal was to earn a car and become a MK sales director. I
started to work my business 8-12 hours per week and within 3 ½ months I earned my first MK car and then one
year after that, I became a sales director and quit my corporate job. I've been working my MK business full-time
since Sept 1997 and have made well over 1 million dollars in my Mary Kay career since debuting as a sales
director. Is it worth checking out your options? I believe so. More than ever, as women, I think we need to stop
relying on other people or a company to provide for us. We need to take charge of our lives and our futures.
Mary Kay always said that at every skin care class, there was a new consultant waiting to happen … someone
who needs more, wants more and who is willing to do the work. Out of everyone here, who do you think would be
good at this? Just watch me tonight and see if you could ever see yourself doing this. If you're curious, I'd be
happy to share more information with you.
Page 5
I already mentioned that MK has been the #1 Best-selling brand of SC and color in the country for many years.
There are a few reasons for that:
o Customer Satisfaction and Loyalty! Let me throw some numbers out to you … Only about 10% of women use
MKC. Do you think that's a big # or a small #? (probably small) Our competition is the prestige dept store brands …
let's name some …and we outsold all of them! We even outsold brands that are sold in every Walmart, Target, grocery
store and pharmacy in the nation! Even though such a small number of women wear MK products, those women
consistently rate our products higher than other women rate the brands they use. They're also more likely to tell other
women about the MK products and we have an AMAZING loyalty rate … women use them for years and decades!
Plus, we do not have a saturated market. We have ENORMOUS growth potential and we are working on sharing our
products with more women every day!
o We've been #1 for years because of our 100% guarantee. Do you like guarantees? How about on your car?
Washer? Refrigerator? How about on your cosmetics and skin care? I know I do! If you don't like a MK product for
any reason, return the product to me for your money back or exchange it for something you want. It doesn't cost either
of us any money. NO MORE BUYING MISTAKES! No more cosmetic graveyard junk drawers! Yea!!
o We've been #1 for years because of our great customer service!
 First, you get your personal and professional customer service rep, ME!!
 Again, you're entitled to 2 free appointments. One today and then another FOLLOW-UP appointment in a
couple weeks to make sure your products are perfect for you.
 You'll get your personalized color makeover using the computer software and you'll get the chance to earn
lots of free products and gifts as a hostess at your FOLLOW-UP when you share it with girlfriends.
 Cosmetics are a personal thing and my goal as your MK Cust. Service Rep is to make sure that your skin is in
mint condition and that you're feeling great about how you look! One thing that sets MK apart from other directsales companies is the relationship we establish with our customers. We want to stay your consultant for life and
are committed to your satisfaction.
 When you become my customer, I send you our catalog 4x per year showing new products, makeup/color trends,
and it is my prompt to give you a call and ask how you are doing and if you'd like to see/try anything – always
complimentary. We want you to be informed and happy!
 Plus, since convenience is important, you can browse and shop on my website 24/7. I always ship packages or
deliver them for free.
o The last reason we've been #1 for years is because our company develops the highest quality, most
scientifically advanced products that really work for reasonable prices.
 We want to give you the best for the least amount of money.
 As you know we guarantee all of our products. Would make no sense for MK to inflate or exaggerate our claims.
In a typical year, MK spends millions of dollars and conducts more than 300,000 tests to ensure that MK
products meet the highest standards of quality, safety and performance. Your respect and satisfaction are our top
priority!
Page 6
 I want to talk to you about taking good care of your skin and having healthy skin. We all want beautiful, healthy skin,
don't we? If you paid a dermatologist and asked him/her: "How should I take care of my skin?" He/she would tell you
that there are 5 steps to good skin care: 1) cleansing, 2)exfoliating, 3) toning 4) moisturizing 5) protecting. Then, they'd
charge you lots of money for that office call!
 Our skin care products work with the natural process of your skin and they do all 5 jobs! What are those 5 steps again?
Ticket goes to the first person to tell me. Did you know that you skin is constantly regenerating itself – every 4 weeks?
o The top layer of your skin is called the epidermis.
 Its job is to slow the rate of moisture loss from the lower layer.
 (LOOK IN THE MIRROR) This is the layer you see that has your pretty smile, your complexion color, a
nice summer tan … that scar, pimple, age spot, (gasp) wrinkles.
o The dermis is the inner layer of skin.
 It's composed of collagen and elastin fibers and is where the health of your skin takes place.
 Collagen is a structural protein that forms a network to support the outer layer of your skin giving it its
firmness and resiliency.
 When this bottom layer is hydrated, your skin looks younger and more supple.
 Take a look at your skin in the mirror (they pull out of the tray). As you look at your skin, think about this: How old you
are is your business, but how old you look is mine.
 What we'll be doing over the next 30 minutes will take you about 2 minutes in the morning and 2 minutes in the evening.
You'll see results in three days, three months and three years! Your skin is going to feel awesome and you'll love it
because it's 100% guaranteed!
Feel your skin right now … how does it look and how does it feel?
(Have hostess wet the wash cloths!)
Page 7
Alright! This is the Miracle Set! (Page___of Look Book) This is the #1 Best Selling Skin care in the country. It's what we'll be
trying today. It's what most women start with and what I sell the most of. It's awesome! In a 12 wk clinical study using the MS:
 83% of women had a reduction in fine lines and wrinkles
 46% saw a more even skin tone
 25% saw an improvement in skin elasticity
 100% of women said they had an improvement in skin softness. That means, in just a few minutes, ALL of you will tell me
today you have softer skin.
►Cleanser: It's called the TW 3-1 Cleanser. If you're busy, you're going to love this cleanser b/c it does 3 things in one:
o First, it cleanses to remove surface dirt and impurities
o 2nd it exfoliates the dead surface cells that can dull your skin and make mk/up difficult to apply
o 3rd it is your freshener to balance out the PH level in your skin that causes makeup to turn orangey on people.
o Let's SUDS UP! Scoop the cleanser into your hand, add water with spray bottle, use an upward and outward motion. Do you
know why up and out? Works against gravity. Or we could do what Oprah said, just stand on our heads all day, & all our
body parts would be in the right spot.
o Choose the Normal to Dry (Pink) or Combination to Oily (Purple) formula. Purple Swish=for combo/oily and helps control oil for
8 hrs. Pink Swish=for normal to dry skin. It's more emollient and moisturizing.
o Gentle enough for everyday use and you can change it during summer/winter. Personalized for your skin!
o Timewise is recommended for women 21+ which is when most women start noticing the fine lines and wrinkles forming.
o Can use it at sink or in shower. (Where do you wash? I have it in the shower and by the sink.)
o Use it EVERY MORNING AND EVERY NIGHT!
o In the morning(the day) we need to wash off the toxins and oils our body emits at night as it replenishes and restores
our body.
o At night, we need to wash, too. Have you looked at the side of your car or house lately? Dirt, grime, radicals, toxins,
weather…all came in contact w/ these surfaces. That's why we paint our houses, wax our cars, even treat the wood on
our decks…to keep the filth from breaking down these surfaces. The same thing happens to our face. But, many of
us—including myself before I started on MK products—don't take care of our skin!! Honestly, I didn't know it was so
important. What I've heard is that by NOT washing our faces at night, we actually age 13 days. Yikes!
o Technically, what you do to the face, do to the neck and decollate area. Tip: If you're going to stay in, do your face
right after dinner or when you come home from work.
O Take Before picture if doing B4 and After Pictures!
MICRODERMABRASION [put on back of 1 hand or on the face
Now, let's try our Awesome Microdermabrasion. Has anyone ever had a MDA treatment done? It's the 4th most popular non-surgical
procedure done at dermatologist offices. If you had it done at a dermatologist or spa, its about $100 p/ office visit. It's a superfine exfoliating
process that refines pores, fights fine lines, and beautifully smoothes skin IMMEDIATELY. It polishes the surface of your skin. It's not a
daily regime, but a supplement. After just 1 week, 85% of panelists saw an improvement in skin texture. We call it a DERMATOLOGIST
IN A BOTTLE. TICKET? = How much would a dermatologist charge? So how much would 36 cost? Ours: $55.00 for 36 treatments.
It's awesome. Rub crystals on one hand with water added. Then rinse off well.
Page 8
MICRODERMABRASION -- HOW IT WORKS
• Step 1: Refine is an advanced exfoliator that immediately energizes the skin to reveal a more radiant, healthy-looking surface. This creamy, white lotion
with aluminum oxide exfoliating crystals does 2 things:
 Nourishes the skin from below through increased circulation. This brings oxygen to the top of the skin to stimulate circulation creating a healthy, more
radiant glow.
 Reduces the appearance of pores by removing the dead skin cells that naturally form inside and around the outer edge of every pore.
 Women have told us that compared to other OTC brands, ours is soooo much better … the crystals are finer and more gentle.
 When you are using this on your face, avoid your eyes, don't press hard; let the crystals do the work. Rinse (shower well).
 How does it look compared to your other hand?
• Step 2: Replenish is immediately absorbed into the skin to instantly smooth and soften. This lightweight, opalescent lavender serum does 3 things:
 Feeds the skin from above with an exclusive Mary Kay® triple tea complex. Aids the rejuvenation process, and protects against environmental
pollutants.
 Soothes the skin, and helps to bring it back in balance
 Prepares the skin for the next step in skin care.
Remember: this is NOT a daily regimen … it's a supplement … like polishing vs brushing your teeth. Only 2-3 times/week.
WE OUTSOLD CLINIQUE'S Rinse off scrub 4 to 1.
Satin Lips: Mask and Balm: How many of you get dry lips?
Lips have an extremely thin outer protective layer. As the body ages, the already thin layer becomes thinner. To compound the situation, we lose the oil and
water barrier that keeps lips hydrated. Without the usual protective layer of sweat and body oils, the lips dry out faster, become chapped more easily, and
can age faster than other areas of the skin.
• The Satin Lips® Lip Mask contains miniature beads that gently, yet effectively, exfoliate dead surface skin cells that cause the lips to appear dull and
lifeless. You'll want to use this no more than 2x/week.
ASK FOR REFERRALS NOW WHILE THE LIP MASK IS ON.





'I'd like to take a moment to help you think of the perfect women to join you for your own personal FOLLOW-UP
Picture their faces: women you like & have fun w/? (see them? On back of profile card, write their names down.) OK, other women? Nice
like you. Who work hard… maybe under-pampered. Been good to you! [sister, mother, coworker, church, kids' moms, neighbor], These
are great women to ask to your complimentary FOLLOW-UP appt.
When you have just 3 women join you, you qualify to get "½ Back" or Triple Hostess Credit (whichever works better in your favor) over
18…not being serviced by MK consultant-golden rule
GAME: GET 1 ticket for each lady's name and ph # you put down. 10 TICKET BONUS for 5
REMOVE MASK with wet wash cloth
• APPLY BALM: The Satin Lips® Lip Balm contains a special complex of ingredients, including vitamin A and E derivatives to help moisturize dry and rough
lips. The balm moisturizes the lips for at least six hours, while providing an invisible barrier to keep the lips hydrated. Use as often as you want.
Page 9
OK, back to skin care.
Now, let's talk about wrinkles. I'm going to guess none of us want them, right?
►(HOLD UP DUO) Then this Day and Night Duo is going to be a must in your skin care routine. It's like a face lift in a
bottle. It protects & renews, like "fountain of youth." These items are supplements much like a vitamin/flintstones.
Goes over and above the basic skin care, for women who see the signs of aging, want to repair, maintain, &
protect. Guarantees PERCENTAGES…most important part of anti aging.
►The day solution is your veil of defense during the day. It's a very light white liquid that contains antioxidants and it has
calming peptides that relax expression lines. It has a SPF 25 which means it offers 25 times the sun protection than if
you had no screen on. It is proactive in preventing your skin from the damaging UVA(aging)/UVB(burning) rays which
cause aging. I USE IT IN THE MORNING AFTER WASHING MY FACE to get me ready for the DAY!!!! That's a way
to remember when to use it. Skin Cancer Foundation recommends this product as a safe and effective UV protection.
Let's apply it to the LEFT side of your face. If you head out in the warm sunshine and forget to put on sunscreen, don't
worry…you're covered. Remember ultra violet rays from the sun contribute to the break down of the collagen
in our skin. We don't want that to happen!
►Hold up Night Solution. The night solution is a pretty, light weight serum that contains nutribeads that are loaded with
vitamins and antioxidants. When we dispense the serum, the nutribeads burst and put pristine vitamins, antioxidants,
and collagen enhancing peptides right onto our skin for maximum absorption. Did you hear that … collagenenhancing peptides! We need that to keep our skin firm! Plus this means that deep lines and wrinkles fade as you
sleep. I USE IT AT NIGHT AFTER WASHING. Let's put it on the RIGHT side of your face.
NOTE: This demonstration is taking 30 minutes, but, it's literally 2 min in morning and 2 min at night. Anyone here busy?
It's awesome for busy ladies that want to take good care of their skin.
Remember: in MORNING, WASH + day solution all over your face. At night, WASH + night solution all over your face.
Page 10 OK, almost there. Age fighting moisturizer.
►Moisturizing the skin is important because without the appropriate amount of moisture, the skin will lose its firmness.
Even oily skin. Think about it … what's the difference between a grape and a prune? Moisture! We don't want to look
like a prune!!
►This product combines 10 hours of hydration w/ a patented complex that firms and smooths skin w/ fewer lines and
wrinkles. Plus, it protects your skin w/ powerful antioxidants. That's why it's so ANTIAGING! Choose the Normal to
Dry or the Combination to Oily Formula. It's safe for sensitive skin. For best results, use EVERY morning and every
night.
►Ticket: What Formula would you be using if you used pink color? Purple?
►Again, if we need to change the formula we gave you, we can do that at your check up FOLLOW-UP appt.
Remember: little goes a long way. TICKET! WHO CAN REVIEW THE 5 STEPS ONE MORE TIME?
Ticket? WHAT PART OF YOUR FACE HAS NO OIL GLANDS? The skin around your eyes. This is why women age
here first, it's where sun hits, fatigue and stress show first. The skin around your eyes needs extra hydration; it's extra
thirsty. Our eye creams are applied at the outer corner of the eye and underneath. Not to be applied to the lids. Use the
ring finger when working in the eye area as it's our weakest finger.
2 CREAMS:
►AGE FIGHTING E/C. Age-fighting eye cream is a light weight eye cream that helps to minimize fine lines and wrinkles.
►FIRMING E/C. Firming eye cream is power packed. It's a richer formula that firms the skin, brightens the under eye
area, provides intense moisturization, & minimizes the lines and wrinkles around the eye area. It's my favorite!
Page 11 Most women stop here…& run out w/o protecting their skin. What are we missing?
PROTECTION!!!! LAST STEP! Bad word? FOUNDATION! 2 thoughts: never use it OR always use it! Which one are
you? In defense of our "nevers" what are your objections? LISTEN.
►But good skin care includes foundation. This is surprising to most women, it did me. I always thought "foundation" was
like eye color, cheek color, lipstick…something you put on when you put on "makeup," for special occasions. A good
foundation is so much more.
 A good foundation protects your skin from the environment—remember we were talking about all that?
 You'll stay younger looking by keeping all the dirt off our faces. Some people w/ oily skin don't like to wear
foundation. They especially want to be wearing it, otherwise dirt and dust is attracted to oil and it helps cause
breakouts. So, wear foundation to be a barrier, keep vitamins and moisture in and keep pollutants off.
 Now, the word barrier may scare people, because no one wants their pores clogged. All our foundations are NONCOMEDOGENIC, which means it doesn't clog pores. So whether your skin is dry, normal, or oily, you can feel safe.
 Now, most people don't know this, but your foundation should match your neck. Yet, national survey reports 45% of
all foundation wearers dislike the shade they wear. With ME AS your personal consultant, you'll get a FLAWLESS
AND PERFECT SHADE. Ladies, if you can see it, it's the wrong color. This is why your FOLLOW-UP appt is so
important! We'll match foundation using this light tonight, but we'll check it again at your FOLLOW-UP in a different
light. Your satisfaction is guaranteed!
►We have six different types of foundation – our famous new mineral powder, 2 liquids, cream to powder, tinted
moisturizer and cream foundation for very dry skin. All are non-comedogenic & transfer resistant. We'll be sure to find
one that's right for you. You can ask me any questions you'd like about foundations at our individual consultation.
►Go ahead and apply your foundation. Explain how!
►Another important thing to keep in mind … use all one-line. I used to be a hodge-podger… a little bit of this, that…It's
good to use 1 line, whatever you use, use all of it…avoid chemical reactions on the face! MK tests all our products
against & with all of our other products, never have to worry.
Again, 2 min in a.m. and 2 min at night.
Great for women who are busy taking care of everyone else.
Page 12.
Now, how does your face feel? Is that the soft, smooth feeling something you could get use to? That's after
using these MK products just once. With all the anti aging benefits the MS offers, just think how your skin will look and feel
when you use it every day.
►Now, I know we're not in school, but we ARE going to take a test. It's called the wrist test. You're going to do a B4 and
after in 30 seconds. It will show you how fast and easy the skin care is and how important it is.
Do wrist test.
 Use left over SC from your tray or borrow from another's tray
 2 inch circle on ONE of their inside wrists. (put on the cleanser, wash it off, put on AM, put on moisturizer, put
on foundation. Just like on the face, it disappears, is transluscent, becomes one w/ skin….light, not really there.
 NOW, put foundation on inside of OTHER "UNFACIALED" wrist. Now, what is the difference in how the
foundation is going on now? (dry, drags, stays to surface, visible). Hold 'em up and compare. What do you
see?
Ladies, you've passed the test. You can wash your wrists off now. There's a reason we do this. For women who do or
don't wear foundation, this is what a good foundation should look like…flawless & translucent! Not cakey/fake…no
line…not heavy…
►Doesn't your face feel light? Again, MK products are 100% guaranteed, but they're guaranteed if you're using them
properly.
 The basic SC is the only set we don't break up on initial purchase. For example, after a facial, a few women will
ask to just buy the foundation.
 But we know, just like our wrist test reveals, our products are meant to be used together and properly.
 Now, once you're on the SC, and one of your products run out, you can definitely replenish only what you need
at the time.
►SC should last about 3-4 months. The important thing is use it every morning and every night for the guaranteed
results. Again, your FOLLOW-UP will guarantee you're using the products correctly.
13 Now as women, we all know that skin care never ends with the basics. We all have our issues! There are so many
extra "issue" products. Over 200 products in line…not enough time! That's why FOLLOW-UP can be great, you can try
some of them at that time. I'm going to mention a few problems… just flip your card over and write it down on back
if it something may want to check out later. You can ask me questions when we get together later for your
individual consultation.
1. Puffy and dark under the eyes? Brand New Eye Revitalizer, which reduces the under eye puffy and dark circles at
the cellular level, where the problem starts! Awesome.
2. Deep wrinkles getting you down? Once click wrinkle stick-Targeted action line reducer that immediately and over
time targets isolated wrinkles to minimize their appearance. It' t like Botox in a stick.
3. Noticing lines in your lips-lips looking older? Does your lip color run or bleed?: Lip Primer fights the lines and stops
the color from bleeding.
4. Notice that your eye shadow disappears throughout the day? It's not as vibrant and fresh as when you applied it in
the morning. Then EYE PRIMER is a must! It's like "Eye Shadow Glue."
5. Tend to be shiny ½ way through the day: Oil Control Mattifier (clear liquid that absorbs oil-- like little sponges) also
have BEAUTY BLOTTERS, tissues, etc.
6. Lumps and bumps of cellulite? New TW Cellu-Shape Contouring System. Everything Body Care Treatment.
Antiaging benefits. 7 /10 women lost up to ½ inch of each thigh
7. Does your face tend to get a little dry at times? Then our intense moisturizing cream or oil-free hydrating gel will
do the trick. They are hydrating for up to 10 hours. They are like a drink of water for your skin.
8. Not really an issue, but you enjoy a nice fragrance…they are a pick-me-up during day, pleasant to your senses. I
love wonderful scents! They make me happy…but I don't like over heavy, over-powering smells. I think you'll find a
fragrance for you or your significant other that you'll really like. I have a basket that contains all "testers."
Page 14 SHAKE THINGS UP A BIT: MARKETING GAME: FOR TICKETS: Some women are a bit intrigued after watching
me a bit; and this game helps share what's so great about Mary Kay, the business opportunity. Even if you're not
interested, just play along for the prizes. I actually get credit from my director for doing this.
►PLAY: MRS. CAB PURSE OR IN THE BAG. OR PICTURE BOOK
Before moving on, let's take turns and say what you'd enjoy MOST of all these benefits (and why?)
►Now that we're all energized a bit, I'd love to ask a personal ?. I set a huge goal to share our company information in
detail with 10 women a month. I accepted this challenge from my director. Gulp! I'm wondering, (sheepishly) would
you be 1 of my 10? All you would do is listen to the facts of Mary Kay's business oppty and then give me your honest
opinion of what you heard. It doesn't obligate you to ANYTHING and if I do this challenge I'll have a chance to
earn the use of a MK car!!!
This is how you can let me know if you'll help me or if you're interested: On the back of your profile card (upper left hand
corner: you're going to write either A, B, or C . If you agree to help me, at the very least, I promise you'll be
amazed and know more about this company!
OK, here are the options, in the upper left corner, please write: "A" which stands for "Absolutely!" I not only want to hear
more about this … I think I really want to start my own business. I think this is something I'd be very interested in
pursuing. If this is the case … you can pick one product for free just for starting your business. Or write "B" stands for
Buy me a coffee or a soda; I'd like to know more details. No obligation of course. For helping me, you'll get one
product of your choice from my MK store @ ½ price. Or write "C" stands for : Check back another time; right now I'd
like to remain a happy MK customer. However, I think my friend needs to hear about this! Write your friends name &
number after the letter C.
►OK, now it's time to fall in love w/ some simple color. We're going to focus on a simple, pretty, but fresh look today called
Dash out the Door, and at your FOLLOW-UP, don't forget, you will get a WOW GLAMOUR Look (like hostess) that's
been created by an international makeup artist. This will be a full glamour look for those special occasions, like an
evening out, wedding or class reunion. There are times when we really want to look gooood! Again, this FOLLOW-UP
is a big part of our 100% satisfaction and is fun to share w/ friends. It's also a great way to earn free products.
►TEACH THE DASH OUT THE DOOR – Eyesicles, mascara, bronzer and lip gloss.
Page 15
OK we're done.
►Hold your mirror an arm's length away to get a good look at yourself. This is as close as people get to you … unless it's
your husband or boyfriend … and if he's that close, he's not looking at your makeup! One other tip … always look up
into a mirror. If you look down, you automatically get a double-chin!
►My favorite part now is compliment time. Go around and let's share what we like best about each other's makeover.
Also ask each person what they like best and/or what products impressed them the most. End w/ hostess.
►My goal is to share the products with 30 new women EVERY 30 days and ask them what they think of Mary Kay. Every
month I'm always excited to meet so many women who've never had the chance to try Mary Kay. When you have a
couple friends join you for your FOLLOW-UP, it will help me reach those faces faster and you will be rewarded
generously.
Page 16 OK, now that we're done, women usually have 3 questions:
1) How and when do the products come? You get the best deals in sets, and… you can take home what
you want because my trunk is loaded.
2) How can I pay for it? Remember, there is NO OBLIGATION to buy, but I do take cash, cc, and check
if you like our products. I can even work a payment plan if you want. Again, I 'd like to say, your
products are 100% guaranteed to your satisfaction, and when you become my client, my ongoing,
professional services come with them. It begins with your FOLLOW-UP check up appointment and
your personalized glamour look.
3) Are there any specials? Of course! Let's go there now!
Let me show you the most popular sets that most women treat themselves to. Pass out Set sheets, etc.
GO THROUGH the specials!
Page 17
►So, who has the "FOLLOW-UP" prize? Great! (Give Gift) In closing, I enjoyed being here today. Thank you for your
time. I hope you've had fun and learned at least one new thing.
►OK, who has the most tickets? You've earned your prize!
DO AFTER PICTURES if applicable.
PASS DOWN ALL THE TRAYS, PRODUCTS….hostess help clean off table—OK serve refreshments
I'm going to quickly meet with each of you individually now to answer personal questions, help you with
product selections and schedule your FOLLOW-UP appointment.
►Is there anyone who's in a hurry tonight? (Try to take the most excited person/buyer first. Keep hostess for last.
_____________, why don't I meet with you first. ____________, I'll meet with you 2nd. ______________ I'll meet with you
3rd and (my hostess), I'll meet with you at the end. (Hostess), this would be the perfect time to serve any refreshments.
►Please feel free to try on our most popular fragrances. Newest, most popular fragrance is ____________.
►Please bring your pink profile AND your set sheet when you meet with me.
INDIVIDUAL CONSULTATION:
1)How does your face feel?
2) What's your favorite part of MS?
3) You know your situation better than me, which set w/u like to start w/?
Look at her profile card on back
4) It's time to schedule your f/up – what works better for you weeknight or weekend? Beginning
of the week or end of the week? (check # of friends on the back of the card … "Oh, look you
can take advantage of hostess credit b/c you have @ least 3 women on your list."
4) Could you ever see yourself doing what I'm doing? NO? You'd be great! That's ok, would
you help me w/ my challenge…DVD…BOOK INTERVIEW F/UP!