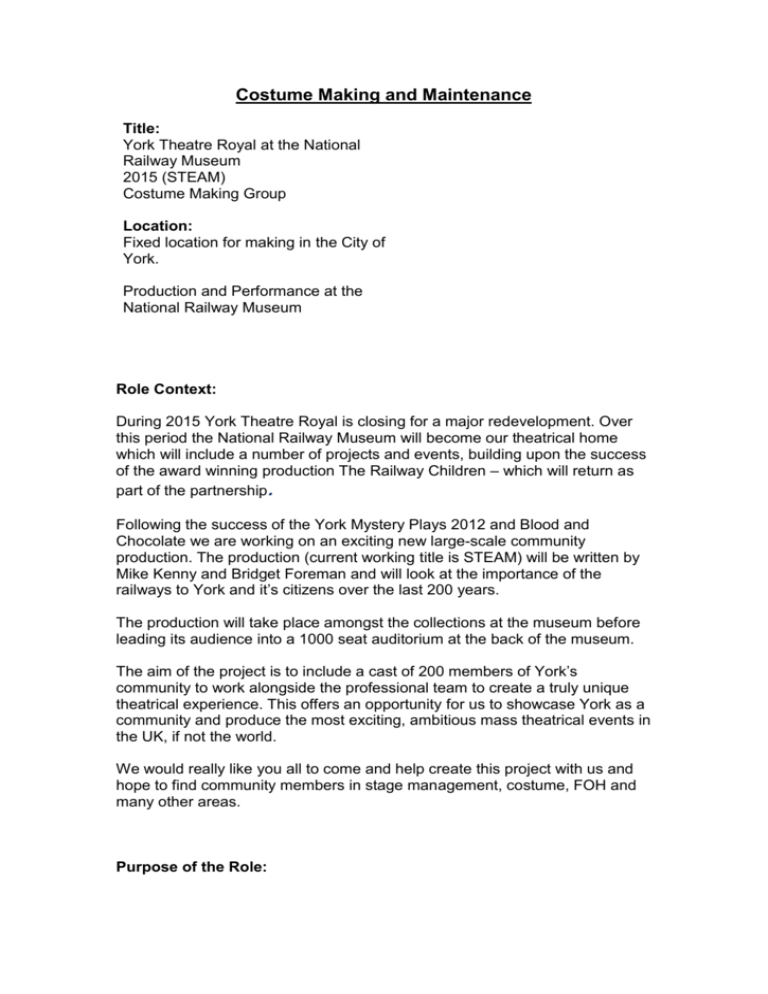 Costume Making and Maintenance
Title:
York Theatre Royal at the National
Railway Museum
2015 (STEAM)
Costume Making Group
Location:
Fixed location for making in the City of
York.
Production and Performance at the
National Railway Museum
Role Context:
During 2015 York Theatre Royal is closing for a major redevelopment. Over
this period the National Railway Museum will become our theatrical home
which will include a number of projects and events, building upon the success
of the award winning production The Railway Children – which will return as
part of the partnership.
Following the success of the York Mystery Plays 2012 and Blood and
Chocolate we are working on an exciting new large-scale community
production. The production (current working title is STEAM) will be written by
Mike Kenny and Bridget Foreman and will look at the importance of the
railways to York and it's citizens over the last 200 years.
The production will take place amongst the collections at the museum before
leading its audience into a 1000 seat auditorium at the back of the museum.
The aim of the project is to include a cast of 200 members of York's
community to work alongside the professional team to create a truly unique
theatrical experience. This offers an opportunity for us to showcase York as a
community and produce the most exciting, ambitious mass theatrical events in
the UK, if not the world.
We would really like you all to come and help create this project with us and
hope to find community members in stage management, costume, FOH and
many other areas.
Purpose of the Role:
To help make the costumes for STEAM and for some members of the team to
help with maintenance of costumes come performance time.
With up to 500 costumes needing to be made, this role is essential to this
event! Working alongside the professional wardrobe team at York Theatre
Royal and the Community Costume Making Team, we need as much time
and focus as possible to help with all aspects of the costume making and
fitting process.
Tasks:
To work alongside the wardrobe team at York Theatre Royal.
To attend organised social costume making groups as regularly as possible.
To work alongside other members of the community of all ages and
experience to help make costumes towards the project.
To assist with taking measurements of the acting company
To help cut fabrics for costume making
To help cut costumes patterns
To help with the sewing of costumes (by hand and machine)
To help with decorating and embellishments of costumes according to
designs
To help with the fitting of costumes
To help with any alterations following fittings
To help with the labelling of costumes
To help with the breaking down of costumes
To assist with the making and when needed the altering of patterns
To assist with the administration towards costuming of the production
To help with maintenance of Costumes during performance
Skills Required:
 Ability to work closely within a small or large team of people
 An interest in sewing, cutting, embroidery or textiles
 A willingness to make as part of a group or individually at home
 A basic level of experience using sewing techniques and sewing
machines
 An interest in sharing and/or developing knowledge in skills related to
costume making at any level
 A reliable and friendly nature
 A willingness to commit
 To enjoy taking a major role in a unique and exciting piece of theatre.
Potential Timetable:
The Costume team will begin work during March 2015 to ensure enough
time. This will be done on a flexible nature but the below dates give an
idea of how it might be structured. This will of course change as
people's needs become more clear.
November 2014 – Initial meeting for costume team
March 2015 - Work will begin on a weekly basis. Venue TBC. Possible
weekly sessions will offer daytime, evening and weekend sessions
June 15th – July 11th - Production and performance dates. Costumes
required for technical rehearsals. Also any maintenance between
performances - which take place Monday - Saturday Evenings and Saturday
Matinees. No Sunday performances.
PLEASE NOTE THAT THESE DATES ARE PROVISIONAL GUIDELINES.
SPECIFIC SCHEDULES WILL BE ISSUED IN ADVANCE OF
REHEARSALS BEGINNING AND WILL DEPEND ON THE ROLE YOU ARE
OFFERED.