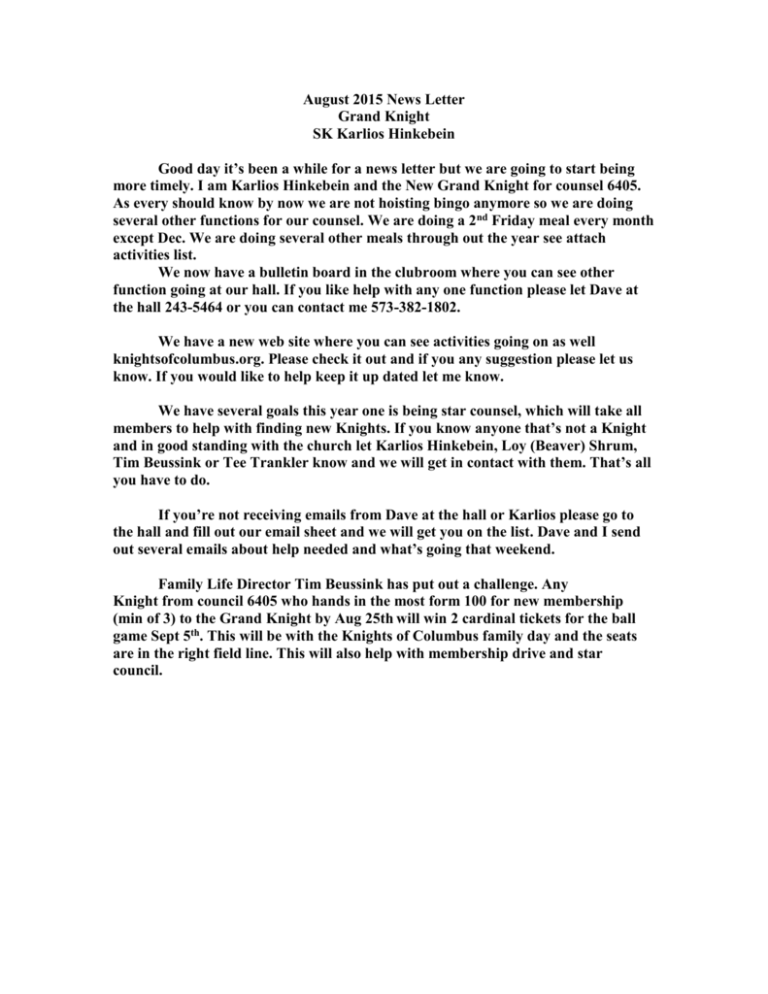 August 2015 News Letter
Grand Knight
SK Karlios Hinkebein
Good day it's been a while for a news letter but we are going to start being
more timely. I am Karlios Hinkebein and the New Grand Knight for counsel 6405.
As every should know by now we are not hoisting bingo anymore so we are doing
several other functions for our counsel. We are doing a 2nd Friday meal every month
except Dec. We are doing several other meals through out the year see attach
activities list.
We now have a bulletin board in the clubroom where you can see other
function going at our hall. If you like help with any one function please let Dave at
the hall 243-5464 or you can contact me 573-382-1802.
We have a new web site where you can see activities going on as well
knightsofcolumbus.org. Please check it out and if you any suggestion please let us
know. If you would like to help keep it up dated let me know.
We have several goals this year one is being star counsel, which will take all
members to help with finding new Knights. If you know anyone that's not a Knight
and in good standing with the church let Karlios Hinkebein, Loy (Beaver) Shrum,
Tim Beussink or Tee Trankler know and we will get in contact with them. That's all
you have to do.
If you're not receiving emails from Dave at the hall or Karlios please go to
the hall and fill out our email sheet and we will get you on the list. Dave and I send
out several emails about help needed and what's going that weekend.
Family Life Director Tim Beussink has put out a challenge. Any
Knight from council 6405 who hands in the most form 100 for new membership
(min of 3) to the Grand Knight by Aug 25th will win 2 cardinal tickets for the ball
game Sept 5th. This will be with the Knights of Columbus family day and the seats
are in the right field line. This will also help with membership drive and star
council.