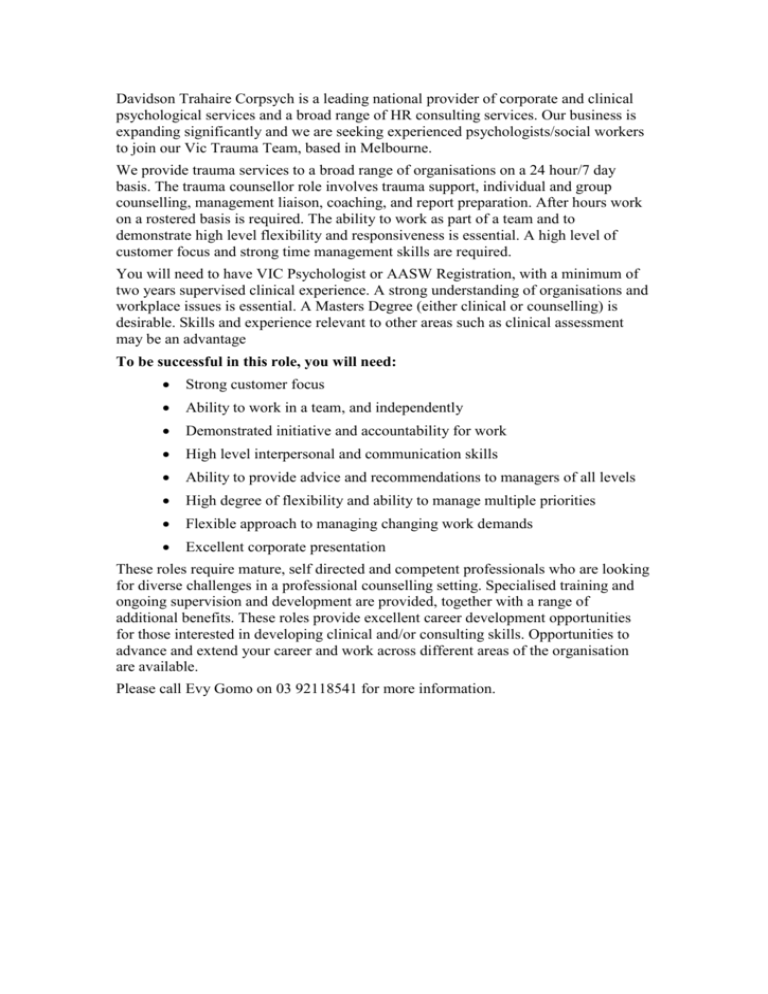 Davidson Trahaire Corpsych is a leading national provider of corporate and clinical
psychological services and a broad range of HR consulting services. Our business is
expanding significantly and we are seeking experienced psychologists/social workers
to join our Vic Trauma Team, based in Melbourne.
We provide trauma services to a broad range of organisations on a 24 hour/7 day
basis. The trauma counsellor role involves trauma support, individual and group
counselling, management liaison, coaching, and report preparation. After hours work
on a rostered basis is required. The ability to work as part of a team and to
demonstrate high level flexibility and responsiveness is essential. A high level of
customer focus and strong time management skills are required.
You will need to have VIC Psychologist or AASW Registration, with a minimum of
two years supervised clinical experience. A strong understanding of organisations and
workplace issues is essential. A Masters Degree (either clinical or counselling) is
desirable. Skills and experience relevant to other areas such as clinical assessment
may be an advantage
To be successful in this role, you will need:

Strong customer focus

Ability to work in a team, and independently

Demonstrated initiative and accountability for work

High level interpersonal and communication skills

Ability to provide advice and recommendations to managers of all levels

High degree of flexibility and ability to manage multiple priorities

Flexible approach to managing changing work demands

Excellent corporate presentation
These roles require mature, self directed and competent professionals who are looking
for diverse challenges in a professional counselling setting. Specialised training and
ongoing supervision and development are provided, together with a range of
additional benefits. These roles provide excellent career development opportunities
for those interested in developing clinical and/or consulting skills. Opportunities to
advance and extend your career and work across different areas of the organisation
are available.
Please call Evy Gomo on 03 92118541 for more information.