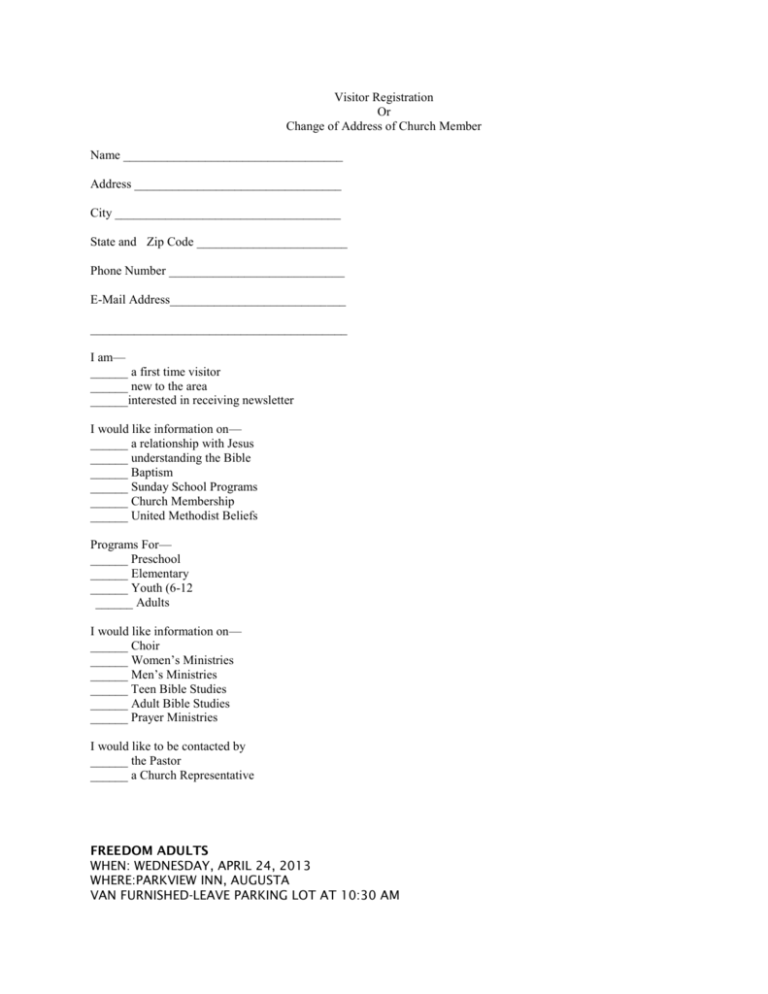 Visitor Registration
Or
Change of Address of Church Member
Name ___________________________________
Address _________________________________
City ____________________________________
State and Zip Code ________________________
Phone Number ____________________________
E-Mail Address____________________________
_________________________________________
I am—
______ a first time visitor
______ new to the area
______interested in receiving newsletter
I would like information on—
______ a relationship with Jesus
______ understanding the Bible
______ Baptism
______ Sunday School Programs
______ Church Membership
______ United Methodist Beliefs
Programs For—
______ Preschool
______ Elementary
______ Youth (6-12
______ Adults
I would like information on—
______ Choir
______ Women's Ministries
______ Men's Ministries
______ Teen Bible Studies
______ Adult Bible Studies
______ Prayer Ministries
I would like to be contacted by
______ the Pastor
______ a Church Representative
FREEDOM ADULTS
WHEN: WEDNESDAY, APRIL 24, 2013
WHERE:PARKVIEW INN, AUGUSTA
VAN FURNISHED-LEAVE PARKING LOT AT 10:30 AM
CONTACT CAROLE/RON BY MONDAY, APRIL 22,
TELEPHONE-234-2053
WEDNESDAY, APRIL 24:
6:30 P.M. CIA Workers Meeting
No Meal or Regular CIA Activities
MONDAY, MAY 13: (note change of date)
6:00 P.M. Staff-Parish Relations Meeting,
in Pastor's Mike's Office
MONDAY, JUNE 17:
The Mountain Mission Truck will be at our church.
Please bring your items in boxes.
Faith Break has moved from 1400 AM on Wednesdays
and Fridays to Oldies 102.3 FM every Sunday at 9:00 A.M.
Our Sunday morning sermon will be on the air the following
week. Spread the word.
Community Food Pantry Items
Needed From Our Church:
For April—Flour or Meal—Cleaning Supplies
Place items in basket inside church door entrance.
Budget Report
Received April 14—$3,013.30
Total Received For April—$7,414.15
Needed For April—$15,484.00 (without Our Mission Covenant)
Needed For April—$17,200.00 (with Mission Covenant)
Expenditures for next week—$5,513.43
Bank Balance—$1,427.10
Owe Mission Covenant through March $4,344.00
CIA Money March
Women—$144.82
Men—$69.44
APRIL 21, 2013
FOURTH SUNDAY OF EASTER
TIME OF GREETING/PRELUDE
CALL TO WORSHIP/*PRAYER/AFFIRMATION OF FAITH
*SONG OF PRAISE
(on screen)
"Blessed Be the Name"
OPPORTUNITIES FOR SERVICE
CHILDREN'S TIME
Jack Mitchell
WE BRING OUR GIFTS TO GOD
Offertory
*Doxology
THE FAMILY OF GOD IN PRAYER
Hymn Of Preparation No. 522 "Leave It There"
Pastoral Prayer
SPECIAL MUSIC
Choir
SCRIPTURE READING
MESSAGE
James 3:1-12
"Did You Hear About…"
Pastor Mike
*HYMN OF INVITATION No. 365 "Grace Greater than Our Sin"
*GLORIA PATRI
No. 70
*POSTLUDE
*Please Stand
*****A special thank you and recognition goes out for the amazing flute
trio who played for us last week. They are Johnny Mitchell, Alyssa
Fryman and Tiffany Hutchison. Truly, for a brief moment, we heard
angels in our church!!Thank you so much, Johnny, Alyssa & Tiffany.
WEEKLY OUTREACH MINISTRY
8:30 A.M. and 4:30 P.M. on Wednesdays
8:15 A.M. and 4:15 P.M. on Fridays
FAITH BREAK message on 1400 AM (WCYN's Coffee Break)
THIS WEEK'S ACTIVITIES
TODAY:
9:30 A.M. Coffee Hour
9:45 A.M. Sunday School
April 28—Early Elementary Teacher—Christy Pensinger
Helper—Angie Franklin
April 28—4th & 5th Grade Teacher—Sierra Redmon
10:50 A.M. Morning Worship – Nursery is provided for birth thru 5
years old. Children's Church is for 6 thru 10 years old.
NURSERY WORKERS
April 21—Rhonda Strawzell & Kelsi Strawzell
April 28—Tracy Brown & Sharon Coppersmith
Children's Moments
April 28—Tallu Smith
CHILDREN'S CHURCH WORKERS
April 21—Meg Ammerman
April 28—Amanda Caudill
5:00 P.M. Youth Ministries
NO Choir Practice
MONDAY:
NO Promise Keepers
TUESDAY, APRIL 23:
6:30 P.M. United Methodist Women's Meeting
Hostess – Webber-McDaniel Group—Refreshments
Program – Circle of Sisters
WEDNESDAY:
7:30 A.M. Breakfast and Prayer Time will meet at the hospital
cafeteria.
CIA (Church In Action with Christians In Action For Christ In Action)
6:00—6:30 P.M. Food—6:30-7:15 P.M. Bible Activities
CIA Program—7:15—7:45 P.M. Worship
7:45 P.M. CIA Pow-Wow
This Week's Prayer Concerns
Marion White, Anna Kimbrough,
Jane Hill, Boston Victims,
our new Radio Program on Oldies 102.3,
B. W. Martin, Clarine Lemons,
Finella Casey
Ongoing Prayer Concerns
Vivian Smith, Unspoken,
Jack Baxter, Ellen Hiday,
Howard Coop, Alice Nichols
Sympathy To The Families Of
Boston Victims
Praises
Special Music last Sunday,
Lola Strawzell's 95th birthday,
Wiley Caudill (2 Governor's
Scholarship Awards),
Bailey Caudill and friend Daniel
accepted to EKU,
Long Family,
Kelsi Strawzell
Military Personnel
Justin R. Williams
219 Birmingham Avenue Apt #80
Norfolk, Virginia 23505
CPL Fryman, Joseph W.
1st Lt. Isaac Lyons
846 Cliffs Circle, Apt. 203
Spring Lane, North Carolina 28390
IT'S THE YEAR OF JUBILEE
Prayer Concerns To Be Announced
_______________________________
Open Doors
Open Minds
Open Hearts
Pastor Mike Coppersmith
Youth Pastor: Sharon Coppersmith
Pianist: Iva Ewalt
Church (859) 234-2722
Church Fax (859) 234-6360
Parsonage (859) 234-9368
Pastor's E-mail:
pastormike@firstumccyn.org
Church Office E-mail: gossettmrsg@aol.com
Church Web Site: www.firstumccyn.org
Prayer Chain Contact Person: Frances Cox—234-1701
Valet Parking: Matthew Harney—859-285-9211
THE PURPOSE OF THE CYNTHIANA FIRST UNITED
METHODIST CHURCH IS TO REACH OUT WITH
THE LOVE AND FORGIVENESS OF GOD TO OUR
COMMUNITY AND THE WORLD IN SERVICE TO
OTHERS AS WE CONTINUE TO GROW TOWARD
CHRISTIAN MATURITY.
FIRST UNITED METHODIST CHURCH
P. O. BOX 307—PIKE AT CHURCH STREET
CYNTHIANA, KY 41031
WELCOME GUESTS. Thank you for allowing us the pleasure of worshipping together. You made our day! If you
are a first time visitor, we have a gift for you!
"CONTACT AN USHER FOR THE GIFT PLEASE".