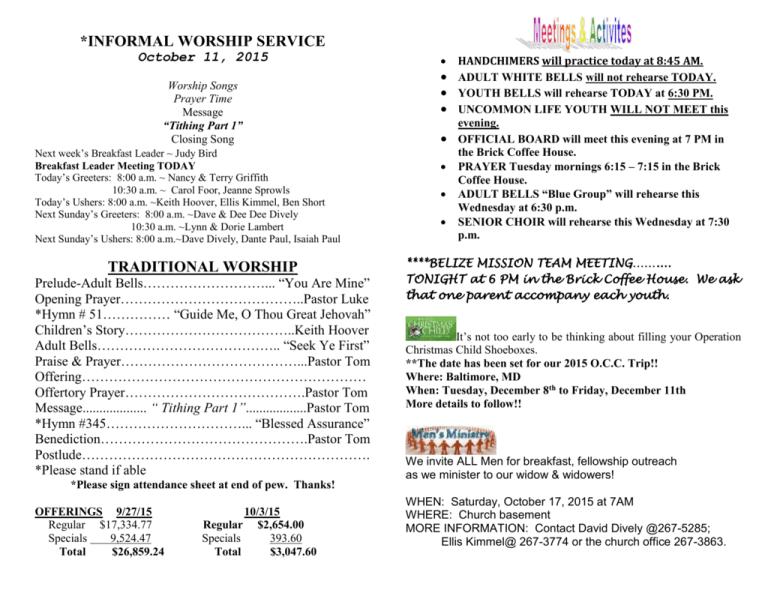 *INFORMAL WORSHIP SERVICE
October 11, 2015
Worship Songs
Prayer Time
Message
"Tithing Part 1"
Closing Song
Next week's Breakfast Leader ~ Judy Bird
Breakfast Leader Meeting TODAY
Today's Greeters: 8:00 a.m. ~ Nancy & Terry Griffith
10:30 a.m. ~ Carol Foor, Jeanne Sprowls
Today's Ushers: 8:00 a.m. ~Keith Hoover, Ellis Kimmel, Ben Short
Next Sunday's Greeters: 8:00 a.m. ~Dave & Dee Dee Dively
10:30 a.m. ~Lynn & Dorie Lambert
Next Sunday's Ushers: 8:00 a.m.~Dave Dively, Dante Paul, Isaiah Paul
TRADITIONAL WORSHIP
Prelude-Adult Bells………………………... "You Are Mine"
Opening Prayer…………………………………..Pastor Luke
*Hymn # 51…………… "Guide Me, O Thou Great Jehovah"
Children's Story………………………………..Keith Hoover
Adult Bells………………………………….. "Seek Ye First"
Praise & Prayer…………………………………...Pastor Tom
Offering………………………………………………………
Offertory Prayer………………………………….Pastor Tom
Message................... " Tithing Part 1"..................Pastor Tom
*Hymn #345…………………………... "Blessed Assurance"
Benediction……………………………………….Pastor Tom
Postlude……………………………………………………….
*Please stand if able
*Please sign attendance sheet at end of pew. Thanks!
OFFERINGS 9/27/15
Regular $17,334.77
Specials
9,524.47
Total
$26,859.24
10/3/15
Regular $2,654.00
Specials
393.60
Total
$3,047.60








HANDCHIMERS will practice today at 8:45 AM.
ADULT WHITE BELLS will not rehearse TODAY.
YOUTH BELLS will rehearse TODAY at 6:30 PM.
UNCOMMON LIFE YOUTH WILL NOT MEET this
evening.
OFFICIAL BOARD will meet this evening at 7 PM in
the Brick Coffee House.
PRAYER Tuesday mornings 6:15 – 7:15 in the Brick
Coffee House.
ADULT BELLS "Blue Group" will rehearse this
Wednesday at 6:30 p.m.
SENIOR CHOIR will rehearse this Wednesday at 7:30
p.m.
****BELIZE MISSION TEAM MEETING……....
TONIGHT at 6 PM in the Brick Coffee House. We ask
that one parent accompany each youth.
It's not too early to be thinking about filling your Operation
Christmas Child Shoeboxes.
**The date has been set for our 2015 O.C.C. Trip!!
Where: Baltimore, MD
When: Tuesday, December 8th to Friday, December 11th
More details to follow!!
We invite ALL Men for breakfast, fellowship outreach
as we minister to our widow & widowers!
WHEN: Saturday, October 17, 2015 at 7AM
WHERE: Church basement
MORE INFORMATION: Contact David Dively @267-5285;
Ellis Kimmel@ 267-3774 or the church office 267-3863.
You will find a prayer request card in the pew rack or on the
Information Table. If you have a prayer concern please fill out and place
in the "Golden Bowl".
"LOVE FOR LARAMEE" bracelets are available to benefit
Laramee Ickes and family. Laramee Ickes is a 6 year old who was
recently diagnosed with an inoperable brain tumor. Bracelets are
$5.00 each and are available on the Information Table or through
Ryan & Tammy Saylor at 701-1727 or Randy & Afton Burkholder at
233-6332 or 233-9025.
ROOF GARDEN CHORUS will present their annual
Show "Old Time Revival", TODAY at 2 PM at the
Somerset High School. Tickets available from chorus
member or at the door.
The Berlin Brothersvalley School District Foundation will
be having their seventh annual "FUN IN THE SUN" dinner
and drawing on Saturday, October 24, 2015 at the Berlin
Community Building beginning at 6:00 pm. A family-style
roast beef dinner will be served followed by a drawing with
the grand prize being a one week's stay (January 23-30, 2016)
at Caribe Cove Resort, Kissimmee, FL and $800 travel
allowance. Other cash prizes and many door prizes
donated by local businesses will be given away. There will
also be themed baskets. Tickets are $25.00 each and are
available from any Foundation Member or by contacting
the BBSD Administration Office at (814)267-4621. Please
help support the Foundation and the children of our
school district.
Pastor Tom Sprowls, Jr.
Youth Pastor Luke Dowdy
October 11, 2015
Church Office: 267-3863 ~ email berlinbrethren@comcast.net
Website ~ www.berlinbrethren.com
Please Remember: The Sunday morning Messages can be found
and listened to online.
INFORMAL WORSHIP 8:30 AM
SUNDAY SCHOOL
9:30 AM
TRADITIONAL WORSHIP 10:30 AM
*Nursery is on the second floor. TODAY'S 8 AM attendant is
Erin Boburchock.
Next's Sunday's Nursery Attendant is Claire Spochart.
YEAH!!! We now have a staffed Nursery during Sunday
School!!
Deneen Eutsey & Jodi Onstead will be in the nursery from 9:30 AM
– 10:20 AM.
KID'S KORNER for Ages 2 thru Kindergarten
TODAY (during our 8 a.m. service) in the church basement. The
Pastor will prompt the time when you may bring/send your child
downstairs.
*** Leaders are Jason and Julie Huston. Help is needed!! Please
see sheet posted on the Information Bulletin Board or contact Jason
& Julie Huston @ 267-3012 or 442-0996.
for
TABITHA FLICK
When:
Where:
Time:
Cost:
Meal:
Sunday, October 18, 2015
BERLIN FIRE HALL
11 AM – 2 PM
$10.00 per person
Pork, Sauerkraut & Filling
Tickets: Jim & Lynn Suder- 814-701-1010
Heather Harding- 814-279-8166
Melissa Suder – 814-585-0753
Katie Flick – 814-701-5525
Today's altar flowers are in honor of
the marriage of Jacob Weimer and Lauren Short
and in memory of Ruth Hillegass, given by
family.
The basket of flowers on the organ is
in honor of Renee's mom Hazel Bittner in
celebration of her 89th birthday, given by Renee
& Mike Raupach and family.
**FIRST GRADERS RECEIVING BIBLES during our
8 AM service
Jayden Burkholder
Halle Childers
Ellery Huston
Kaylee Jamison
Brady Jandilo
Carson Jandilo
Ryan Jandilo
Jacob Philip
Collin Phillips
Brennon Schardt
Joey Weimer
Thanks to all who supported the MODOLVA
MISSIONS! Shipped 5 boxes of shoes and gave a total of
$10,933.10 in monetary donations!!!
***Donations of Baskets are Welcome!!
Baskets are due 10/16/15
We would like to thank Elwood & Carol Kimmel for their donations
of pumpkins and gourds that are surrounding our church sanctuary.
Thank you to those who helped at the Thrift Shop this past Monday!
Many hands made light work
** Check out our "new" Sunday School /Board of
Christian Education Information Table! (Located in the
church social room). If you have any questions, please see
or contact Ellis Kimmel 267-3774.
Prayer Concern List
Name
Request/Concern
Gertrude Baker ~ Donna
William's mother
John Baker
Janice Beardmore
Ed Biddle
Paul Bird
Heart problems
*Cindy Blake and family
*Charlie Clevenger
Zona Coleman
*Glenn Brant – friend of Ellis
& Donna Kimmel
Wayne Deeter
*Darla Delancy
*Don Deist- Audrey Sechler's
dad
*Jane Drenner – Darin
Janidlo's grandmother
Faith Custer ~ 9 yrs. old
*Tabitha Flick
Zayne Fornwalt ~ 6 yrs. old
Kathy Gallo ~ sister of Susan
Yoder
*Shelva Jean Gardner – Darla
Delancy's sister
Justin Gendron ~ 5 yrs. old
Terry Griffith
Rita Hardesty
Kelly (Dively) Hartbauer
*Ellen Hay
Bernie Henaghan ~ friend of
Bob Brant
Bruce Hostetler
*Stephanie Hummel
Dave Hutzell
*Laramee Ickes ~ 6 yr. old
daughter of Zac & Brittany
*Brad Janidlo-Darrin's
brother
Stroke/renal failure
Cervical Cancer
Dementia
Health concerns &
medication changes
Passing of
husband/father Mike
Heart valve
replacement
Infection in arm
PRAISE- NO CANCER
Knee replacement
surgery 9/29/15
Fell and broke her
pelvis
Brain Cancer
Cancer – found in an
ulcer
Lung Cancer
Pre-heart transplant
procedures 7/20
Fell and broke her right
rotator cuff and injured
left leg
Esophagus banding
Back surgery 9/23/15
Cancer
Colon Cancer
Lung cancer
Cystic Fibrosis
Stroke ~ much better
Surgery went well 9/11
Cancer issues
Cancerous brain stem
tumor
Cancer
Progress/Answer
Meadow View
Began radiation
Jerry Johnson
*Mark Keefer
Lung surgery
Stage 4 cancer
Home ~ oxygen
Treatments
*Carol Marker – Cathy
Gaudlip's mother
Surgery 10/07/15
Tricia Mayak
*Charlie McCurdy
Cancer treatment
Lung, liver & brain
cancer
*Kathy Metheney
*Robert Metheney
Motorcycle accident
Motorcycle accident –
Multiple injuries
Retaining fluid and may
have heart issues
Health issues
Conemaugh Hospitalawaiting pathology
reports
Pray for strength
Home – prayer for relief
of severe headaches due
to radiation
**Would love a card!
30030 Fortune Cirlce,
Milton, DE 19968
HOME!!
HOME!!!
Meadow View Nursing
Rm. 221
Conemaugh Hosp.
Back at Rest Assured
Home – still weak
Follow up appt. 10/13
Somerset Hospital
Lutheran Home Special
Care
Treatment
Chemo – surgery in
December
Treatment
Presbyterian Hospital
Banding 11/11/15
Home!!
Chemo treatments
Home~is very, very
tired and was unable to
have her chemo this
week due to loss of
weight
In need of a lung
transplant
Home ~ therapy
Awaiting results
Done with radiation
Chemo
*Carol Meyers-Darla
Delancy's sister
Mary Meyers ~ friend of Stan
& Bonnie Landis
Jeff Moore
Gabriel Ohler
*Ruth Pearson-Chuck Bailey's
mother
Fred Shepler
Ronald Sleasman
Carla Smith
Clara Smith
*Bernie Sperry – Judy Bird's
father
Joyce Taylor
Yvonne Weigle-friend of
Wanda Gerhard
Roy Wright ~ friend of Jane
Maust family
Susan Yoder
Joe Zeigler
Somerset Hospital
Biopsy
Severely burned
Spina Bifida
Multiple health issues
Home -therapy
Home
Pittsburgh Hosp.
Cancer
Lung Cancer
Cancer
Vasculitis
Surgery 10/20/15
Cancer in remission
Not doing well
Chemo – needs prayer
Leukemia
Heart catherization
Brain cancer ~was in
Boston Cancer Hosp.
Heart transplant
Leukemia
Home~doing better
Prayer for healing
OUR MILITARY
Dan Armstong
Jeremy Scott Baker
Cruz Boyer
Mike Bowers
Kyle Cooney
Shawn Cochran
Joshua Crissy
Max Dull
Ben Hay
Jared Harshbarger
Bobby Hoffman
Mike Hutchinson
Alex Kuh
Jana Glotfelty Kuh
Louis Orris
John Paxton
Joel Sprowls
Mark Stewart
Gavin Stockwell
Justin Streng
Carrie Thomas
Jeremy Thomas
Dan VonSchimpf
Josh Walters
Mike Warren
Paul Will
Bethanie Wilson
Ron Helm
Aaron Engleka
Matt Spear
Steve Spear
The Holy Lutheran Church Crusaders S.S. Class is making
Apple Dumplings on Thursday, October 15th. Cost: $3.00 each or
$36.00 'bakers' dozen. To order call 267-5014 by TODAY!