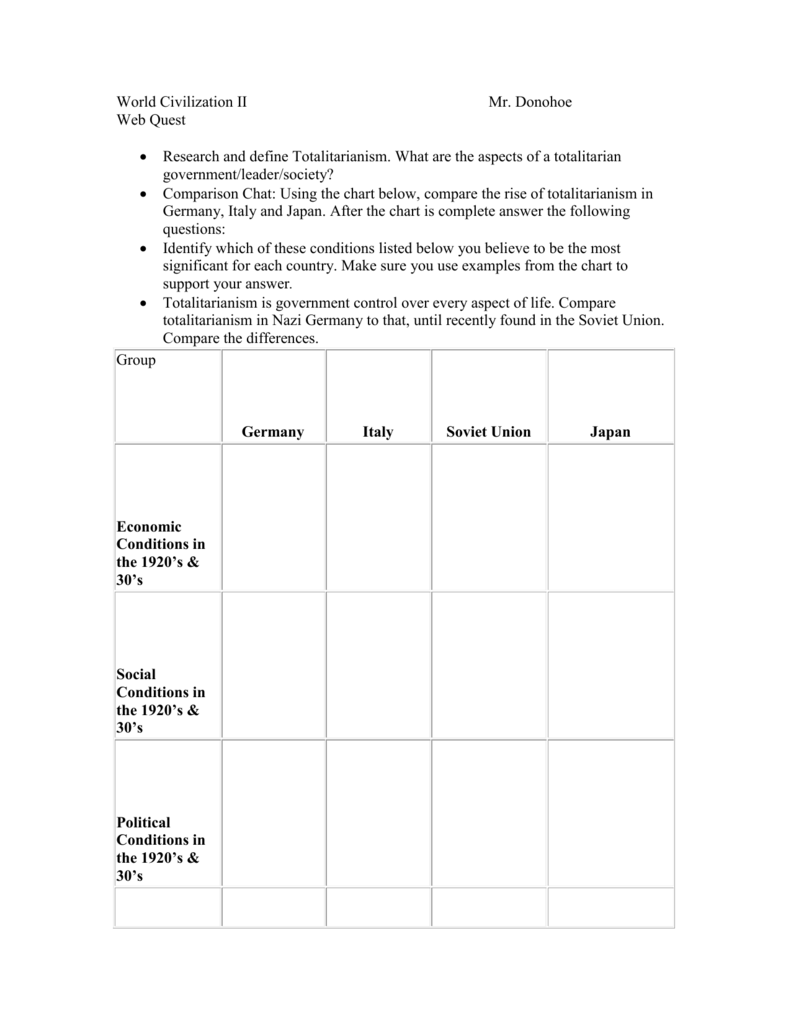 World Civilization II
Web Quest




Mr. Donohoe
Research and define Totalitarianism. What are the aspects of a totalitarian
government/leader/society?
Comparison Chat: Using the chart below, compare the rise of totalitarianism in
Germany, Italy and Japan. After the chart is complete answer the following
questions:
Identify which of these conditions listed below you believe to be the most
significant for each country. Make sure you use examples from the chart to
support your answer.
Totalitarianism is government control over every aspect of life. Compare
totalitarianism in Nazi Germany to that, until recently found in the Soviet Union.
Compare the differences.
Group
Germany
Economic
Conditions in
the 1920's &
30's
Social
Conditions in
the 1920's &
30's
Political
Conditions in
the 1920's &
30's
Italy
Soviet Union
Japan
Leading
political
figures in the
1930's
Chief means of
Totalitarian
control
Leader's
reasons for
declaring war
Part II: Create a resume
 Choose one of the following leaders: Adolf Hitler, Francisco Franco, Benito
Mussolini, Joseph Stalin, Hideki Tojo, Winston Churchill, and Franklin Roosevelt
and create a resume for him.
o Try and make the resume as professional as possible. One day you will
have to create a resume for yourself….why not learn the basic now?