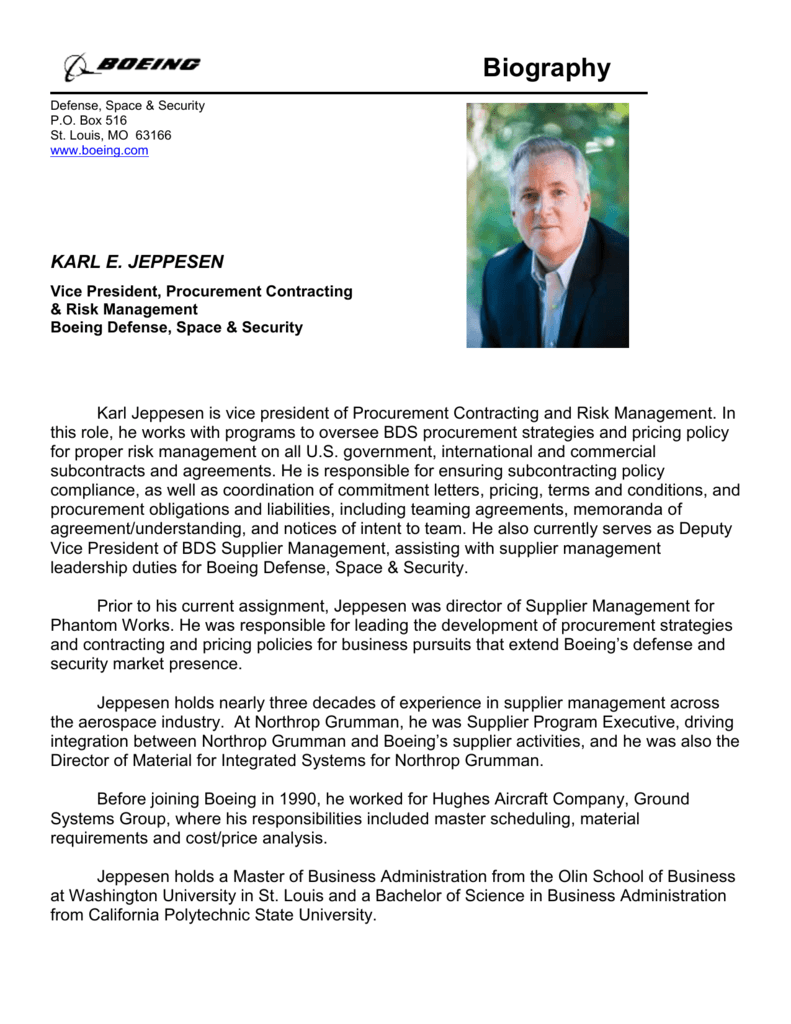 Biography
Defense, Space & Security
P.O. Box 516
St. Louis, MO 63166
www.boeing.com
KARL E. JEPPESEN
Vice President, Procurement Contracting
& Risk Management
Boeing Defense, Space & Security
Karl Jeppesen is vice president of Procurement Contracting and Risk Management. In
this role, he works with programs to oversee BDS procurement strategies and pricing policy
for proper risk management on all U.S. government, international and commercial
subcontracts and agreements. He is responsible for ensuring subcontracting policy
compliance, as well as coordination of commitment letters, pricing, terms and conditions, and
procurement obligations and liabilities, including teaming agreements, memoranda of
agreement/understanding, and notices of intent to team. He also currently serves as Deputy
Vice President of BDS Supplier Management, assisting with supplier management
leadership duties for Boeing Defense, Space & Security.
Prior to his current assignment, Jeppesen was director of Supplier Management for
Phantom Works. He was responsible for leading the development of procurement strategies
and contracting and pricing policies for business pursuits that extend Boeing's defense and
security market presence.
Jeppesen holds nearly three decades of experience in supplier management across
the aerospace industry. At Northrop Grumman, he was Supplier Program Executive, driving
integration between Northrop Grumman and Boeing's supplier activities, and he was also the
Director of Material for Integrated Systems for Northrop Grumman.
Before joining Boeing in 1990, he worked for Hughes Aircraft Company, Ground
Systems Group, where his responsibilities included master scheduling, material
requirements and cost/price analysis.
Jeppesen holds a Master of Business Administration from the Olin School of Business
at Washington University in St. Louis and a Bachelor of Science in Business Administration
from California Polytechnic State University.