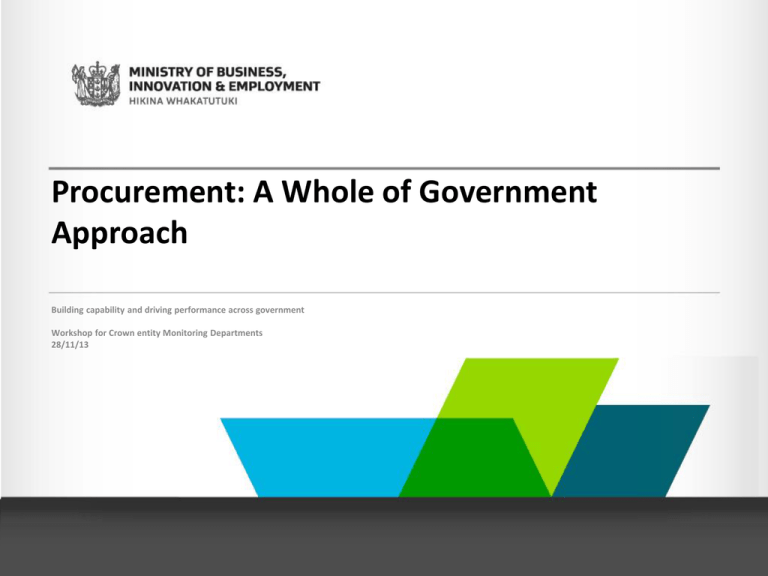 Procurement: A Whole of Government
Approach
Building capability and driving performance across government
Workshop for Crown entity Monitoring Departments
28/11/13
The Proposal for Change
• Ministers propose a whole of government approach to extend
the mandatory application of the Government Rules of
Sourcing (the Rules).
• The direction would cover all Crown Entities, excluding School
Boards of Trustees, a total of 109 entities.
• Consultation begins in December and will continue into early
2014.
The Rules and Value Creation
Government procurement
accounts for $30 Billion
annually, that spend can
shape the competitive
landscape in New Zealand.
If used wisely it can
contribute to growth of the
export sector and domestic
economy.
Stakeholder
International
Supplier
Agency
Domestic
Supplier
Stakeholder
Agency
The Rules and Value Creation
Procurement policy can
change the way market
participants engage with
one another.
The Rules are an important
part of creating value and
aligning New Zealand with
best practice
internationally.
International
Supplier
Domestic
Supplier
Agency
Stakeholder
Agency
Stakeholder
Advantages of Applying the Rules
• A clear and consistent framework which:
Builds supplier confidence
Improves market performance
Supports collaboration
Reduces duplicated effort
Ensuring agencies get the most out of the
procurement process.
Impacts on Agencies
A transition period in which:
• Agencies will need to align internal policy with the Rules.
The impact of this will depend on the extent to which they
already comply.
• An understanding of the framework will need to be fostered
and staff capability developed.
Training and advice will be provided by MBIE throughout this
period.
Impacts of Direction in Agencies
Leading to Sizable Benefits Including:
• Reduced procurement effort
Adoption of AoGs and standard approaches will minimize the
cost involved for agencies.
• Improved value
Early market engagement will improve the quality of market
offerings and the value which can be gained from the
procurement process.
• Savings through shared learning
Collaboration provides opportunities to reduce cost and share
knowledge, building procurement capability within agencies.
Impacts on Monitoring Agencies
• Monitoring Agencies should be aware of the
changes: Taking advantage of opportunities to become
informed and engaged in the process.
• Act as facilitators to support agencies through
the transition period: Recognizing their valuable role in
encouraging and supporting the change.
Should Monitoring Agencies become aware of issues associated
with the change they should not hesitate to contact MBIE.
Agencies: Creating Value and Driving
Best Practice
• Agencies continue to
drive the procurement
process.
• Every agency has the
opportunity to
contribute to creating
best practice.
Where to from here? The
Consultation Process
Consultation will commence in December and continue
over the early part of 2014.
A range of mechanisms will
be used to obtain the views
of entities and other parties
effected by the changes.
Targeted discussion
Workshops
Training
Briefings
Views will be accepted orally
or in writing for the duration
of the consolation period.