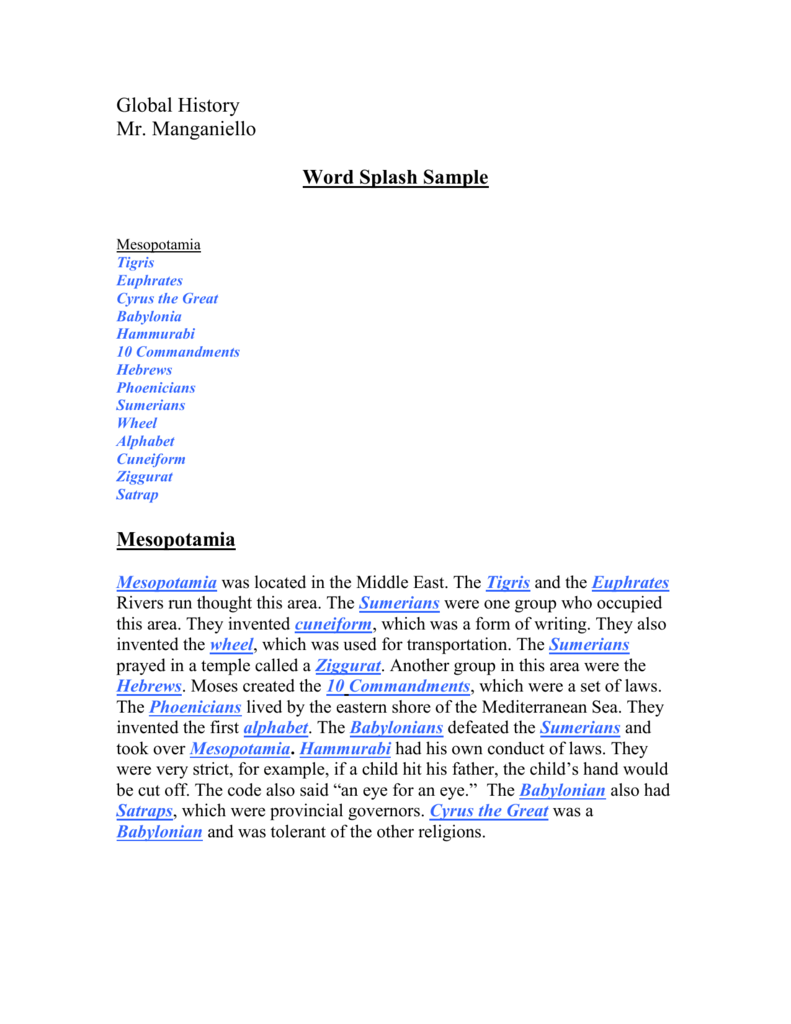 Global History
Mr. Manganiello
Word Splash Sample
Mesopotamia
Tigris
Euphrates
Cyrus the Great
Babylonia
Hammurabi
10 Commandments
Hebrews
Phoenicians
Sumerians
Wheel
Alphabet
Cuneiform
Ziggurat
Satrap
Mesopotamia
Mesopotamia was located in the Middle East. The Tigris and the Euphrates
Rivers run thought this area. The Sumerians were one group who occupied
this area. They invented cuneiform, which was a form of writing. They also
invented the wheel, which was used for transportation. The Sumerians
prayed in a temple called a Ziggurat. Another group in this area were the
Hebrews. Moses created the 10 Commandments, which were a set of laws.
The Phoenicians lived by the eastern shore of the Mediterranean Sea. They
invented the first alphabet. The Babylonians defeated the Sumerians and
took over Mesopotamia. Hammurabi had his own conduct of laws. They
were very strict, for example, if a child hit his father, the child's hand would
be cut off. The code also said "an eye for an eye." The Babylonian also had
Satraps, which were provincial governors. Cyrus the Great was a
Babylonian and was tolerant of the other religions.
Early Humans:
Neolithic
Paleolithic
Cave paintings
Tools
Animals
Afterlife
Agriculture
Domesticate
Surplus
Job specialization
Gender roles
Nomad
Hunting and gathering
Early Humans
The early humans lived during the Paleolithic and the Neolithic ages.
During the Paleolithic age men hunted and women gathered. The time was
known as the Stone Age. During this time, they would make cave paintings,
which were used to communicate. The paintings depicted animals. They
used tools that they made like, bone, wood and stone. During the Paleolithic
age the nomads would travel from place to place. They believed in the
afterlife and tools were buried with the dead.
During the Neolithic Age, they learned about agriculture and how to
domesticate animals. New farming technology allowed early humans to
have a surplus. As a result of the surplus, there were specialized jobs. As the
time went by, gender roles changed and there was less equality.