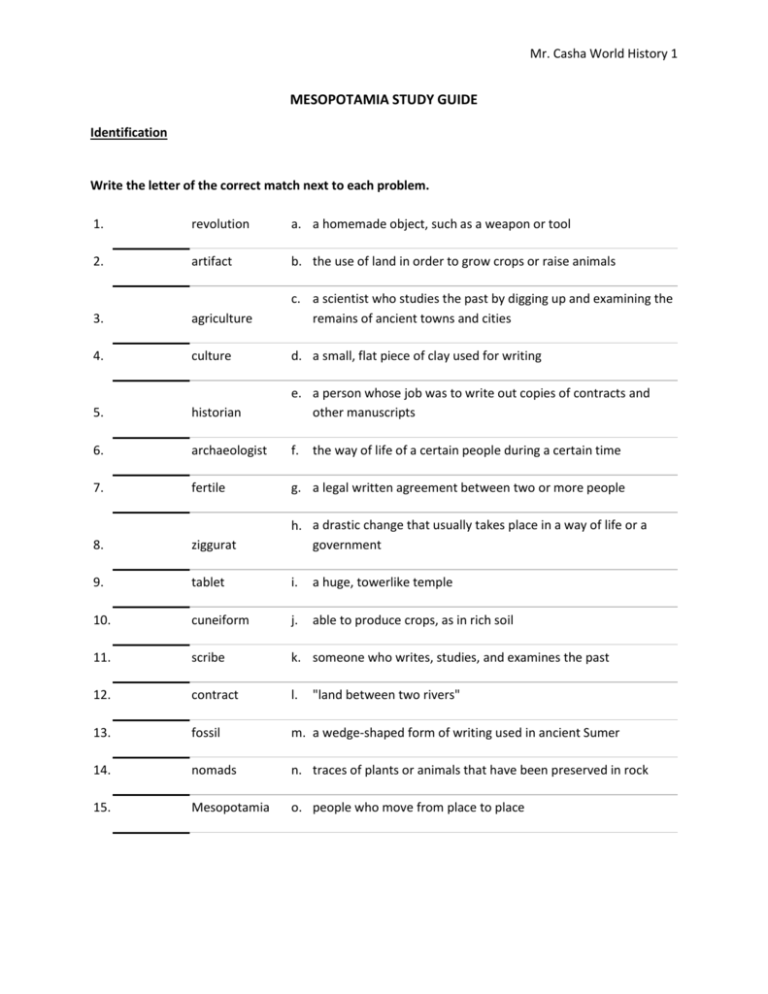 Mr. Casha World History 1
MESOPOTAMIA STUDY GUIDE
Identification
Write the letter of the correct match next to each problem.
1.
revolution
a. a homemade object, such as a weapon or tool
2.
artifact
b. the use of land in order to grow crops or raise animals
3.
agriculture
c. a scientist who studies the past by digging up and examining the
remains of ancient towns and cities
4.
culture
d. a small, flat piece of clay used for writing
5.
historian
e. a person whose job was to write out copies of contracts and
other manuscripts
6.
archaeologist
f. the way of life of a certain people during a certain time
7.
fertile
g. a legal written agreement between two or more people
8.
ziggurat
h. a drastic change that usually takes place in a way of life or a
government
9.
tablet
i.
a huge, towerlike temple
10.
cuneiform
j.
able to produce crops, as in rich soil
11.
scribe
k. someone who writes, studies, and examines the past
12.
contract
l.
13.
fossil
m. a wedge-shaped form of writing used in ancient Sumer
14.
nomads
n. traces of plants or animals that have been preserved in rock
15.
Mesopotamia
o. people who move from place to place
"land between two rivers"
Mr. Casha World History 2
1. Before the Neolithic, or New Stone Age, Period, how did Paleolithic people live?
2. Based on the movie clip we saw in class, what was one of the greatest Paleolithic archaeology
discoveries?
3. Describe how Old Stone Age tools and weapons looked like.
4. Describe how New Stone Age tools and weapons looked like.
5. During the Paleolithic time period, how did people obtain their food?
6. Discuss the work of women and men in the Paleolithic Period.
7. What invention paved the way for the Neolithic age?
8. What is a civilization?
9. Where did the first civilizations usually form?
10. What two rivers were the sources for the Fertile Crescent?
11. What current country is the "Cradle of Civilization" located?
12. A scribe was associated with what social class?
13. What tools did Sumerians use in order to write?
14. What King established an "eye for an eye"?
15. Once farming was established, where did people begin to live in?