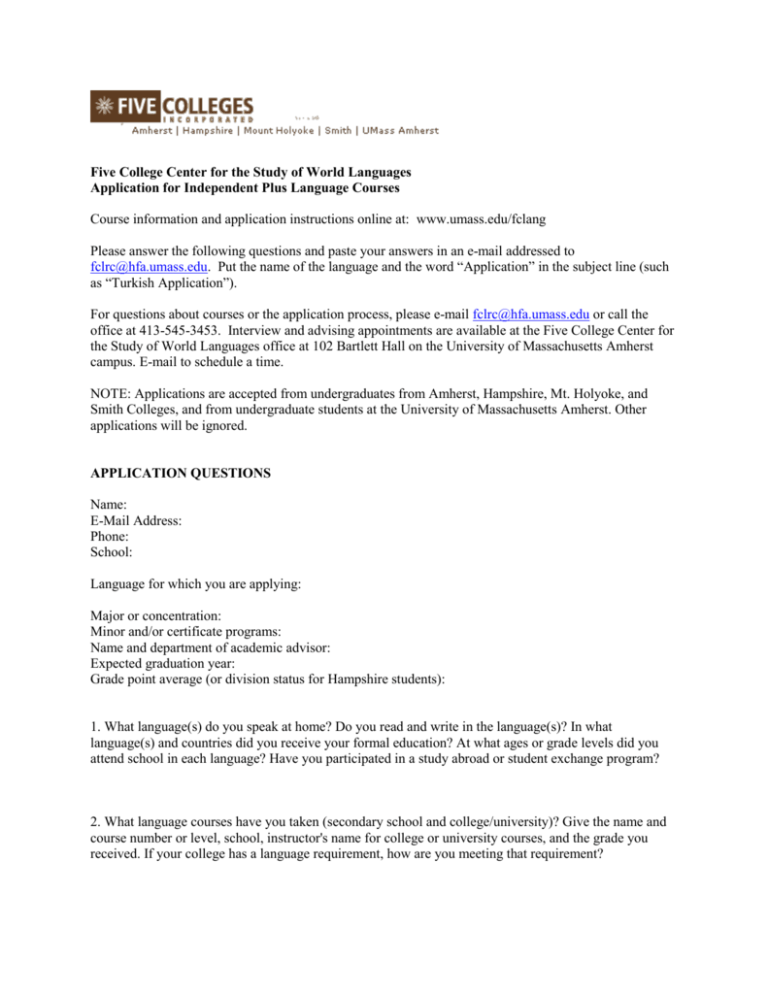 Five College Center for the Study of World Languages
Application for Independent Plus Language Courses
Course information and application instructions online at: www.umass.edu/fclang
Please answer the following questions and paste your answers in an e-mail addressed to
fclrc@hfa.umass.edu. Put the name of the language and the word "Application" in the subject line (such
as "Turkish Application").
For questions about courses or the application process, please e-mail fclrc@hfa.umass.edu or call the
office at 413-545-3453. Interview and advising appointments are available at the Five College Center for
the Study of World Languages office at 102 Bartlett Hall on the University of Massachusetts Amherst
campus. E-mail to schedule a time.
NOTE: Applications are accepted from undergraduates from Amherst, Hampshire, Mt. Holyoke, and
Smith Colleges, and from undergraduate students at the University of Massachusetts Amherst. Other
applications will be ignored.
APPLICATION QUESTIONS
Name:
E-Mail Address:
Phone:
School:
Language for which you are applying:
Major or concentration:
Minor and/or certificate programs:
Name and department of academic advisor:
Expected graduation year:
Grade point average (or division status for Hampshire students):
1. What language(s) do you speak at home? Do you read and write in the language(s)? In what
language(s) and countries did you receive your formal education? At what ages or grade levels did you
attend school in each language? Have you participated in a study abroad or student exchange program?
2. What language courses have you taken (secondary school and college/university)? Give the name and
course number or level, school, instructor's name for college or university courses, and the grade you
received. If your college has a language requirement, how are you meeting that requirement?
3. What experience have you had with the language you want to study and/or experience with residence in
a country/community where the language is spoken? What courses have you taken related to areas in
which the language is spoken?
4. Why do you want to learn this language? Discuss how you decided upon this particular language and
what level of proficiency you are seeking. How does proficiency in this language fit in with your
academic and vocational goals?
5. Independent Plus language courses require motivation and self-discipline. Conversation partners and
peer tutors provide practice and feedback to help students learn independently, self-correct, and develop
confidence in using the language. They do not correct homework, give graded feedback, or follow up on
whether students are completing course requirements. Course completion and success is up to you. Please
discuss how you see yourself functioning in this type of student-centered learning situation. Can you give
examples of other situations where you have successfully structured or guided your own learning? What
do you consider your strengths and limitations for this mode of learning?
5. Do you have time to study this language in the upcoming semester? As with all language courses,
Independent Plus courses require a significant time commitment during the semester. Progress in
language learning comes only from consistent practice and it takes many hours to develop proficiency.
Language study needs to be approached with the same regularity and time commitment required for
athletic training, mastery of a musical instrument, or performance rehearsals for dance and theater.
Students should expect to study at least one hour per day or 7-8 hours per week.
Please discuss how you will integrate your language study with the rest of your schedule for the
semester. How many other courses will you be taking? What extra-curricular and work obligations will
you have? What will be your strategy for fitting regular language study into the rest of your life? Where
does language study fall in your priorities for the semester? (Be realistic in your expectations for yourself.
You cannot work 24 hours a day. Take into account that you need sleep and relaxation time in order to
function well in all your courses).
6. What questions or concerns do you have about how the program will work for you?
REMINDER: The application process for the Independent Plus language courses also requires that you
have an in-person interview. Contact fclrc@hfa.umass.edu or call 413-545-3453 to schedule an interview
time.