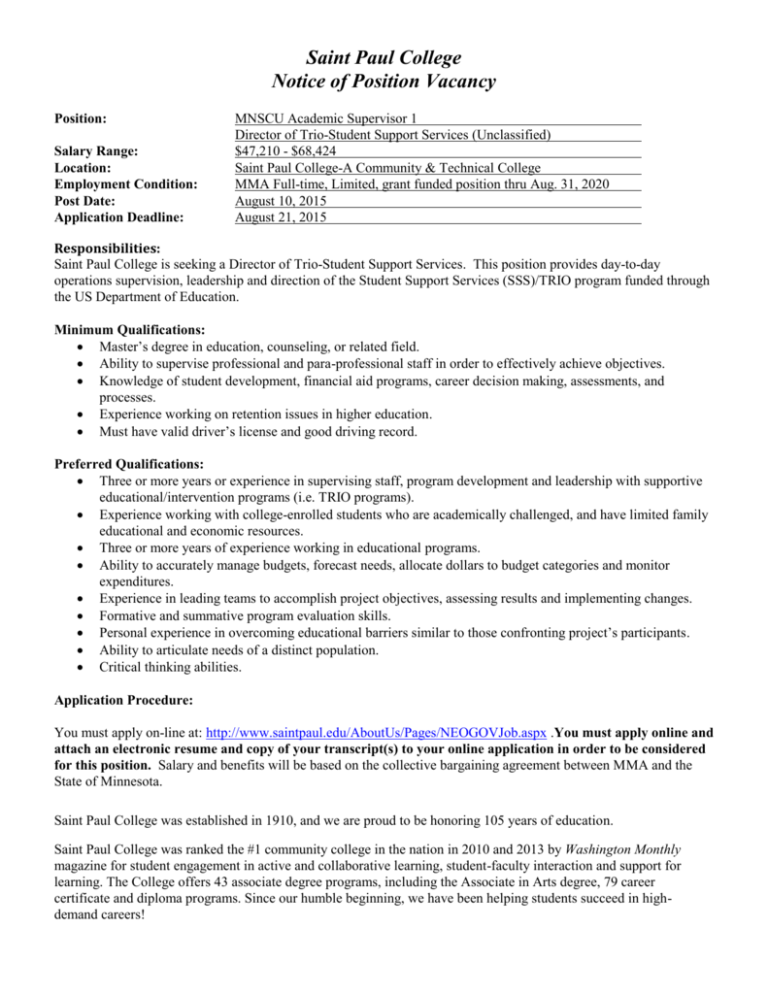 Saint Paul College
Notice of Position Vacancy
Position:
Salary Range:
Location:
Employment Condition:
Post Date:
Application Deadline:
MNSCU Academic Supervisor 1
Director of Trio-Student Support Services (Unclassified)
$47,210 - $68,424
Saint Paul College-A Community & Technical College
MMA Full-time, Limited, grant funded position thru Aug. 31, 2020
August 10, 2015
August 21, 2015
Responsibilities:
Saint Paul College is seeking a Director of Trio-Student Support Services. This position provides day-to-day
operations supervision, leadership and direction of the Student Support Services (SSS)/TRIO program funded through
the US Department of Education.
Minimum Qualifications:
 Master's degree in education, counseling, or related field.
 Ability to supervise professional and para-professional staff in order to effectively achieve objectives.
 Knowledge of student development, financial aid programs, career decision making, assessments, and
processes.
 Experience working on retention issues in higher education.
 Must have valid driver's license and good driving record.
Preferred Qualifications:
 Three or more years or experience in supervising staff, program development and leadership with supportive
educational/intervention programs (i.e. TRIO programs).
 Experience working with college-enrolled students who are academically challenged, and have limited family
educational and economic resources.
 Three or more years of experience working in educational programs.
 Ability to accurately manage budgets, forecast needs, allocate dollars to budget categories and monitor
expenditures.
 Experience in leading teams to accomplish project objectives, assessing results and implementing changes.
 Formative and summative program evaluation skills.
 Personal experience in overcoming educational barriers similar to those confronting project's participants.
 Ability to articulate needs of a distinct population.
 Critical thinking abilities.
Application Procedure:
You must apply on-line at: http://www.saintpaul.edu/AboutUs/Pages/NEOGOVJob.aspx .You must apply online and
attach an electronic resume and copy of your transcript(s) to your online application in order to be considered
for this position. Salary and benefits will be based on the collective bargaining agreement between MMA and the
State of Minnesota.
Saint Paul College was established in 1910, and we are proud to be honoring 105 years of education.
Saint Paul College was ranked the #1 community college in the nation in 2010 and 2013 by Washington Monthly
magazine for student engagement in active and collaborative learning, student-faculty interaction and support for
learning. The College offers 43 associate degree programs, including the Associate in Arts degree, 79 career
certificate and diploma programs. Since our humble beginning, we have been helping students succeed in highdemand careers!

Transfer and articulation agreements with 4-year colleges and universities provide pathways for students to
transfer and continue their higher education. The College also works with more than 500 business, industry
and labor representatives to provide employment opportunities for our graduates.

The College focuses on advanced technology to enhance curriculum and the learning experience. Classrooms
are equipped with state-of-the-art technology and there is free Wi-Fi access campus-wide.

The campus is student-oriented, with support services that include academic support and free tutoring,
computer labs, retention services, transfer services, career services and a free online job posting access.

The Power of YOU scholarship program provides qualified students graduating from
Minneapolis or St. Paul public schools the opportunity to attend Saint Paul College tuition-free.
Whether you need transfer credits for that four-year degree or want to enroll in our full-time
Associate in Arts or Associate in Applied Science degree, diploma, certificate programs, or just take
a few credits to enhance your work skills, Saint Paul College is the place you want to be!
NOTICE: In accordance with the Minnesota State Colleges & Universities (MnSCU) Vehicle Fleet Safety Program,
employees driving on college/university business, whether using a personal, rental or state vehicle, shall be required to
complete a Vehicle Use Agreement form and consent to a Motor Vehicle Records check annually.
This document can be made available in alternative formats such as large print, Braille or audio tape by calling 651846-1400.
The college regrets that it is unable to offer H-1B sponsorship at this time. The successful candidate under U.S.
Citizenship and Immigration Services regulations must be able to accept work in the U.S. by the day employment
begins.
Saint Paul College is an Equal Opportunity Employer
Auxiliary aids and services are available upon request to individuals with disabilities.