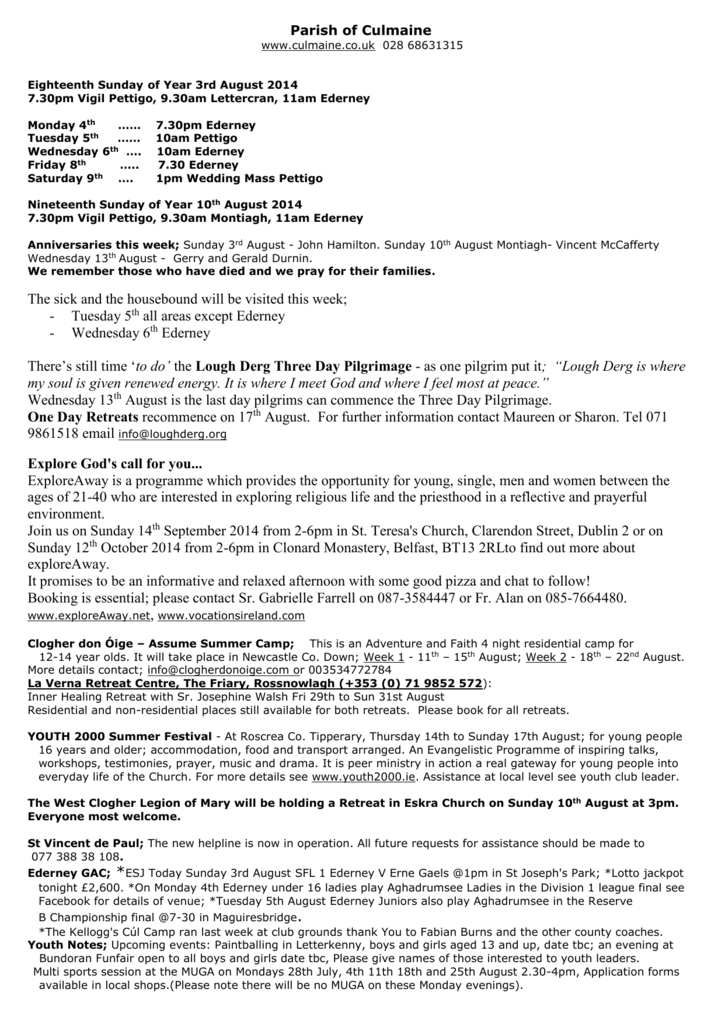 Parish of Culmaine
www.culmaine.co.uk 028 68631315
Eighteenth Sunday of Year 3rd August 2014
7.30pm Vigil Pettigo, 9.30am Lettercran, 11am Ederney
Monday 4th
……
Tuesday 5th
……
Wednesday 6th ….
Friday 8th
…..
Saturday 9th ….
7.30pm Ederney
10am Pettigo
10am Ederney
7.30 Ederney
1pm Wedding Mass Pettigo
Nineteenth Sunday of Year 10th August 2014
7.30pm Vigil Pettigo, 9.30am Montiagh, 11am Ederney
Anniversaries this week; Sunday 3rd August - John Hamilton. Sunday 10th August Montiagh- Vincent McCafferty
Wednesday 13th August - Gerry and Gerald Durnin.
We remember those who have died and we pray for their families.
The sick and the housebound will be visited this week;
- Tuesday 5th all areas except Ederney
- Wednesday 6th Ederney
There's still time 'to do' the Lough Derg Three Day Pilgrimage - as one pilgrim put it; "Lough Derg is where
my soul is given renewed energy. It is where I meet God and where I feel most at peace."
Wednesday 13th August is the last day pilgrims can commence the Three Day Pilgrimage.
One Day Retreats recommence on 17th August. For further information contact Maureen or Sharon. Tel 071
9861518 email [email protected]
Explore God's call for you...
ExploreAway is a programme which provides the opportunity for young, single, men and women between the
ages of 21-40 who are interested in exploring religious life and the priesthood in a reflective and prayerful
environment.
Join us on Sunday 14th September 2014 from 2-6pm in St. Teresa's Church, Clarendon Street, Dublin 2 or on
Sunday 12th October 2014 from 2-6pm in Clonard Monastery, Belfast, BT13 2RLto find out more about
exploreAway.
It promises to be an informative and relaxed afternoon with some good pizza and chat to follow!
Booking is essential; please contact Sr. Gabrielle Farrell on 087-3584447 or Fr. Alan on 085-7664480.
www.exploreAway.net, www.vocationsireland.com
Clogher don Óige – Assume Summer Camp; This is an Adventure and Faith 4 night residential camp for
12-14 year olds. It will take place in Newcastle Co. Down; Week 1 - 11th – 15th August; Week 2 - 18th – 22nd August.
More details contact; [email protected] or 003534772784
La Verna Retreat Centre, The Friary, Rossnowlagh (+353 (0) 71 9852 572):
Inner Healing Retreat with Sr. Josephine Walsh Fri 29th to Sun 31st August
Residential and non-residential places still available for both retreats. Please book for all retreats.
YOUTH 2000 Summer Festival - At Roscrea Co. Tipperary, Thursday 14th to Sunday 17th August; for young people
16 years and older; accommodation, food and transport arranged. An Evangelistic Programme of inspiring talks,
workshops, testimonies, prayer, music and drama. It is peer ministry in action a real gateway for young people into
everyday life of the Church. For more details see www.youth2000.ie. Assistance at local level see youth club leader.
The West Clogher Legion of Mary will be holding a Retreat in Eskra Church on Sunday 10th August at 3pm.
Everyone most welcome.
St Vincent de Paul; The new helpline is now in operation. All future requests for assistance should be made to
077 388 38 108.
Ederney GAC; *ESJ Today Sunday 3rd August SFL 1 Ederney V Erne Gaels @1pm in St Joseph's Park; *Lotto jackpot
tonight £2,600. *On Monday 4th Ederney under 16 ladies play Aghadrumsee Ladies in the Division 1 league final see
Facebook for details of venue; *Tuesday 5th August Ederney Juniors also play Aghadrumsee in the Reserve
B Championship final @7-30 in Maguiresbridge.
*The Kellogg's Cúl Camp ran last week at club grounds thank You to Fabian Burns and the other county coaches.
Youth Notes; Upcoming events: Paintballing in Letterkenny, boys and girls aged 13 and up, date tbc; an evening at
Bundoran Funfair open to all boys and girls date tbc, Please give names of those interested to youth leaders.
Multi sports session at the MUGA on Mondays 28th July, 4th 11th 18th and 25th August 2.30-4pm, Application forms
available in local shops.(Please note there will be no MUGA on these Monday evenings).