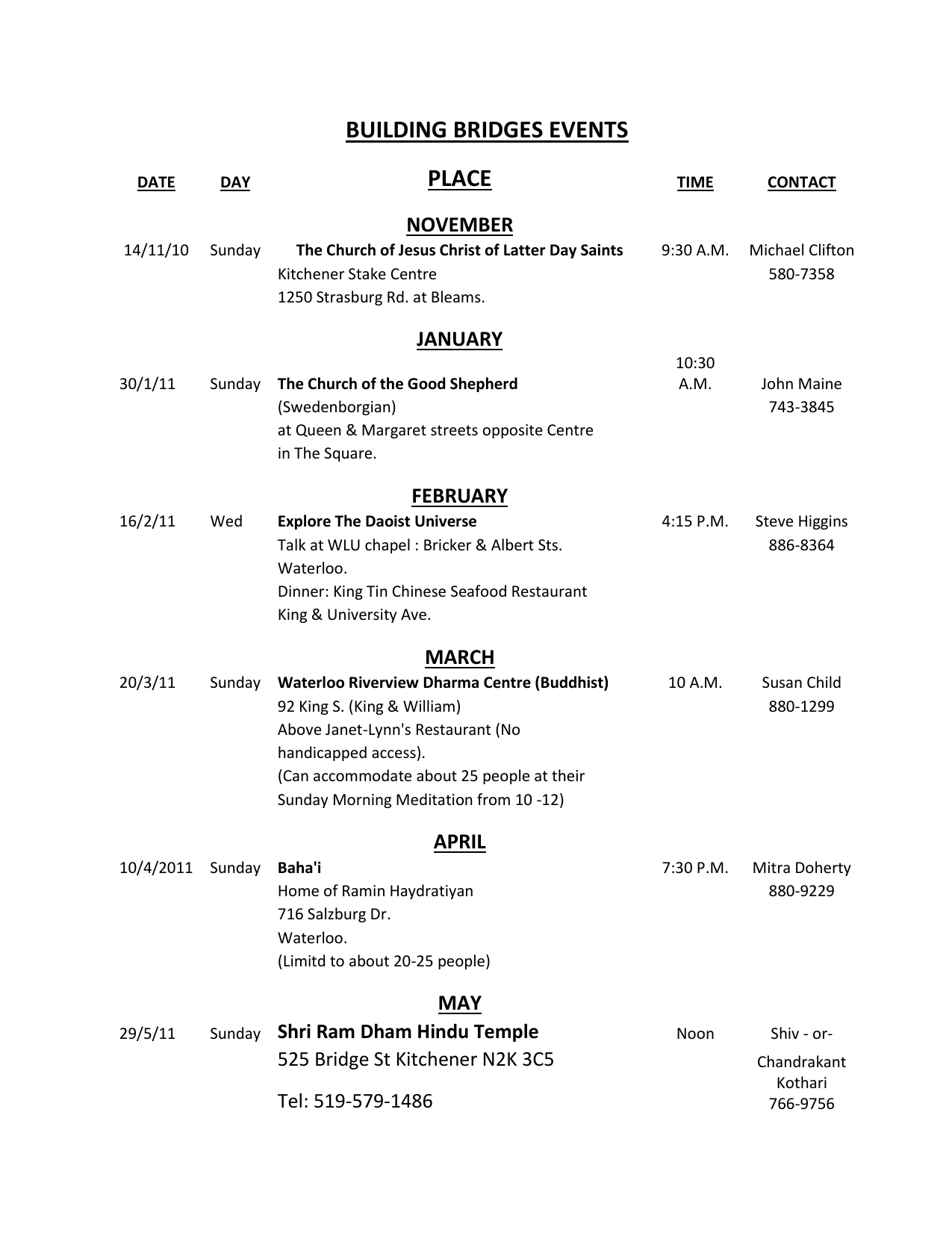 BUILDING BRIDGES EVENTS
DATE DAY
PLACE NOVEMBER
The Church of Jesus Christ of Latter Day Saints
30/1/11 16/2/11 Kitchener Stake Centre 1250 Strasburg Rd. at Bleams.
JANUARY
Sunday The Church of the Good Shepherd (Swedenborgian) at Queen & Margaret streets opposite Centre in The Square.
FEBRUARY
Wed
Explore The Daoist Universe
Talk at WLU chapel : Bricker & Albert Sts. Waterloo. Dinner: King Tin Chinese Seafood Restaurant King & University Ave.
MARCH
Sunday Waterloo Riverview Dharma Centre (Buddhist) 20/3/11 92 King S. (King & William) Above Janet-Lynn's Restaurant (No 29/5/11 handicapped access). (Can accommodate about 25 people at their Sunday Morning Meditation from 10 -12)
APRIL
Home of Ramin Haydratiyan 716 Salzburg Dr. Waterloo. (Limitd to about 20-25 people)
MAY
Sunday
Shri Ram Dham Hindu Temple
525 Bridge St Kitchener N2K 3C5 Tel: 519-579-1486
TIME
A.M.
CONTACT
580-7358 John Maine 743-3845 886-8364 880-1299 880-9229 Chandrakant Kothari 766-9756