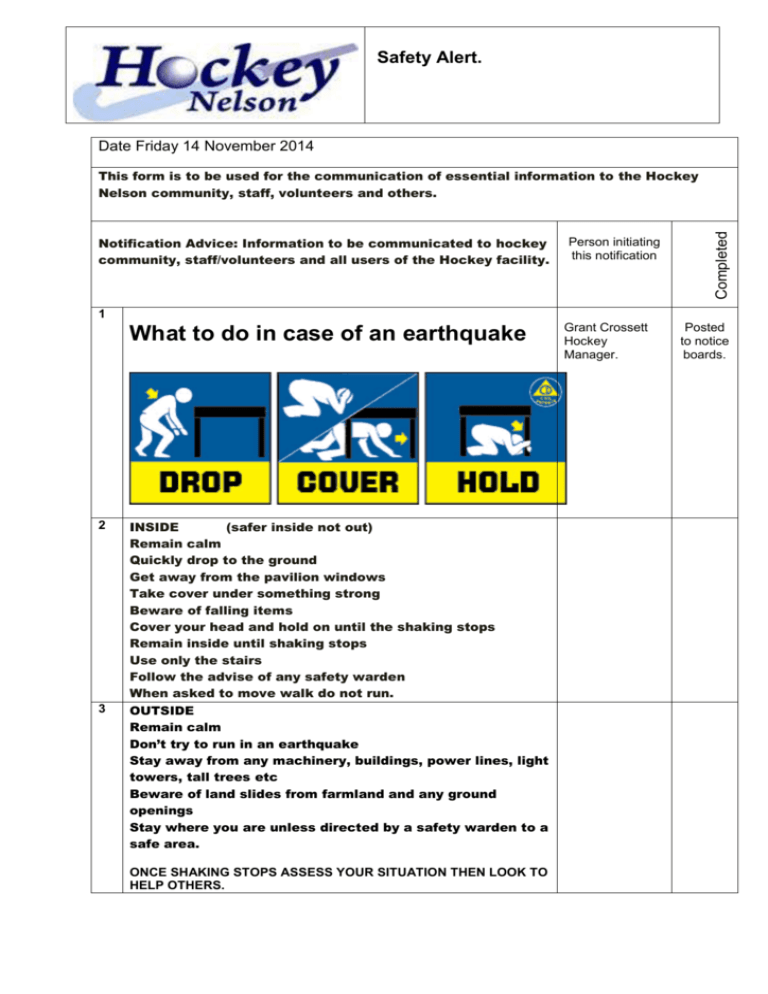 Safety Alert.
Date Friday 14 November 2014
Notification Advice: Information to be communicated to hockey
community, staff/volunteers and all users of the Hockey facility.
Person initiating
this notification
Completed
This form is to be used for the communication of essential information to the Hockey
Nelson community, staff, volunteers and others.
1
What to do in case of an earthquake
2
3
INSIDE
(safer inside not out)
Remain calm
Quickly drop to the ground
Get away from the pavilion windows
Take cover under something strong
Beware of falling items
Cover your head and hold on until the shaking stops
Remain inside until shaking stops
Use only the stairs
Follow the advise of any safety warden
When asked to move walk do not run.
OUTSIDE
Remain calm
Don't try to run in an earthquake
Stay away from any machinery, buildings, power lines, light
towers, tall trees etc
Beware of land slides from farmland and any ground
openings
Stay where you are unless directed by a safety warden to a
safe area.
ONCE SHAKING STOPS ASSESS YOUR SITUATION THEN LOOK TO
HELP OTHERS.
Grant Crossett
Hockey
Manager.
Posted
to notice
boards.