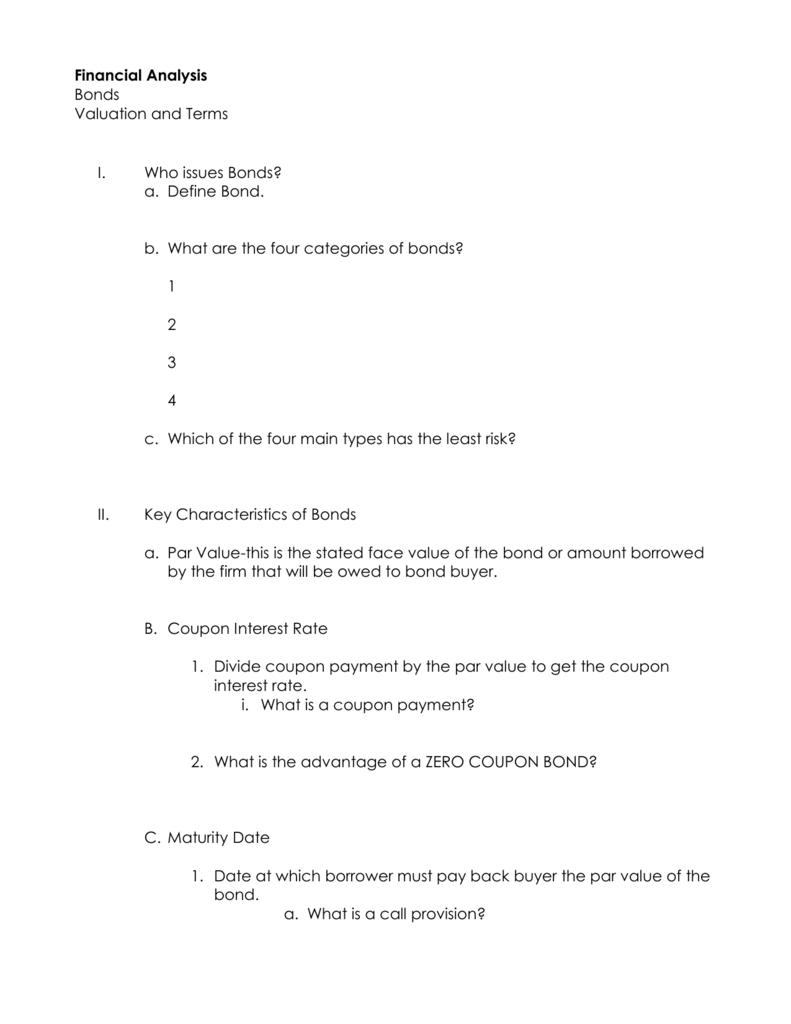 Financial Analysis
Bonds
Valuation and Terms
I.
Who issues Bonds?
a. Define Bond.
b. What are the four categories of bonds?
1
2
3
4
c. Which of the four main types has the least risk?
II.
Key Characteristics of Bonds
a. Par Value-this is the stated face value of the bond or amount borrowed
by the firm that will be owed to bond buyer.
B. Coupon Interest Rate
1. Divide coupon payment by the par value to get the coupon
interest rate.
i. What is a coupon payment?
2. What is the advantage of a ZERO COUPON BOND?
C. Maturity Date
1. Date at which borrower must pay back buyer the par value of the
bond.
a. What is a call provision?
2. What would be a logical reason for a bond to be called earlier
than it's mature date?
ASSIGNMENT: RESEARCH TO FIND BOND RATINGS AND CREATE A CHART WITH THE
DIFFERENT LEVELS.
WHEN ARE BONDS WORTH IT? IF AT ALL!
http://monevator.com/2009/01/10/what-are-the-benefits-of-corporate-bonds/
1.
2.
3.
4.
READ ARTICLE
USE YOUR KNOWLEDGE OF INVESTMENTS
DECIDE WHETHER YOU WANT TO BUY A BOND
EXPLAIN UTILIZING SOME WRITINGS AND QUOTES FROM ARTICLE IN YOUR
DECISION.