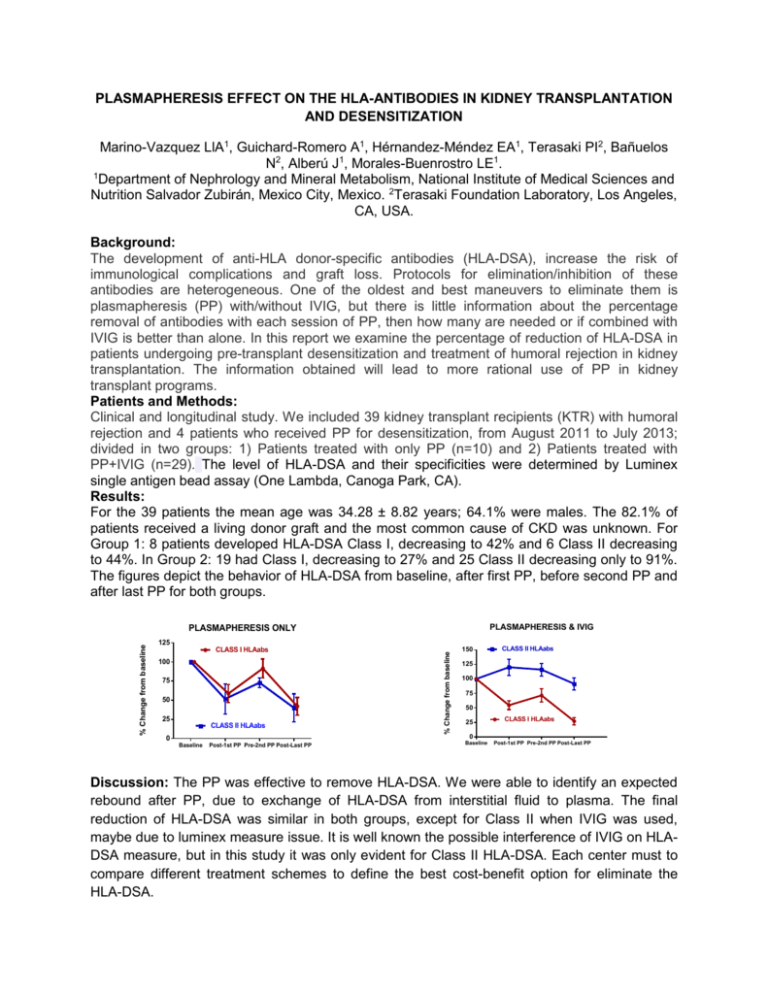 PLASMAPHERESIS EFFECT ON THE HLA-ANTIBODIES IN KIDNEY TRANSPLANTATION
AND DESENSITIZATION
Marino-Vazquez LlA1, Guichard-Romero A1, Hérnandez-Méndez EA1, Terasaki PI2, Bañuelos
N2, Alberú J1, Morales-Buenrostro LE1.
1
Department of Nephrology and Mineral Metabolism, National Institute of Medical Sciences and
Nutrition Salvador Zubirán, Mexico City, Mexico. 2Terasaki Foundation Laboratory, Los Angeles,
CA, USA.
Background:
The development of anti-HLA donor-specific antibodies (HLA-DSA), increase the risk of
immunological complications and graft loss. Protocols for elimination/inhibition of these
antibodies are heterogeneous. One of the oldest and best maneuvers to eliminate them is
plasmapheresis (PP) with/without IVIG, but there is little information about the percentage
removal of antibodies with each session of PP, then how many are needed or if combined with
IVIG is better than alone. In this report we examine the percentage of reduction of HLA-DSA in
patients undergoing pre-transplant desensitization and treatment of humoral rejection in kidney
transplantation. The information obtained will lead to more rational use of PP in kidney
transplant programs.
Patients and Methods:
Clinical and longitudinal study. We included 39 kidney transplant recipients (KTR) with humoral
rejection and 4 patients who received PP for desensitization, from August 2011 to July 2013;
divided in two groups: 1) Patients treated with only PP (n=10) and 2) Patients treated with
PP+IVIG (n=29). The level of HLA-DSA and their specificities were determined by Luminex
single antigen bead assay (One Lambda, Canoga Park, CA).
Results:
For the 39 patients the mean age was 34.28 ± 8.82 years; 64.1% were males. The 82.1% of
patients received a living donor graft and the most common cause of CKD was unknown. For
Group 1: 8 patients developed HLA-DSA Class I, decreasing to 42% and 6 Class II decreasing
to 44%. In Group 2: 19 had Class I, decreasing to 27% and 25 Class II decreasing only to 91%.
The figures depict the behavior of HLA-DSA from baseline, after first PP, before second PP and
after last PP for both groups.
PLASMAPHERESIS & IVIG
CLASS I HLAabs
100
75
50
25
CLASS II HLAabs
0
Baseline
Post-1st PP Pre-2nd PP Post-Last PP
% Change from baseline
% Change from baseline
PLASMAPHERESIS ONLY
125
150
CLASS II HLAabs
125
100
75
50
25
CLASS I HLAabs
0
Baseline
Post-1st PP Pre-2nd PP Post-Last PP
Discussion: The PP was effective to remove HLA-DSA. We were able to identify an expected
rebound after PP, due to exchange of HLA-DSA from interstitial fluid to plasma. The final
reduction of HLA-DSA was similar in both groups, except for Class II when IVIG was used,
maybe due to luminex measure issue. It is well known the possible interference of IVIG on HLADSA measure, but in this study it was only evident for Class II HLA-DSA. Each center must to
compare different treatment schemes to define the best cost-benefit option for eliminate the
HLA-DSA.