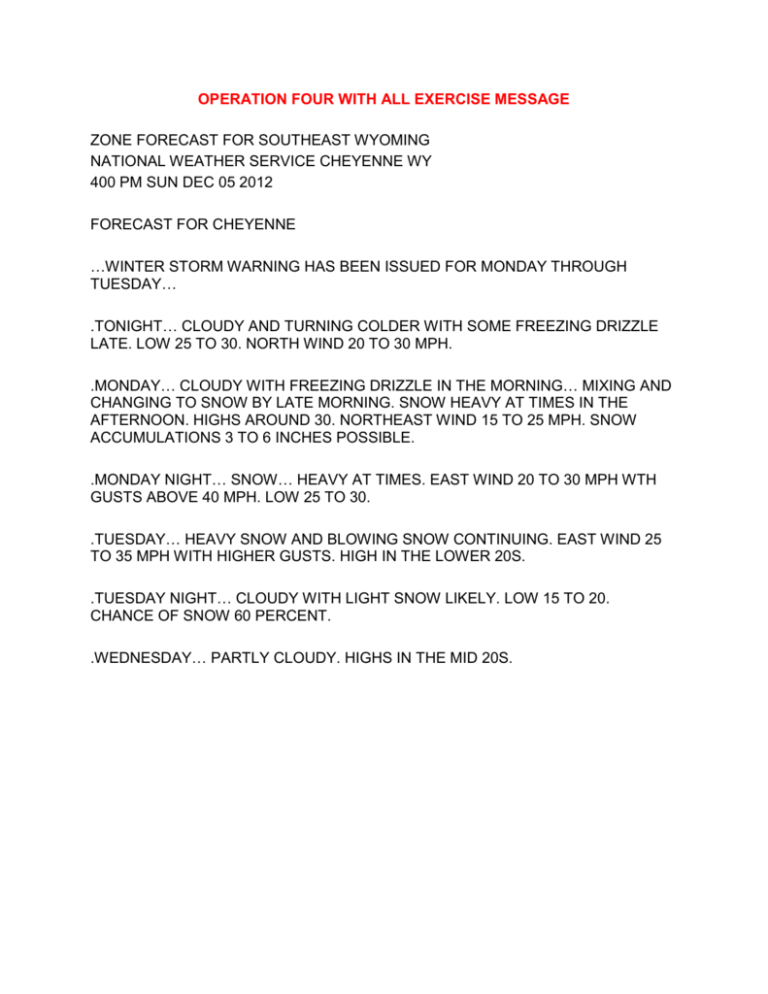 OPERATION FOUR WITH ALL EXERCISE MESSAGE
ZONE FORECAST FOR SOUTHEAST WYOMING
NATIONAL WEATHER SERVICE CHEYENNE WY
400 PM SUN DEC 05 2012
FORECAST FOR CHEYENNE
…WINTER STORM WARNING HAS BEEN ISSUED FOR MONDAY THROUGH
TUESDAY…
.TONIGHT… CLOUDY AND TURNING COLDER WITH SOME FREEZING DRIZZLE
LATE. LOW 25 TO 30. NORTH WIND 20 TO 30 MPH.
.MONDAY… CLOUDY WITH FREEZING DRIZZLE IN THE MORNING… MIXING AND
CHANGING TO SNOW BY LATE MORNING. SNOW HEAVY AT TIMES IN THE
AFTERNOON. HIGHS AROUND 30. NORTHEAST WIND 15 TO 25 MPH. SNOW
ACCUMULATIONS 3 TO 6 INCHES POSSIBLE.
.MONDAY NIGHT… SNOW… HEAVY AT TIMES. EAST WIND 20 TO 30 MPH WTH
GUSTS ABOVE 40 MPH. LOW 25 TO 30.
.TUESDAY… HEAVY SNOW AND BLOWING SNOW CONTINUING. EAST WIND 25
TO 35 MPH WITH HIGHER GUSTS. HIGH IN THE LOWER 20S.
.TUESDAY NIGHT… CLOUDY WITH LIGHT SNOW LIKELY. LOW 15 TO 20.
CHANCE OF SNOW 60 PERCENT.
.WEDNESDAY… PARTLY CLOUDY. HIGHS IN THE MID 20S.