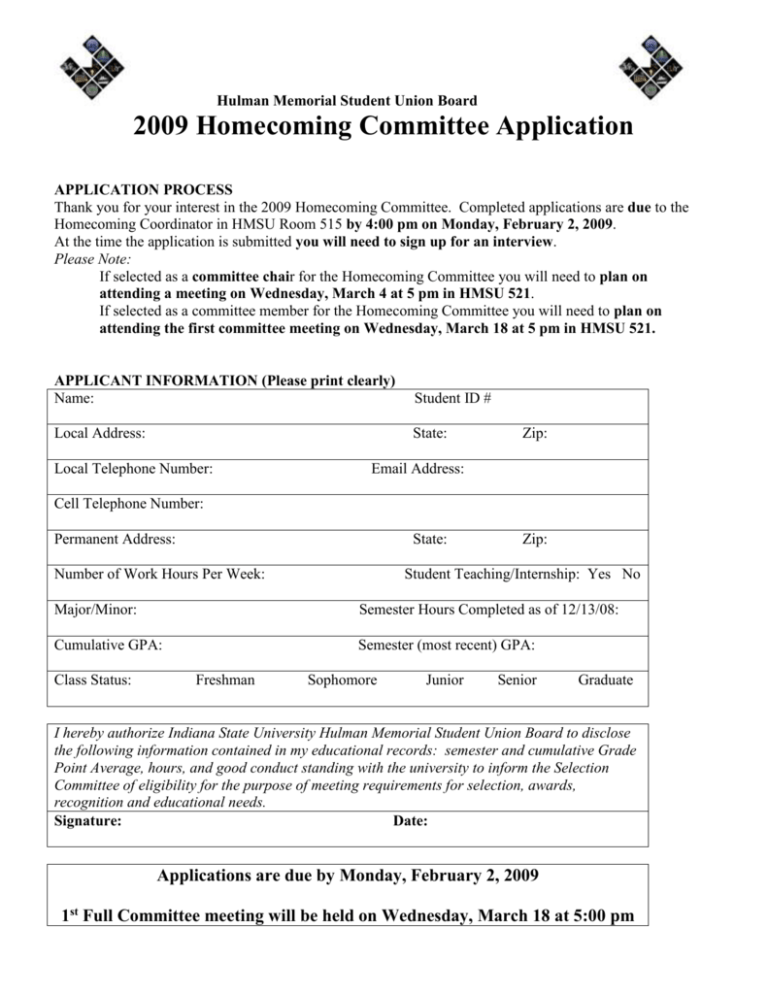 Hulman Memorial Student Union Board
2009 Homecoming Committee Application
APPLICATION PROCESS
Thank you for your interest in the 2009 Homecoming Committee. Completed applications are due to the
Homecoming Coordinator in HMSU Room 515 by 4:00 pm on Monday, February 2, 2009.
At the time the application is submitted you will need to sign up for an interview.
Please Note:
If selected as a committee chair for the Homecoming Committee you will need to plan on
attending a meeting on Wednesday, March 4 at 5 pm in HMSU 521.
If selected as a committee member for the Homecoming Committee you will need to plan on
attending the first committee meeting on Wednesday, March 18 at 5 pm in HMSU 521.
APPLICANT INFORMATION (Please print clearly)
Name:
Student ID #
Local Address:
State:
Local Telephone Number:
Zip:
Email Address:
Cell Telephone Number:
Permanent Address:
State:
Number of Work Hours Per Week:
Zip:
Student Teaching/Internship: Yes No
Major/Minor:
Semester Hours Completed as of 12/13/08:
Cumulative GPA:
Semester (most recent) GPA:
Class Status:
Freshman
Sophomore
Junior
Senior
Graduate
I hereby authorize Indiana State University Hulman Memorial Student Union Board to disclose
the following information contained in my educational records: semester and cumulative Grade
Point Average, hours, and good conduct standing with the university to inform the Selection
Committee of eligibility for the purpose of meeting requirements for selection, awards,
recognition and educational needs.
Signature:
Date:
Applications are due by Monday, February 2, 2009
1st Full Committee meeting will be held on Wednesday, March 18 at 5:00 pm
COMMITTEE INFORMATION
The following is a sample description of some of the committee's responsibilities – please note that these may change.
Blue & White Parade
-Responsible for organizing all aspects of the Blue and White Parade
-Select Grand Parade Marshall
-Coordinate all parade entries (bands, floats, vehicles, walking units)
-Work closely with Alumni Affairs, Public Safety, Facilities Management, Terre Haute business community
-Coordinate panel of judges
-Manage all paperwork associated with event (entries, mailings, line up, etc.)
-Responsible for coordinating site checks for floats
(Must be willing to give a considerable amount of time)
(Secretary and Treasurer – button sales)
-Take and distribute meeting minutes
-Maintain and distribute official calendar of events
-Maintain and distribute contact list of committee members
-Works with SAO Administrative Assistant in preparing and maintaining a budget
-Devise and institute a plan of communication within the Homecoming Committee
-Devise and institute a plan of communication with representatives of pairings and other organizations
-Present at student organization meetings if requested
-Establish and maintain on-going interaction between committee and organizations
Blood Drive
Coordinate a 2 day blood drive
Advertising
Public Relations
-Coordinate button assembly
-Coordinate selection of Homecoming theme
-Coordinate selection and ordering of Homecoming Week apparel
-Prepare and coordinate distribution of news releases
-Prepare Sweepstakes power point presentation
-Take pictures and videos at events
-Design and prepare displays
--Communicate with Alumni Affairs and Communications and Marketing on a regular basis
Stompin'
-Coordinate Stompin' competition ((including guidelines, judges, practices, etc.)
Spirit
-Coordinate Torch Light Parade (including work with Marching Sycamores, Cheer Team and Public Safety)
-torchlight
-Coordinate Blue and White Days
-posters
Sycamore Tricycle Derby
-Coordinate Trike Practices, Qualifications and Race
-Coordinate spaghetti dinner for Trike Teams
-Order rider awards
-Publish program for Race Riders, Coaches, and Catchers
-Work with SAO Assistant on grade and conduct checks for team members
-Distribute and maintain records of Medical Release Forms and insurance information
-Coordinate facility reservations and needed supplies for Trike events
Applications are due by Monday, February 2nd to HMSU 515.
COMMITTEE PREFERENCE
Choose one:
_____ I am interested in chairing a committee
_____ I am interested in serving on a committee
Committee Interest:
Please rank your preference. 1 being most preferred and 7 being least preferred.
_____
Blue and White Parade
_____
Communications
_____
Community Service
_____
Public Relations
_____
Special Events
_____
Sycamore Tricycle Race
Please answer the following questions.
1. Why are you interested in serving on the Homecoming Committee?
2. What responsibilities will you have at the end of this semester and during the fall semester (academic
requirements, student organizations, community involvement and job)?
3. What qualities and skills will you bring to the committee?
4. What skills and knowledge do you hope to gain as a member of this committee?
5. What does Homecoming mean to campus life?
6. What expectations do you have of the Homecoming Coordinator and the Advisors?