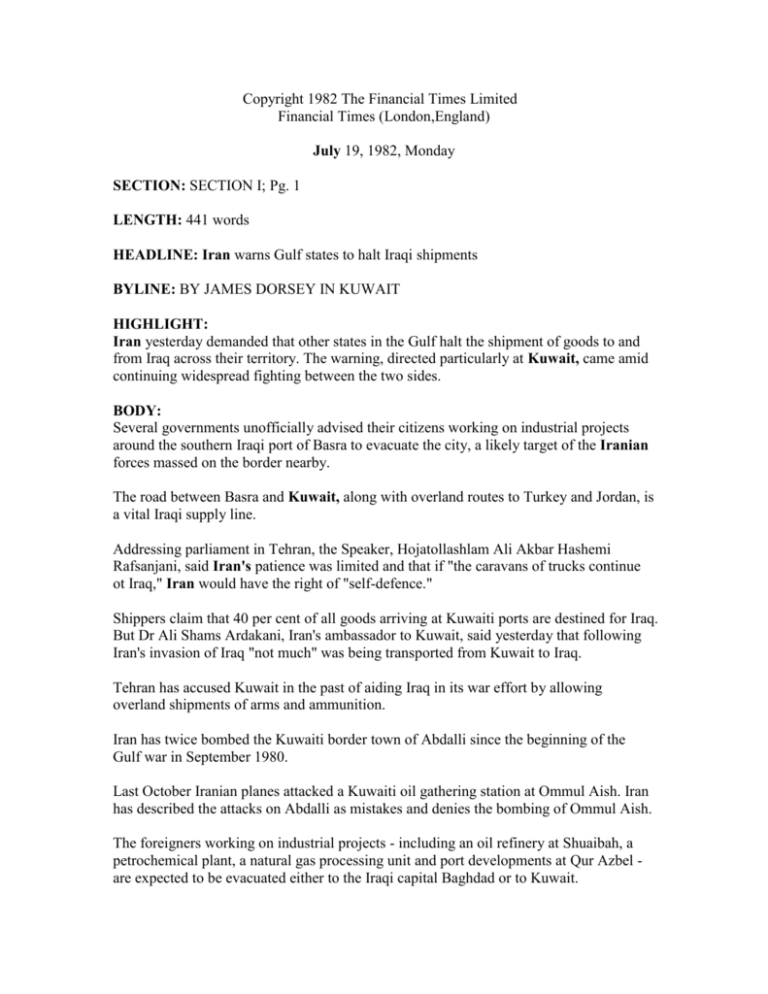 Copyright 1982 The Financial Times Limited
Financial Times (London,England)
July 19, 1982, Monday
SECTION: SECTION I; Pg. 1
LENGTH: 441 words
HEADLINE: Iran warns Gulf states to halt Iraqi shipments
BYLINE: BY JAMES DORSEY IN KUWAIT
HIGHLIGHT:
Iran yesterday demanded that other states in the Gulf halt the shipment of goods to and
from Iraq across their territory. The warning, directed particularly at Kuwait, came amid
continuing widespread fighting between the two sides.
BODY:
Several governments unofficially advised their citizens working on industrial projects
around the southern Iraqi port of Basra to evacuate the city, a likely target of the Iranian
forces massed on the border nearby.
The road between Basra and Kuwait, along with overland routes to Turkey and Jordan, is
a vital Iraqi supply line.
Addressing parliament in Tehran, the Speaker, Hojatollashlam Ali Akbar Hashemi
Rafsanjani, said Iran's patience was limited and that if "the caravans of trucks continue
ot Iraq," Iran would have the right of "self-defence."
Shippers claim that 40 per cent of all goods arriving at Kuwaiti ports are destined for Iraq.
But Dr Ali Shams Ardakani, Iran's ambassador to Kuwait, said yesterday that following
Iran's invasion of Iraq "not much" was being transported from Kuwait to Iraq.
Tehran has accused Kuwait in the past of aiding Iraq in its war effort by allowing
overland shipments of arms and ammunition.
Iran has twice bombed the Kuwaiti border town of Abdalli since the beginning of the
Gulf war in September 1980.
Last October Iranian planes attacked a Kuwaiti oil gathering station at Ommul Aish. Iran
has described the attacks on Abdalli as mistakes and denies the bombing of Ommul Aish.
The foreigners working on industrial projects - including an oil refinery at Shuaibah, a
petrochemical plant, a natural gas processing unit and port developments at Qur Azbel are expected to be evacuated either to the Iraqi capital Baghdad or to Kuwait.
So far Switzerland, South Korea, the Soviet Union, Poland and China are known to have
suggested an evacuation of Basra. Britain earlier advised dependents of employees to
leave the city and has now told the 60 workers who remain that they too would do well to
go.
The Soviet Union implied that its citizens in Basra would soon be removed to Baghdad ostensibly to celebrate the end of Ramadan, the Moslem month of fasting now under way.
Japan, however, is the only country to have announced officially that it considers
evacuation of Basra as necessary.
Both Iran and Iraq continued to report heavy fighting over the weekend but remained
vague about where exactly the battle was taking place. In a speech broadcast nationwide
on Saturday, President Saddam Hussein of Iraq said most of the fighting was
concentrated north east of Basra.
But, speaking of "some fighting" in the central sector, he also appeared to confirm that
the countries were locked in combat on more than one front.
An Iraqi military communique said earlier that Iran had shelled the north-eastern Iraqi
towns of Penjwin, Tawila and Bayara.