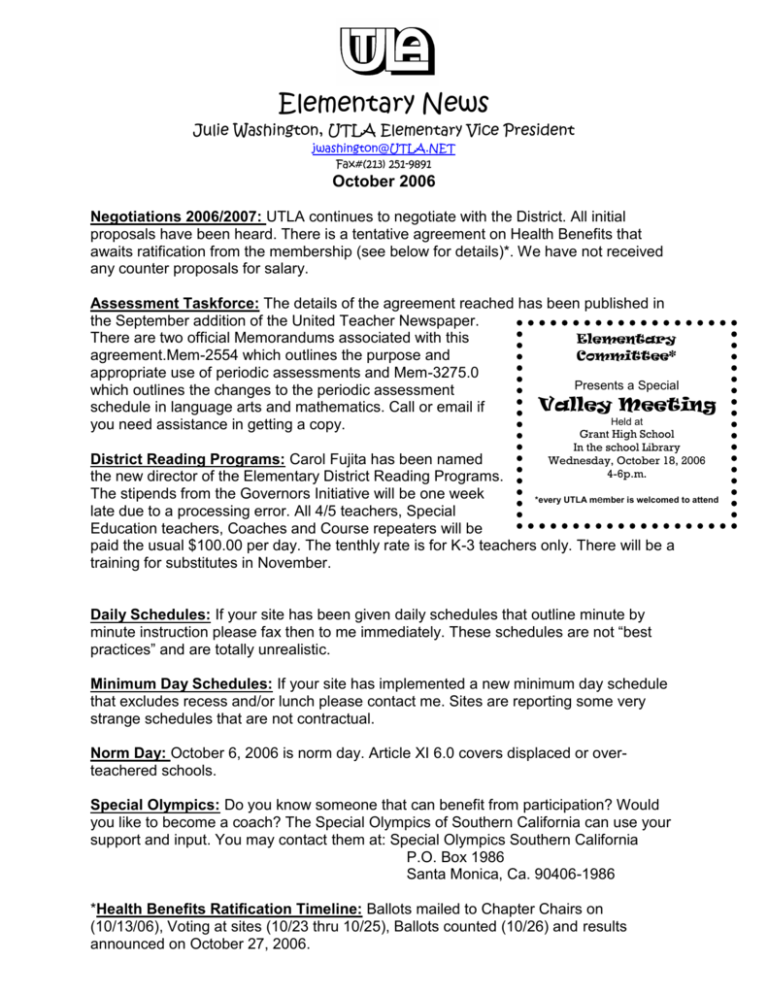 Elementary News
Julie Washington, UTLA Elementary Vice President
[email protected]
Fax#(213) 251-9891
October 2006
Negotiations 2006/2007: UTLA continues to negotiate with the District. All initial
proposals have been heard. There is a tentative agreement on Health Benefits that
awaits ratification from the membership (see below for details)*. We have not received
any counter proposals for salary.
Assessment Taskforce: The details of the agreement reached has been published in
the September addition of the United Teacher Newspaper.
There are two official Memorandums associated with this
Elementary
Committee*
agreement.Mem-2554 which outlines the purpose and
appropriate use of periodic assessments and Mem-3275.0
Presents a Special
which outlines the changes to the periodic assessment
Valley Meeting
schedule in language arts and mathematics. Call or email if
Held at
you need assistance in getting a copy.
Grant High School
In the school Library
Wednesday, October 18, 2006
4-6p.m.
District Reading Programs: Carol Fujita has been named
the new director of the Elementary District Reading Programs.
The stipends from the Governors Initiative will be one week
*every UTLA member is welcomed to attend
late due to a processing error. All 4/5 teachers, Special
Education teachers, Coaches and Course repeaters will be
paid the usual $100.00 per day. The tenthly rate is for K-3 teachers only. There will be a
training for substitutes in November.
Daily Schedules: If your site has been given daily schedules that outline minute by
minute instruction please fax then to me immediately. These schedules are not "best
practices" and are totally unrealistic.
Minimum Day Schedules: If your site has implemented a new minimum day schedule
that excludes recess and/or lunch please contact me. Sites are reporting some very
strange schedules that are not contractual.
Norm Day: October 6, 2006 is norm day. Article XI 6.0 covers displaced or overteachered schools.
Special Olympics: Do you know someone that can benefit from participation? Would
you like to become a coach? The Special Olympics of Southern California can use your
support and input. You may contact them at: Special Olympics Southern California
P.O. Box 1986
Santa Monica, Ca. 90406-1986
*Health Benefits Ratification Timeline: Ballots mailed to Chapter Chairs on
(10/13/06), Voting at sites (10/23 thru 10/25), Ballots counted (10/26) and results
announced on October 27, 2006.
Left Overs
Title 1 Academic Achievement Award: 52 Title 1 LAUSD schools received the honor; this is an increase of four from last year. The criteria to qualify for
the award changed slightly this year (the API requirements are higher). Schools must have made AYP for two years in a row. Title 1 schools receive federal
assistance because at least 40% of the students attending the school are from low income families. A special thank you and congratulations goes to these
hard working and dedicated staffs.
Use of Assessments: Assessments are not to be posted with teacher or student identification. They are also, not to be used to evaluate teachers. If this is
happening at your site please email, fax or call me.
Calendars for 2006/07: You may get a copy of the calendar for your school (single, three or four track) at LAUSD's web site. Norm day will be October 6,
2006. Waivers for professional development buy-back days and pupil-free teacher preparation workdays are due by June 1, 2006. Calendars are the
purview of the leadership council. See Mem-2524.0 and Mem-2522.0, your principals have copies and chapter chairs are included in the routing.
State Department Award: An unprecedented 32 LAUSD elementary schools won the 2006 California Distinguished Schools Awards. This honor
recognizes exemplary educational programs and academic excellence. Congratulations to the staffs at these schools, your hard work and dedication are the
reason why your schools are successful!
UTLA City Wide Coaches Meeting: On Saturday April 29th, 2006 President Duffy, Elementary Vice President Julie Washington and Secondary Vice
President Linda Guthrie hosted a meeting for the instructional coaches. Nearly one hundred coaches participated in this meeting. This served to begin an
open dialogue to improve communication and relationships. There are plans to continue this dialogue, perhaps by local districts and inviting chapter chairs
to be part of the process. If you would like to add to this conversation, have questions or concerns please email, fax or phone me.
School Based Management (SBM) & Los Angeles Educational Alliance for Restructuring Now (LEARN): The Local District Superintendent must
receive addendum and waivers for 2006-07 by Friday, May 19, 2006 to begin implementation on July 1, 2006. All waivers expire June 30th each year. The
"LEARN plan" and the "SBM plan" are included in the school's Single Plan for Student Achievement. Waivers must be approved by the Local District
Superintendent and UTLA. Chapters may fax, email or call UTLA for a waiver request form or to receive additional information.
Dial-a-Teacher: UTLA will begin accepting applications for members interested in participating in this after school program. It will begin as a pilot and
offered to a limited number of elementary schools. Please call Jenny Lam at (213) 637-5146 to have an application sent to you.
California Left Behind: The National Assessment of Educational Progress (NAEP) 2005, ranks California 44 th in math at both 4th grade and 8th grade. It
ranks 48th in reading at 4th grade and 49th in reading at 8th grade. California also ranks below all but one state (Mississippi) in sending high school seniors to
four-year colleges. California's seniors are half as likely to enroll in four year colleges as seniors than in New York and Massachusetts. The National
average of per-pupil expenditures is $8,041. California's average in majority white schools is $7,268 and in segregated minority schools is $6,634. If you
would like a copy of this report call or email the request to me.
Elementary Negotiation Demands: An increase in salary and maintenance of health care benefits were the two top priorities identified by elementary
sites. Class size, Assessments & Pacing, Staff selection, Discipline Code, Excessive Paperwork, Professional Development and Control over School Site
budgets were also top issues for elementary members. See the UT or visit our web site for details.
No Child Left Behind: Joan Devlin presented an outstanding informational on No Child Left Behind to the Elementary committee last month. If you would
like a packet from her presentation please call or email the request.
Collecting Math Journal Assignments: The District 6 practice of collecting and evaluating math journals is to be discontinued. In the Memorandum of
Understanding just negotiated it was agreed that there were to be no other mandated assessments required of teachers other than the district wide periodic
assessments in Open Court and Mathematics. It reads "No local district or school site administration may mandate additional assessments without the
approval of the Superintendent of schools". Thank you to the chapter chairs that pursued the termination of this mandate. You do make a difference!
Lesson Plans: The contract is very clear Article IX Section 4.1 states "Lesson plans or evidence of planning in a format appropriate to the teacher's
assignment shall be furnished by each classroom teacher upon request from the teacher's immediate administrator. No special format for a lesson
plan shall be required". Please report any violation of this contractual agreement to your Area Representative and/or Area Chair immediately!
Intimidation and Retaliation: Do not continue to suffer in silence. If one or more of your administrators are employing unethical supervisory
techniques/methods there are several steps you can take. First, work with your chapter chair and area representative and begin documenting. You can also
contact your area chair and or area directors and have chapter meetings at your site. You can also contact me and I will work with others to help create
strategies for change. We must work diligently to ensure that all sites operate with positive and respectful adult/student behavior. Sites that operate under
the veil of threat and fear are unhealthy and counterproductive; they do not facilitate high levels of achievement for anyone.
Last Call
Emergency Clad Permits: Teachers who lack the proper authorization to teach English Learners and do not qualify for the SDAIE/ELD AB 2913 should
have applied for an Emergency CLAD Permit. California is phasing out the CLAD and replacing it with the California Teachers of English Certificate (CTEL).
There are preparation classes for the exams as well as a reimbursement of $250.00 to teachers who complete SB2913 training. Go to the UTLA website for
detailed information and a list of teachers who have not met these requirements.
New Head Lice Policy: There has been a shift in policy. Memorandum (MEM-1877) states"After treatment, the removal of nits is desirable before
returning to school." The district now seems to have modified its' policies and guidelines to interpret this to mean that it is not mandatory to remove all nits
to return to school. Many members have expressed great concern with the shift in policy. We are working with the district on clarification of this matter.
Master Plan Teacher Training:
AB2913, the extension of SB395 option, will sunset in June 2008.
Teacher Suspensions: Under the provisions of Education Code 48910 and Article XXIV, Section 2.0, of the collective Bargaining Agreement Teachers have
the right to suspend students from their classroom. UTLA has a "Notification of Student Suspension" form that can be used to exercise this right.
Banked Time Days:
SBM/LEARN/local school leadership councils should determine the content for one half of the Professional Development Tuesdays. Please take control of your
site's Professional Development. See MEM-1647.1 and/or call me for a packet to give you some tips.
Instructional Time & On Site Obligations:
A teacher's on site-obligated time has not changed. Single, three and four track Teachers are required to be on site 21 minutes before and 10 minutes after
the instructional day. The total minutes of instruction per year has not changed. For details see BUL# M-97 (Rev.) or contact me for a copy.