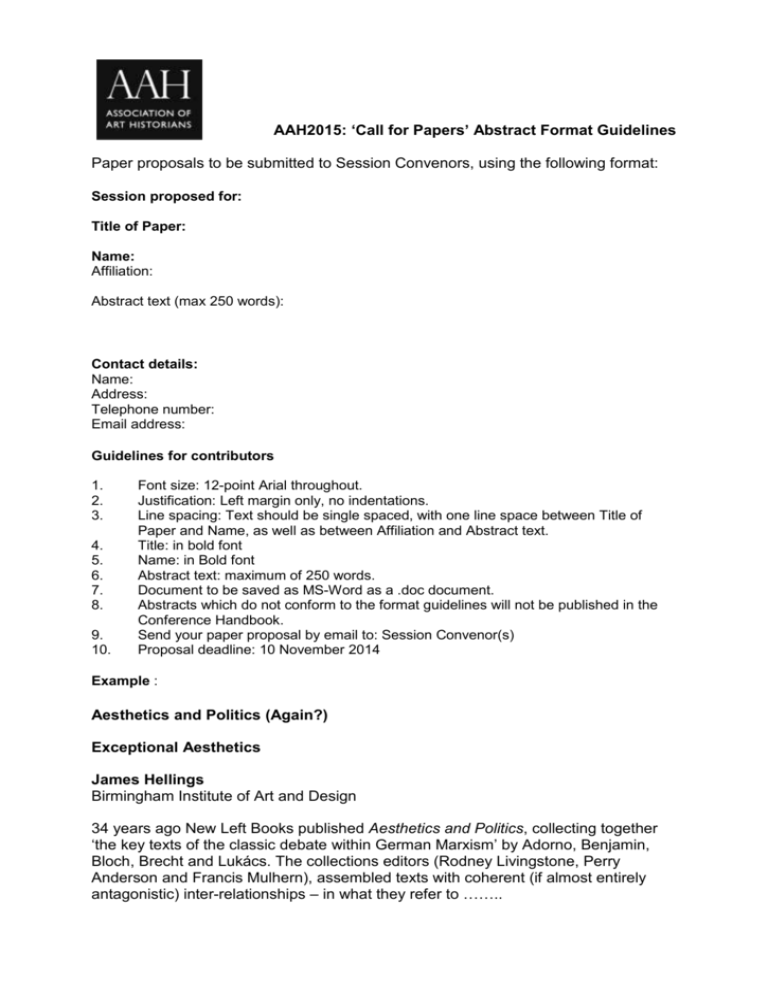 AAH2015: 'Call for Papers' Abstract Format Guidelines
Paper proposals to be submitted to Session Convenors, using the following format:
Session proposed for:
Title of Paper:
Name:
Affiliation:
Abstract text (max 250 words):
Contact details:
Name:
Address:
Telephone number:
Email address:
Guidelines for contributors
1.
2.
3.
4.
5.
6.
7.
8.
9.
10.
Font size: 12-point Arial throughout.
Justification: Left margin only, no indentations.
Line spacing: Text should be single spaced, with one line space between Title of
Paper and Name, as well as between Affiliation and Abstract text.
Title: in bold font
Name: in Bold font
Abstract text: maximum of 250 words.
Document to be saved as MS-Word as a .doc document.
Abstracts which do not conform to the format guidelines will not be published in the
Conference Handbook.
Send your paper proposal by email to: Session Convenor(s)
Proposal deadline: 10 November 2014
Example :
Aesthetics and Politics (Again?)
Exceptional Aesthetics
James Hellings
Birmingham Institute of Art and Design
34 years ago New Left Books published Aesthetics and Politics, collecting together
'the key texts of the classic debate within German Marxism' by Adorno, Benjamin,
Bloch, Brecht and Lukács. The collections editors (Rodney Livingstone, Perry
Anderson and Francis Mulhern), assembled texts with coherent (if almost entirely
antagonistic) inter-relationships – in what they refer to ……..