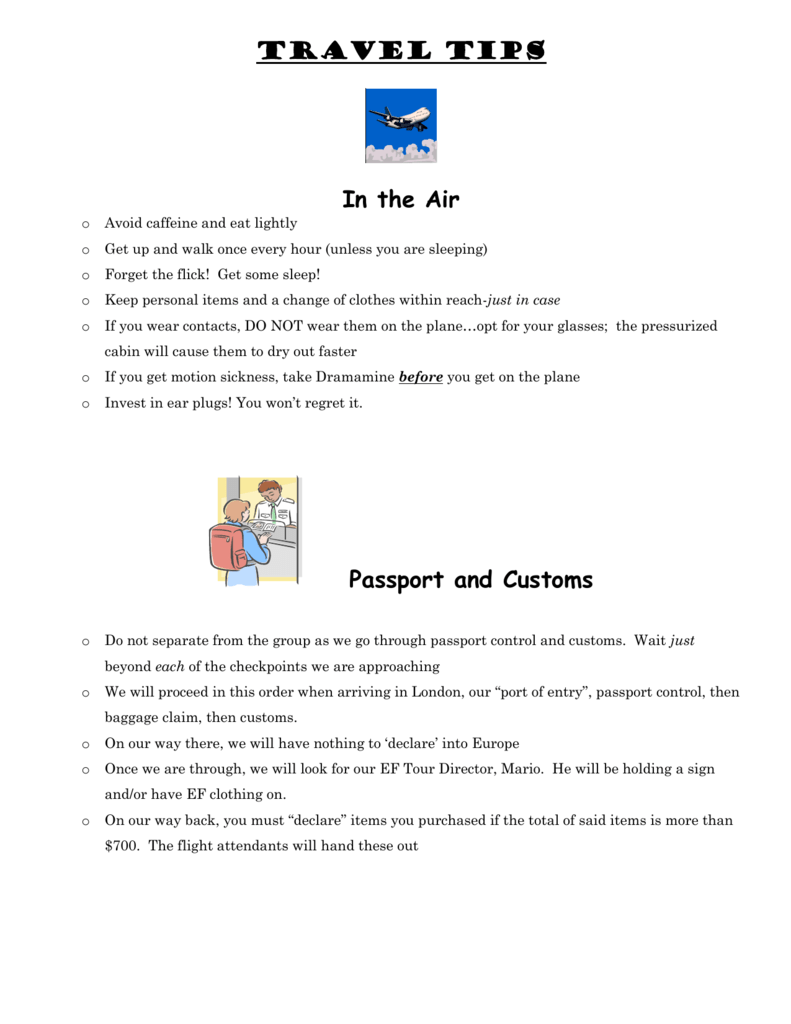 Travel Tips
In the Air
o
Avoid caffeine and eat lightly
o
Get up and walk once every hour (unless you are sleeping)
o
Forget the flick! Get some sleep!
o
Keep personal items and a change of clothes within reach-just in case
o
If you wear contacts, DO NOT wear them on the plane…opt for your glasses; the pressurized
cabin will cause them to dry out faster
o
If you get motion sickness, take Dramamine before you get on the plane
o
Invest in ear plugs! You won't regret it.
Passport and Customs
o
Do not separate from the group as we go through passport control and customs. Wait just
beyond each of the checkpoints we are approaching
o
We will proceed in this order when arriving in London, our "port of entry", passport control, then
baggage claim, then customs.
o
On our way there, we will have nothing to 'declare' into Europe
o
Once we are through, we will look for our EF Tour Director, Mario. He will be holding a sign
and/or have EF clothing on.
o
On our way back, you must "declare" items you purchased if the total of said items is more than
$700. The flight attendants will hand these out
On the rails:
o
On subways ("metro") once in the car, don't stand near doorways.
o
Put backpacks in front of you. Watch out for your friends.
o
Don't be loud & attract a lot of attention.
o
Know the name of the stop where you are to exit. Follow your progress on the map posted in the
car. Stay with your Metro Buddy.
o
When we exit the car, move to the wall on the platform until our tour director has counted your
group members.
On the road:
o
NEVER be late when traveling by coach.
o
Keep the bus driver happy. Greet him/her daily. Be cordial.
o
Play by his "rules." "No ice cream" means NO ice cream on board.
o
NEVER be late. Bus traffic/parking is strictly regulated in European cities, and the fines are
HUGE!
o
Amenities: bathroom? Maybe. Beverages? Maybe. Air-conditioning? Usually.
o
Try not to become "sensory deprived." Meaning, be socially accessible, and soak up every sight
and sound while on foreign soil.
o
NEVER BE LATE! Did I mention this?
o
Traveling between cities. We will do this between Rome and Florence (roughly 3 hours). We will
stop at a rest stop for food and the bathroom. It is customary to go to the register and pay for
your food FIRST and THEN order. You will pay, receive a ticket, order and show the ticket.
Please Remember this. It happens backwards and it will save you time. If you forget, they will
get mad at you and by the time you are done and figure it out, you will have to throw it away
because the bus is leaving.
In the hotels:
o
You will receive your room number when we arrive at each hotel
o
Each traveler carries a matchbook, stationary, business card or map—anything with the hotel's
address and phone number printed on it.
o
In European hotels, keys are left at the reception desk when you leave the premises
o
Adaptors and converters are needed.
o
Noise and curfew: hallways, stairwells, lobbies tend to echo and amplify sounds. Lights out will
be around 11:00-11:30. Remember, you will need your sleep to be ready for the next days'
activities.
o
One person from each room will be designated to see me at breakfast to confirm that everyone is
awake in that room and preparing for departure.
In restaurants:
o
o
Pretend your favorite grandmother is serving you school-cafeteria-quality food. Be polite and
respectful toward the wait staff, DO NOT make any overt negative comments about unfamiliar
food.
Stay away from "American style" food/restaurants i.e. McDonalds, etc
Communicating back home:
o
o
o
o
Pre-paid calling cards are the cheapest method of calling home. Can be purchased at Wal-Mart,
Target, etc.
EF phone card is the best!!
I will have an international cell phone on me at all times.
Email is available at most of the hotels, and "cyber-café's". Cost usually runs around 3 USD for
20-30 min
Finances:
o
o
o
o
I would encourage the use of a Visa card or Visa debit card for any purchases where the card is
accepted by the merchant or vendor.
You can withdraw cash (Pounds/Euros) from ATM's in Europe, and you'll find them everywhere.
Be sure to test your card BEFORE we leave
I will collect the tip money prior to departure. This will cover our tips for the tour director, our
bus drivers and our local guides.
Don't do all your shopping on the first day! Remember, you'll be carrying it around for the rest of
the trip!
Packing:
o
o
o
o
o
o
o
Students will be given a suggested packing list for the trip.
I can't emphasize this enough: travel light! We will be only using the carry-on size!
Dress conservatively! Travelers would be wise not to be walking advertisements. Avoid
appearing affluent or "touristy".
If you invest in luggage locks, get the kind with the TSA logo on them. That way if they inspect
your bag, they can open it without cutting off the lock
Buses' storage compartments have limited capacity. Big luggage=big problem
Train travel is a major hassle if you have big suitcases (you will have to sleep with your bag if it's
too big) :o(
Hotel elevator and stairwells are often no wider than you are. If a hotel has no elevator, people
will have to carry their own bags to their rooms.
Human relations among our group and between consolidated
groups:
o
o
o
o
o
There is no escape! Tensions will mount and tempers will flare at some point during our trip.
Guaranteed.
Be direct, but tactful when addressing problems and concerns. Sometimes roommates need a
break from each other for a night or two.
I would advise you not to bring cologne or perfume. Remember we will be in a confined space
(motor coach, etc) and some people could have an allergy, or could become nauseous.
BE ON TIME ALWAYS! Always. It is particularly upsetting to other groups if a member of our
party has caused a delay for everyone on board. And has a chain reaction effect on the rest of the
day's activities.
Be patient—with people and situations.
Ambassadorship:
o
o
o
o
o
o
Beware: many Europeans understand English. Though they may not have indicated that to
you.
They are also adept as anyone when it comes to reading non-verbal cues and messages. Don't
put your foot in your mouth by making some sarcastic remark about their cuisine, their clothing,
their accents, their "leisurely" pace of service, European body odor, etc.
Europeans think Americans are arrogant, loud, gum chewers who are extremely ill-mannered
and self-centered. Sadly, many US tourists have given them reason to view us as they do.
Be conscious of how you act, of the space you occupy, of the volume you generate. Don't reinforce
the stereotype of The Ugly American.
Make an attempt to speak their language, and remember a simple smile goes a long way. At the
very least, make it a point to greet shop keepers in their language as soon as you walk in the
door.
When on the bus, under the care and tutelage of our TD or a walking tour from a local guide,
refrain from talking. I can't tell you how rude it seems when people continue their private
conversations when they are being addressed by an expert historian who is proud of his or her
city/country and is anxious to share a treasure –trove of information.
Alcohol:
o
I'll keep this simple: if a non-adult group member consume alcohol (without supervision, or
without permission) they will be sent home at parent's expense. There is too much at stake:
their safety, well-being of our entire group, and the integrity of our program.
Thoughts:
o
o
"In the face of humor, nothing can stand."- Mark Twain
Learn to laugh at those situations that test your patience and resolve, and you will have the time
of your life!
Today is our day! We're off to great places – We're off and away! Europe is
waiting – let's get on our way!!