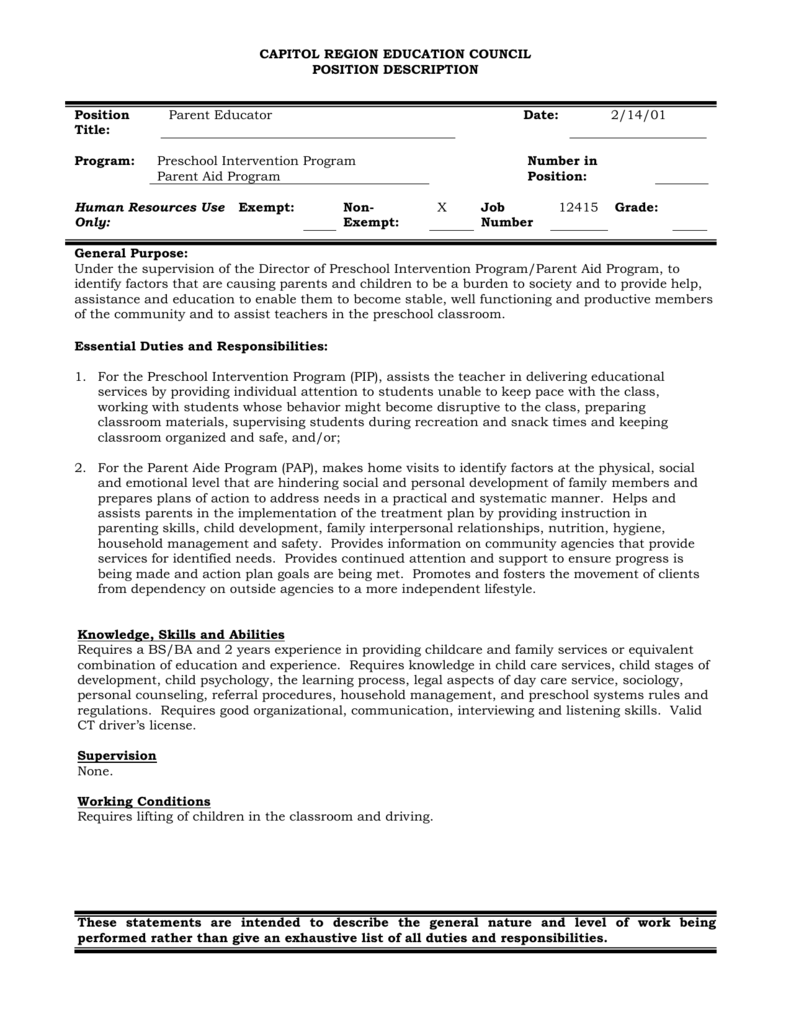 CAPITOL REGION EDUCATION COUNCIL
POSITION DESCRIPTION
Position
Title:
Program:
Parent Educator
Date:
Preschool Intervention Program
Parent Aid Program
Human Resources Use
Only:
Exempt:
NonExempt:
2/14/01
Number in
Position:
X
Job
Number
12415
Grade:
General Purpose:
Under the supervision of the Director of Preschool Intervention Program/Parent Aid Program, to
identify factors that are causing parents and children to be a burden to society and to provide help,
assistance and education to enable them to become stable, well functioning and productive members
of the community and to assist teachers in the preschool classroom.
Essential Duties and Responsibilities:
1. For the Preschool Intervention Program (PIP), assists the teacher in delivering educational
services by providing individual attention to students unable to keep pace with the class,
working with students whose behavior might become disruptive to the class, preparing
classroom materials, supervising students during recreation and snack times and keeping
classroom organized and safe, and/or;
2. For the Parent Aide Program (PAP), makes home visits to identify factors at the physical, social
and emotional level that are hindering social and personal development of family members and
prepares plans of action to address needs in a practical and systematic manner. Helps and
assists parents in the implementation of the treatment plan by providing instruction in
parenting skills, child development, family interpersonal relationships, nutrition, hygiene,
household management and safety. Provides information on community agencies that provide
services for identified needs. Provides continued attention and support to ensure progress is
being made and action plan goals are being met. Promotes and fosters the movement of clients
from dependency on outside agencies to a more independent lifestyle.
Knowledge, Skills and Abilities
Requires a BS/BA and 2 years experience in providing childcare and family services or equivalent
combination of education and experience. Requires knowledge in child care services, child stages of
development, child psychology, the learning process, legal aspects of day care service, sociology,
personal counseling, referral procedures, household management, and preschool systems rules and
regulations. Requires good organizational, communication, interviewing and listening skills. Valid
CT driver's license.
Supervision
None.
Working Conditions
Requires lifting of children in the classroom and driving.
These statements are intended to describe the general nature and level of work being
performed rather than give an exhaustive list of all duties and responsibilities.