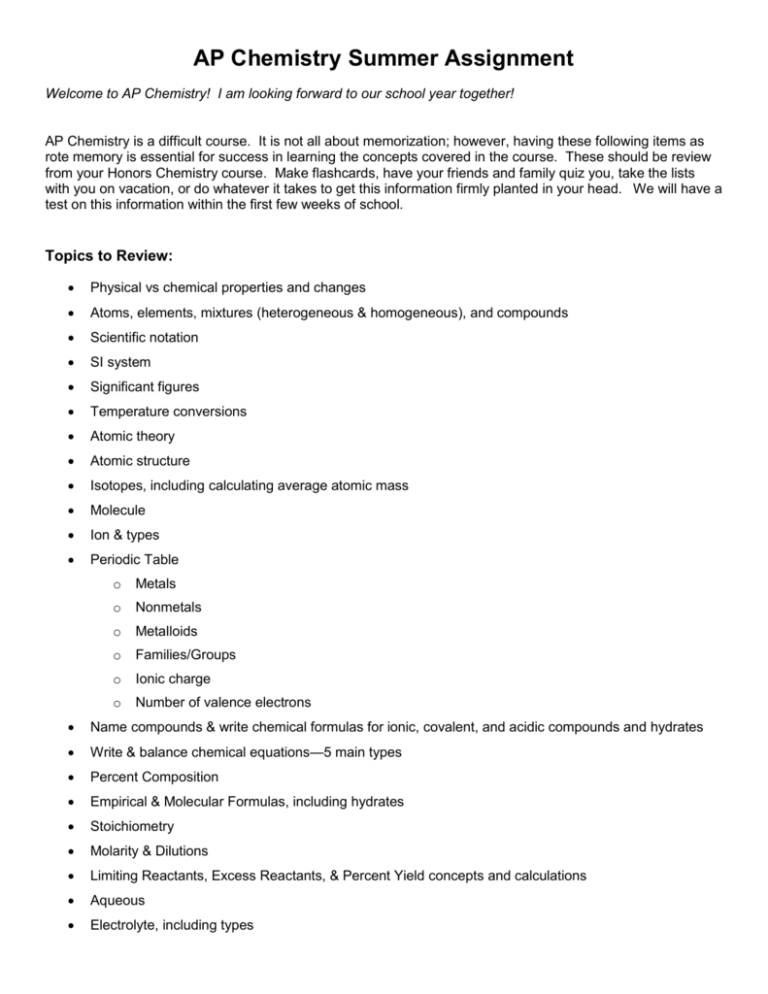 AP Chemistry Summer Assignment
Welcome to AP Chemistry! I am looking forward to our school year together!
AP Chemistry is a difficult course. It is not all about memorization; however, having these following items as
rote memory is essential for success in learning the concepts covered in the course. These should be review
from your Honors Chemistry course. Make flashcards, have your friends and family quiz you, take the lists
with you on vacation, or do whatever it takes to get this information firmly planted in your head. We will have a
test on this information within the first few weeks of school.
Topics to Review:

Physical vs chemical properties and changes

Atoms, elements, mixtures (heterogeneous & homogeneous), and compounds

Scientific notation

SI system

Significant figures

Temperature conversions

Atomic theory

Atomic structure

Isotopes, including calculating average atomic mass

Molecule

Ion & types

Periodic Table
o
Metals
o
Nonmetals
o
Metalloids
o
Families/Groups
o
Ionic charge
o
Number of valence electrons

Name compounds & write chemical formulas for ionic, covalent, and acidic compounds and hydrates

Write & balance chemical equations—5 main types

Percent Composition

Empirical & Molecular Formulas, including hydrates

Stoichiometry

Molarity & Dilutions

Limiting Reactants, Excess Reactants, & Percent Yield concepts and calculations

Aqueous

Electrolyte, including types

Net Ionic Equations

Acid vs Base & relative strengths

Neutralization

Titration

Reduction, Oxidation, reducing agent, oxidizing agent, and oxidation numbers

Balance redox reactions

Polyatomic ions
Name
Ammonium
Acetate
Tartrate
Arsenate
Bromate
Borate
Thiocyanate
Formula & Charge
NH4+
CH3COO- or C2H3O2C4H4O6-2
AsO4-3
BrO3BO3-3
SCN-
Cyanide
Cyanate
Permanganate
Hydroxide
Iodate
Nitrite
Nitrate
Hypochlorite
Chlorite
CNCNOMnO4OHIO3NO2NO3ClOClO2-

Name
Chlorate
Perchlorate
Oxalate
Selenate
Silicate
Carbonate
Hydrogen Carbonate
(Bicarbonate)
Chromate
Dichromate
Thiosulfate
Sulfate
Hydrogen Sulfate (Bisulfate)
Sulfite
Hydrogen Sulfite (Bisulfite)
Phosphite
Phosphate
Dihydrogen Phosphate
Formula & Charge
ClO3ClO4C2O4-2
SeO4-2
SiO3-2
CO3-2
HCO3CrO4-2
Cr2O7-2
S2O3-2
SO4-2
HSO4SO3-2
HSO3PO3-3
PO4-3
H2PO4-
Solubility Guidelines
o
o
o
o
o
o
o
o
o
All ammonium and Group 1 compounds are soluble.
For halogens:
o All chlorides are soluble except those of silver, mercury, and lead. Lead (II) chloride is
soluble in hot water.
o All bromides are soluble except those of silver, mercury, and lead.
o All iodides are soluble except those of silver, mercury, and lead.
o All fluorides are insoluble except ammonium & group 1 compounds.
Chlorates, acetates, nitrates, nitrites, and perchlorates are soluble.
Sulfates are soluble except those of calcium, strontium, barium, mercury, radium, lead, and silver.
Phosphates, chromates, carbonates, borates, sulfites, and silicates are insoluble except ammonium
and Group 1 compounds.
All metallic oxides are insoluble except those of ammonium and Group 1 compounds.
All metallic hydroxides are insoluble except those of ammonium, Group 1, and Group 2 below
calcium.
All sulfides are insoluble except those of ammonium, Group 1, and Group 2.
Most silver salts are insoluble except those of silver nitrate and silver acetate.
OR
https://www.google.com/search?q=visual+solubility+table&espv=2&biw=1024&bih=643&tbm=isch&imgil=XTrfB
eYlurjfoM%253A%253BQc3i9jT0y_VdOM%253Bhttps%25253A%25252F%25252Fwww.teacherspayteachers.
com%25252FProduct%25252FVisual-Solubility-Table1026650&source=iu&pf=m&fir=XTrfBeYlurjfoM%253A%252CQc3i9jT0y_VdOM%252C_&usg=__0CZ5qEUrGy
051dzz8pN95Ydepqg%3D&ved=0CCkQyjc&ei=7FMVcnQDIibyATCq4HgBg&safe=active&ssui=on#imgrc=XTrfBeYlurjfoM%253A%3BQc3i9jT0y_VdOM%3Bhtt
ps%253A%252F%252Fmcdn1.teacherspayteachers.com%252Fthumbitem%252FVisual-Solubility-Table054522200-1387500259%252Foriginal-10266501.jpg%3Bhttps%253A%252F%252Fwww.teacherspayteachers.com%252FProduct%252FVisual-SolubilityTable-1026650%3B350%3B270
OR
SolubilityRules Made Easy
Having trouble memorizing your solubility rules? This is the hand out for you. These are two
different ways that will help and make your life a little easier.
- The first is an acronym: "CASH N' Gia." All these things are soluble unless they are found with
certain elements.
- The second is a list of bullet points if you do not like the acronym. The best way to remember
these is pure memorization. There is no short cut!
All Soluble
Except With
Chlorates
Acetates
Sulfates
Halogens
CaBaSr HgAgPb (CBS HAPpy)
HgAgPb (HAPpy)
N'itrates
Group (IA)
i
a
Simple Solubility Rules:
-Nitrate (NO3-) salts are soluble.
-Alkali (group 1A) salts and NH4+ are soluble.
-Cl-, Br-, and I- salts are soluble (NOT Ag+, Pb2+, Hg22+)
-Sulfate salts are soluble (NOT BaSO4, PbSO4, HgSO4, CaSO4)
-OH− salts are only slightly soluble (NaOH, KOH are soluble, Ba(OH)2,Ca(OH)2 are marginally soluble)
-S2−, CO32−, CrO42−, PO43− salts are insoluble.