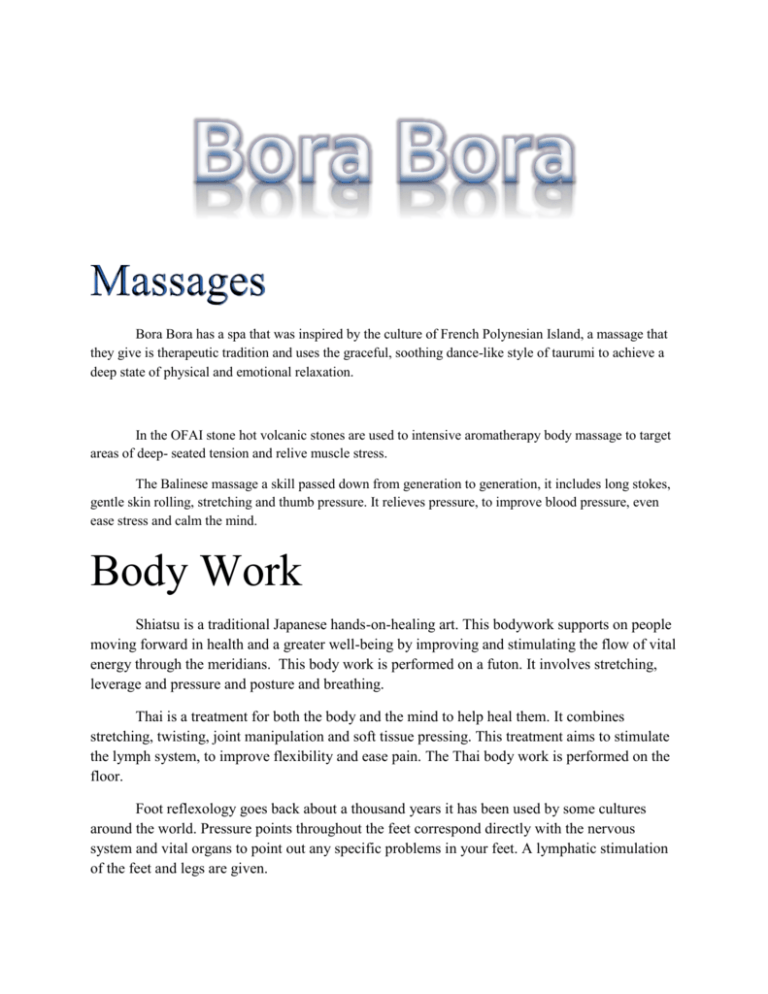 Bora Bora has a spa that was inspired by the culture of French Polynesian Island, a massage that
they give is therapeutic tradition and uses the graceful, soothing dance-like style of taurumi to achieve a
deep state of physical and emotional relaxation.
In the OFAI stone hot volcanic stones are used to intensive aromatherapy body massage to target
areas of deep- seated tension and relive muscle stress.
The Balinese massage a skill passed down from generation to generation, it includes long stokes,
gentle skin rolling, stretching and thumb pressure. It relieves pressure, to improve blood pressure, even
ease stress and calm the mind.
Body Work
Shiatsu is a traditional Japanese hands-on-healing art. This bodywork supports on people
moving forward in health and a greater well-being by improving and stimulating the flow of vital
energy through the meridians. This body work is performed on a futon. It involves stretching,
leverage and pressure and posture and breathing.
Thai is a treatment for both the body and the mind to help heal them. It combines
stretching, twisting, joint manipulation and soft tissue pressing. This treatment aims to stimulate
the lymph system, to improve flexibility and ease pain. The Thai body work is performed on the
floor.
Foot reflexology goes back about a thousand years it has been used by some cultures
around the world. Pressure points throughout the feet correspond directly with the nervous
system and vital organs to point out any specific problems in your feet. A lymphatic stimulation
of the feet and legs are given.
Facial treatments
Esthederm Facials include balance-restoring treatments that target major skin disorder.
Absolute aqua rehydrates the skin and was designed to maintain and restore the moisture
levels for long term results in the skin.
Absolute purity replenishes and rebalances the skin with oxygen.
Osea Facials uses organic seaweed harvested from the purest waters on earth to enhance
the skins appearance and to also improve the conditions of the skin. This treatment begins with
an in-depth skin analysis using state of the art equipment to determine any causes of imbalance.
Sea of life signature facial is a unique treatment that is refreshment for the face. Once
analyzed the face is treated to a deep cleanse followed by oxygen serums and a skin-specific
mask. This soothing massage helps release stress.
Anti-aging is a facial that brightens and balances skin tones. The treatment uses pure
white algae, white wine, white tea and various peptides blended with marine based anti-aging
serums to give your face a more youthful look. This is an uplifting facial massage.
Sensitive is a treatment designed by Osea for people with sensitive skin it calms irritation
and replenishes lost nutrients and booting the skins natural ability to protect itself against
environmental damage. This facial is effective for soothing skin conditions such as rosacea and
sensitive or severely dehydrated skin.
Alpha male was designed specifically for men this facial helps protect and restore skin
damaged by sun exposure, razor burn and the aging process. The face is treated with a mask
tailored to your specific needs, a relaxing face, shoulder, neck, and head massage with leave the
men feeling refreshed and soothed.
Just For Teens
Teen's facial created by Osea will calm and cleanse your skin with gentle and effective
products to clean out clogged pores. A custom mask is applied to make your skin tone clear and
even.
Teen's kahala coco scrub is a coconut scrub that is applied lightly to exfoliate and soften
your skin. After the scrub is applied to your skin then your body is pampered with a traditional
kahaia crème soufflé.
Teen's vanilla massage should be taken after a Jet Ski tour because it sweetly soothing
vanilla monoi oil used in the massage and was designed just for you to help your skin rehydrate.
Teen's manicure uses a beautiful, juicy star fruit that is rich in vitamin C, this fruit helps
us give you the star treatment to your hands. This manicure gives you a choice of the hottest
colours and tips on how to take care of your nails at home.