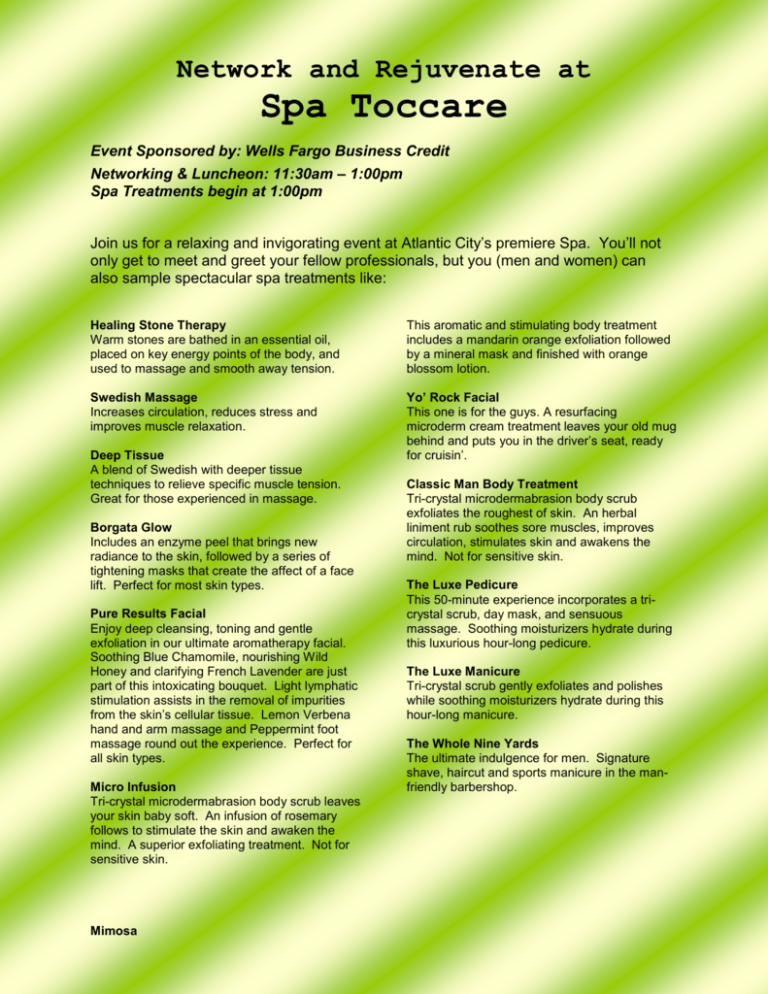 Network and Rejuvenate at
Spa Toccare
Event Sponsored by: Wells Fargo Business Credit
Networking & Luncheon: 11:30am – 1:00pm
Spa Treatments begin at 1:00pm
Join us for a relaxing and invigorating event at Atlantic City's premiere Spa. You'll not
only get to meet and greet your fellow professionals, but you (men and women) can
also sample spectacular spa treatments like:
Healing Stone Therapy
Warm stones are bathed in an essential oil,
placed on key energy points of the body, and
used to massage and smooth away tension.
This aromatic and stimulating body treatment
includes a mandarin orange exfoliation followed
by a mineral mask and finished with orange
blossom lotion.
Swedish Massage
Increases circulation, reduces stress and
improves muscle relaxation.
Yo' Rock Facial
This one is for the guys. A resurfacing
microderm cream treatment leaves your old mug
behind and puts you in the driver's seat, ready
for cruisin'.
Deep Tissue
A blend of Swedish with deeper tissue
techniques to relieve specific muscle tension.
Great for those experienced in massage.
Borgata Glow
Includes an enzyme peel that brings new
radiance to the skin, followed by a series of
tightening masks that create the affect of a face
lift. Perfect for most skin types.
Pure Results Facial
Enjoy deep cleansing, toning and gentle
exfoliation in our ultimate aromatherapy facial.
Soothing Blue Chamomile, nourishing Wild
Honey and clarifying French Lavender are just
part of this intoxicating bouquet. Light lymphatic
stimulation assists in the removal of impurities
from the skin's cellular tissue. Lemon Verbena
hand and arm massage and Peppermint foot
massage round out the experience. Perfect for
all skin types.
Micro Infusion
Tri-crystal microdermabrasion body scrub leaves
your skin baby soft. An infusion of rosemary
follows to stimulate the skin and awaken the
mind. A superior exfoliating treatment. Not for
sensitive skin.
Mimosa
Classic Man Body Treatment
Tri-crystal microdermabrasion body scrub
exfoliates the roughest of skin. An herbal
liniment rub soothes sore muscles, improves
circulation, stimulates skin and awakens the
mind. Not for sensitive skin.
The Luxe Pedicure
This 50-minute experience incorporates a tricrystal scrub, day mask, and sensuous
massage. Soothing moisturizers hydrate during
this luxurious hour-long pedicure.
The Luxe Manicure
Tri-crystal scrub gently exfoliates and polishes
while soothing moisturizers hydrate during this
hour-long manicure.
The Whole Nine Yards
The ultimate indulgence for men. Signature
shave, haircut and sports manicure in the manfriendly barbershop.