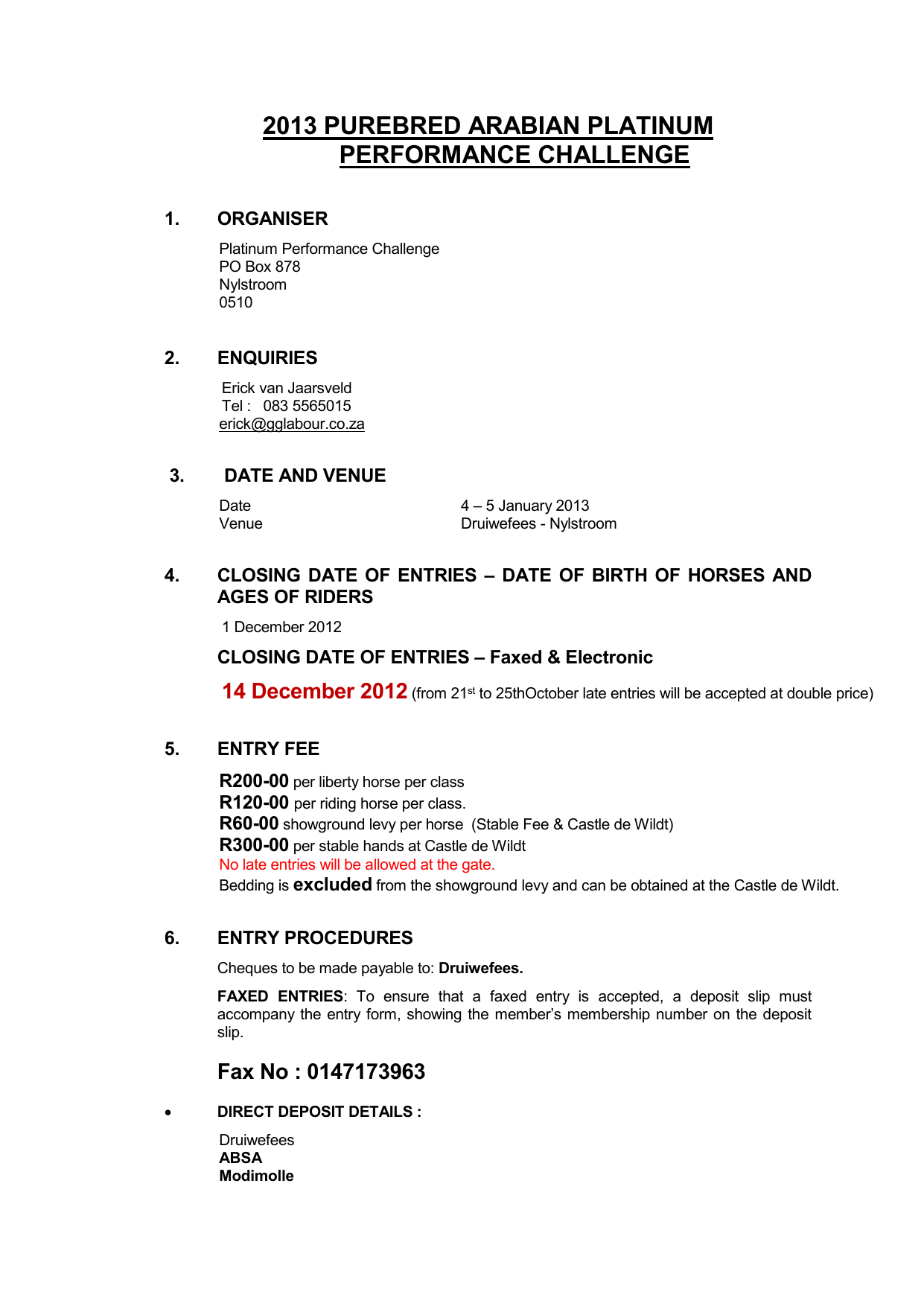 2013 PUREBRED ARABIAN PLATINUM
PERFORMANCE CHALLENGE
1.
ORGANISER
Platinum Performance Challenge
PO Box 878
Nylstroom
0510
2.
ENQUIRIES
Erick van Jaarsveld
Tel : 083 5565015
[email protected]
3.
DATE AND VENUE
Date
Venue
4.
4 – 5 January 2013
Druiwefees - Nylstroom
CLOSING DATE OF ENTRIES – DATE OF BIRTH OF HORSES AND
AGES OF RIDERS
1 December 2012
CLOSING DATE OF ENTRIES – Faxed & Electronic
14 December 2012 (from 21st to 25thOctober late entries will be accepted at double price)
5.
ENTRY FEE
R200-00 per liberty horse per class
R120-00 per riding horse per class.
R60-00 showground levy per horse (Stable Fee & Castle de Wildt)
R300-00 per stable hands at Castle de Wildt
No late entries will be allowed at the gate.
Bedding is excluded from the showground levy and can be obtained at the Castle de Wildt.
6.
ENTRY PROCEDURES
Cheques to be made payable to: Druiwefees.
FAXED ENTRIES: To ensure that a faxed entry is accepted, a deposit slip must
accompany the entry form, showing the member's membership number on the deposit
slip.
Fax No : 0147173963

DIRECT DEPOSIT DETAILS :
Druiwefees
ABSA
Modimolle
Account No : 9231040244
Reference no. Arab plus membership no with society





7.
ENTRY FEE: ENTRIES WITHOUT THE CORRECT ENTRY FEE AND PROOF OF
PAYMENT WILL NOT BE PROCESSED.
Entries that are incorrect or incomplete will not be processed and entry fee will be
forfeited.
Horses under 1 year will be entered with birth notification attached as per pending rule set
out by studbook.
No pending horses over 1 year will be accepted.
Imported horses will lose their pending status after 6 months of date of arrival in South
Africa.
NUMBERS & CATALOGUES
Numbers & Catalogues will be available at the Castle de Wildt from 3rd January 2013.
8.
STABLING
The Druiwefees do not have stabling facilities available. Horse will be stabled at Castle
de Wildt, approximately 4km from the festival. Handlers/riders/owners will therefore
need to manage time in order to have horses on time at the festival ready for the
particular class.
STABLE REQUISITION FORMS TO BE CORRECTLY COMPLETED.
STRICTLY FIRST COME FIRST SERVE.
9.
CHAMPIONSHIP CLASSES
Participation is compulsory for the relevant qualifiers.
10.
EARLIEST ARRIVAL
3 January 2013, unless special arrangement have been made.
11.
GENERAL CONDITIONS FOR ENTRIES
Entries are restricted to members and registered breeders of the Arab Horse Society of
South Africa or any other WAHO accepted registry, who are in good standing with the
Society.
Please give due regards to the conditions under which international handlers/SADEC
members may show horses.
All entries are subject to the current Show Rules and Regulations of the Society.
All horses entered in the show must be registered as pending and/or registered with the
AHS of South Africa or any other WAHO accepted registry.
The ages of all horses and riders (where applicable) are to be calculated from the date of
birth up to the 1st December 2012.
The Organisers has the right to combine, divide or cancel classes should it be necessary.
Please note the minimum entry of 5 horses per class will be strictly adhered to.
Entry Fees are not refundable for any reason other than cancellation of a class.
Champions must be available for photo sessions as ordered by the Society.
12.
JUDGE
Hanlie Scott will judge both performance and liberty classes.
13.
DISCIPLINARY COMMITTEE
Erick van Jaarsveld
Johan du Plessis
Welma Joubert
14.
GENERAL INFORMATION
Directions to Druiwefees – www.druiwefees.co.za
Directions to castle de Wildt www.lbgholdings.co.za/index.php?option=com_content&view=article&id=48&Itemid=123
ACCOMODATION
Thaba Monate – 014 2291/4131
Silver Streams – 014 717 9835
Silver Rocks Karavaan Park – 014 001 7032/33
Shangri La – 014 718 1600
San Rock – 014 717 4005
Weesgerus – 014 718 7100
Coro Creek Guesthouse & Nyl Retreat – 079 317 2816
Temple Holiday Resort – 087 820 7185, 087 820 7186, 082 884 2590
15.
PHOTOGRAPHERS
The photographer is H2 Photography. Please visit their website at
www.h2pics.co.za. A warm thanks to them for providing the photo's for
the advert of the show.