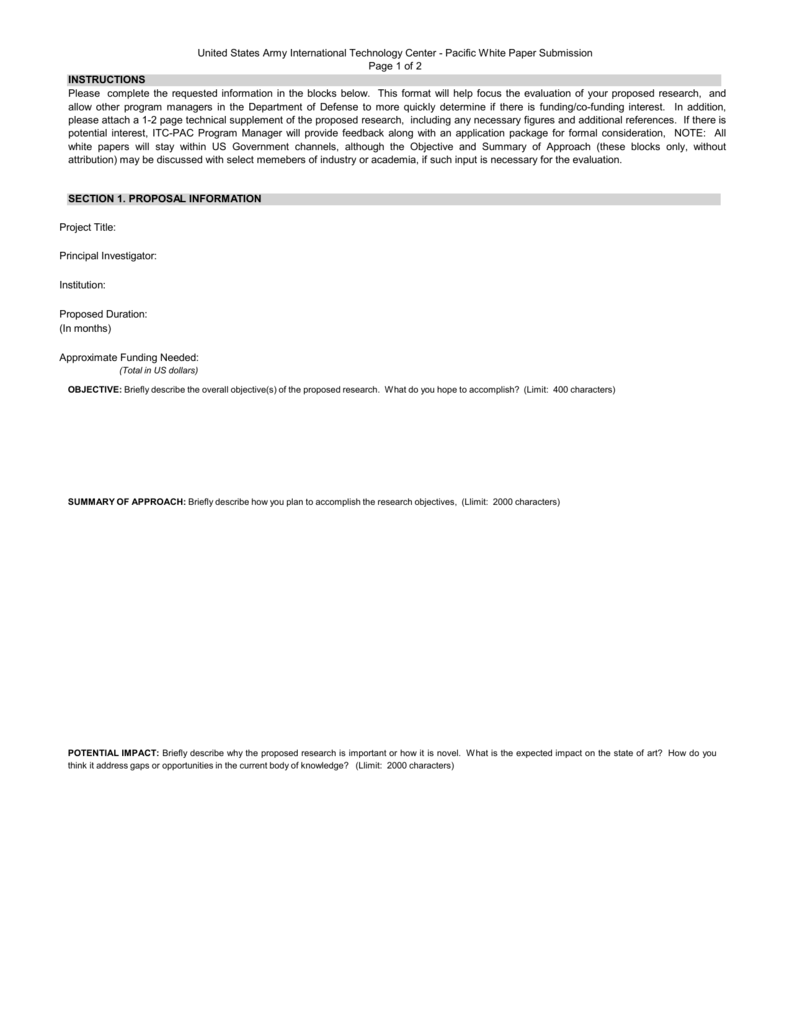 United States Army International Technology Center - Pacific White Paper Submission
Page 1 of 2
INSTRUCTIONS
Please complete the requested information in the blocks below. This format will help focus the evaluation of your proposed research, and
allow other program managers in the Department of Defense to more quickly determine if there is funding/co-funding interest. In addition,
please attach a 1-2 page technical supplement of the proposed research, including any necessary figures and additional references. If there is
potential interest, ITC-PAC Program Manager will provide feedback along with an application package for formal consideration, NOTE: All
white papers will stay within US Government channels, although the Objective and Summary of Approach (these blocks only, without
attribution) may be discussed with select memebers of industry or academia, if such input is necessary for the evaluation.
SECTION 1. PROPOSAL INFORMATION
Project Title:
Principal Investigator:
Institution:
Proposed Duration:
(In months)
Approximate Funding Needed:
(Total in US dollars)
OBJECTIVE: Briefly describe the overall objective(s) of the proposed research. What do you hope to accomplish? (Limit: 400 characters)
SUMMARY OF APPROACH: Briefly describe how you plan to accomplish the research objectives, (Llimit: 2000 characters)
POTENTIAL IMPACT: Briefly describe why the proposed research is important or how it is novel. W hat is the expected impact on the state of art? How do you
think it address gaps or opportunities in the current body of knowledge? (Llimit: 2000 characters)
RELEVANT REFERENCES: Please list up to three references that provide additional background as needed. Provide link to online article, if possible.
1)
Hyperlink:
2)
Hyperlink:
3)
Hyperlink:
QUALIFICATIONS FOR PROPOSED RESEARCH:
Please provide a brief description of the proposer's qualifications, capabilities, related experience, facilities or techniques, or a combination of
these factors that are integral to achieving the proposed research objectives. (Limit: 2000 characters)
ATTACHMENT: Please check box to indicate technical supplement is attached.
Technical Supplement (Required)
Include short (1 or 2 pages) technical summary of the proposed research. Focus should be on what you are proposing to
do, rather than review too much of what has already been done (can be included in references). No particular format is
required.