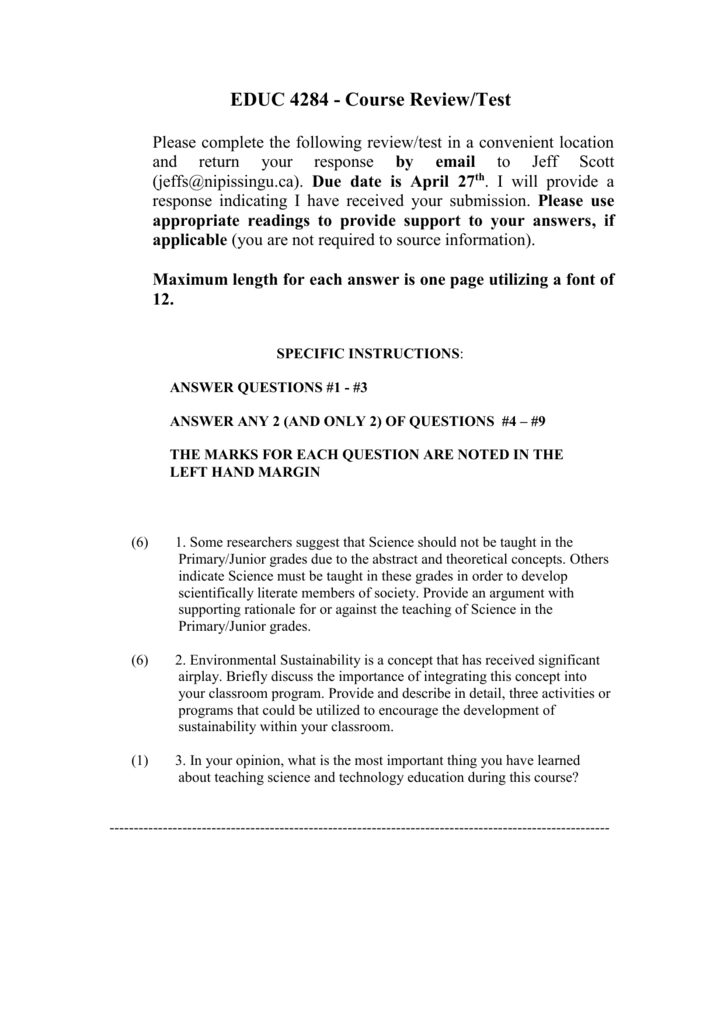 EDUC 4284 - Course Review/Test
Please complete the following review/test in a convenient location
and return your response by email to Jeff Scott
([email protected]). Due date is April 27th. I will provide a
response indicating I have received your submission. Please use
appropriate readings to provide support to your answers, if
applicable (you are not required to source information).
Maximum length for each answer is one page utilizing a font of
12.
SPECIFIC INSTRUCTIONS:
ANSWER QUESTIONS #1 - #3
ANSWER ANY 2 (AND ONLY 2) OF QUESTIONS #4 – #9
THE MARKS FOR EACH QUESTION ARE NOTED IN THE
LEFT HAND MARGIN
(6)
1. Some researchers suggest that Science should not be taught in the
Primary/Junior grades due to the abstract and theoretical concepts. Others
indicate Science must be taught in these grades in order to develop
scientifically literate members of society. Provide an argument with
supporting rationale for or against the teaching of Science in the
Primary/Junior grades.
(6)
2. Environmental Sustainability is a concept that has received significant
airplay. Briefly discuss the importance of integrating this concept into
your classroom program. Provide and describe in detail, three activities or
programs that could be utilized to encourage the development of
sustainability within your classroom.
(1)
3. In your opinion, what is the most important thing you have learned
about teaching science and technology education during this course?
-------------------------------------------------------------------------------------------------------
(6)
4. Locate an article in a newspaper, magazine or online related to a
Science or Technology concept. Briefly outline the article, identify a
grade, strand and topic that the material relates to and describe how you
would introduce/teach the concept to your students. Please provide a link
to the article.
(6)
5. One of our aims as teachers should be to help the students become
effective thinkers and problem-solvers. Using specific examples, briefly
outline three different ways that this might be accomplished through the
teaching of science and technology.
(6)
6. Identify a science or technology teaching situation in the P/J Division
and then state which of the two basic teaching approaches considered
during the course would be appropriate to use in that situation. Briefly
describe how you would use the teaching approach identified and, by
referring to two or more distinguishing characteristics of the approach,
justify your choice.
(6)
7. Chose and briefly outline one of the three games introduced during the
PROJECT WILD session held in the gym earlier this term. Describe with
detail, three learning expectations that you as the teacher would like your
students to achieve after being involved with the game. (Games played
included 'Habitat Lap Sit,' 'Oh Deer,' and 'Quick Frozen Critters).
(6)
8. Argue for or against the following statement: "The Constructivist
Learning Theory can be used as effectively in a junior kindergarten or
senior kindergarten program as a grade six program." Provide three points
with detail to support your answer.
(6)
9. Provide three key philosophical attributes that you would build your
science program around and provide a brief rationale for each.