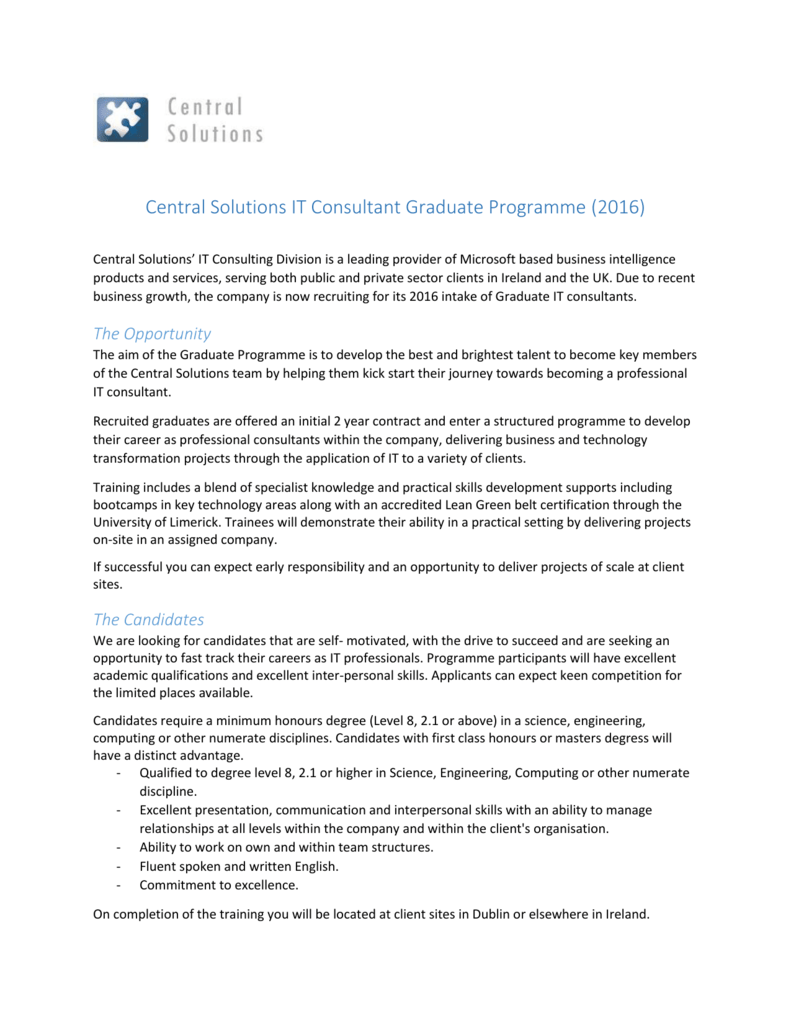 Central Solutions IT Consultant Graduate Programme (2016)
Central Solutions' IT Consulting Division is a leading provider of Microsoft based business intelligence
products and services, serving both public and private sector clients in Ireland and the UK. Due to recent
business growth, the company is now recruiting for its 2016 intake of Graduate IT consultants.
The Opportunity
The aim of the Graduate Programme is to develop the best and brightest talent to become key members
of the Central Solutions team by helping them kick start their journey towards becoming a professional
IT consultant.
Recruited graduates are offered an initial 2 year contract and enter a structured programme to develop
their career as professional consultants within the company, delivering business and technology
transformation projects through the application of IT to a variety of clients.
Training includes a blend of specialist knowledge and practical skills development supports including
bootcamps in key technology areas along with an accredited Lean Green belt certification through the
University of Limerick. Trainees will demonstrate their ability in a practical setting by delivering projects
on-site in an assigned company.
If successful you can expect early responsibility and an opportunity to deliver projects of scale at client
sites.
The Candidates
We are looking for candidates that are self- motivated, with the drive to succeed and are seeking an
opportunity to fast track their careers as IT professionals. Programme participants will have excellent
academic qualifications and excellent inter-personal skills. Applicants can expect keen competition for
the limited places available.
Candidates require a minimum honours degree (Level 8, 2.1 or above) in a science, engineering,
computing or other numerate disciplines. Candidates with first class honours or masters degress will
have a distinct advantage.
- Qualified to degree level 8, 2.1 or higher in Science, Engineering, Computing or other numerate
discipline.
- Excellent presentation, communication and interpersonal skills with an ability to manage
relationships at all levels within the company and within the client's organisation.
- Ability to work on own and within team structures.
- Fluent spoken and written English.
- Commitment to excellence.
On completion of the training you will be located at client sites in Dublin or elsewhere in Ireland.
Application
If you're ready for a career with a dynamic organisation in an environment that fosters professional
development and career advancement apply now by submitting a CV and a comprehensive letter setting
out why you should be selected for the Graduate Programme to [email protected]
We are interested in your academic history, employment history, your career aims and your overall
career aspirations.
Closing date: 17th December 2015.