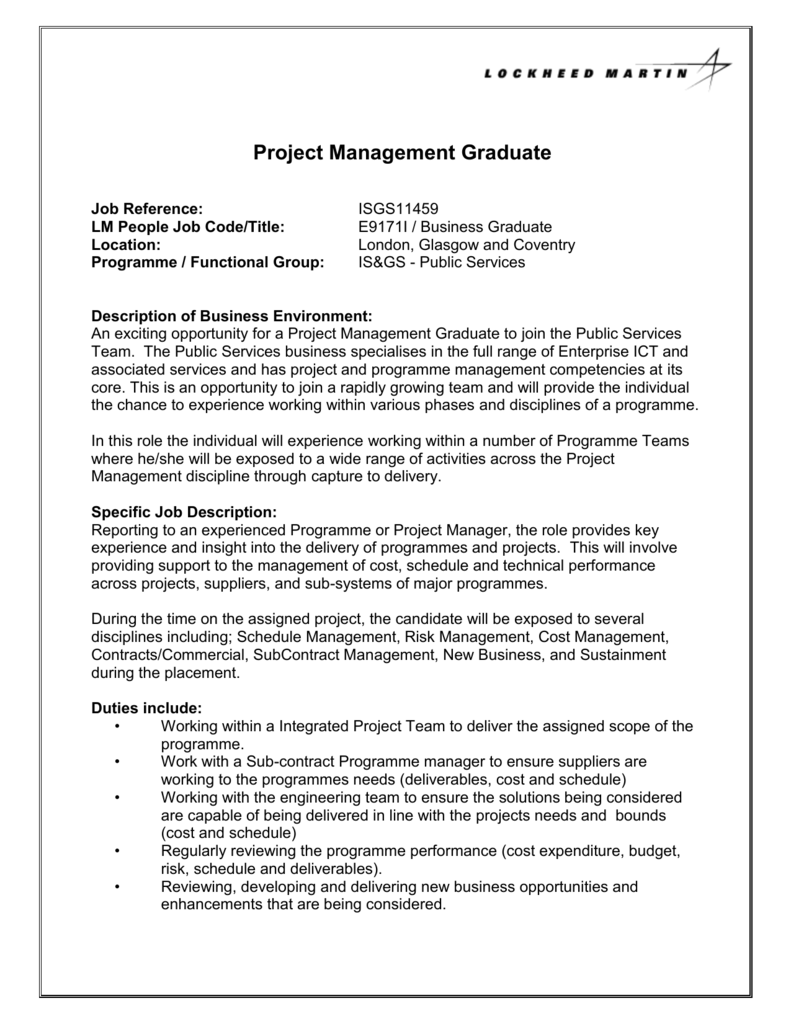 Project Management Graduate
Job Reference:
LM People Job Code/Title:
Location:
Programme / Functional Group:
ISGS11459
E9171I / Business Graduate
London, Glasgow and Coventry
IS&GS - Public Services
Description of Business Environment:
An exciting opportunity for a Project Management Graduate to join the Public Services
Team. The Public Services business specialises in the full range of Enterprise ICT and
associated services and has project and programme management competencies at its
core. This is an opportunity to join a rapidly growing team and will provide the individual
the chance to experience working within various phases and disciplines of a programme.
In this role the individual will experience working within a number of Programme Teams
where he/she will be exposed to a wide range of activities across the Project
Management discipline through capture to delivery.
Specific Job Description:
Reporting to an experienced Programme or Project Manager, the role provides key
experience and insight into the delivery of programmes and projects. This will involve
providing support to the management of cost, schedule and technical performance
across projects, suppliers, and sub-systems of major programmes.
During the time on the assigned project, the candidate will be exposed to several
disciplines including; Schedule Management, Risk Management, Cost Management,
Contracts/Commercial, SubContract Management, New Business, and Sustainment
during the placement.
Duties include:
•
Working within a Integrated Project Team to deliver the assigned scope of the
programme.
•
Work with a Sub-contract Programme manager to ensure suppliers are
working to the programmes needs (deliverables, cost and schedule)
•
Working with the engineering team to ensure the solutions being considered
are capable of being delivered in line with the projects needs and bounds
(cost and schedule)
•
Regularly reviewing the programme performance (cost expenditure, budget,
risk, schedule and deliverables).
•
Reviewing, developing and delivering new business opportunities and
enhancements that are being considered.
Required Skills:
•
Currently undertaking a degree, ideally in a Business Management or
Technical discipline.
•
Strong analytical skills.
•
Good communicator at all levels.
•
Creative and enthusiastic with energy and commitment.
•
Strong inter-personal skills indicating an aptitude for independence and
leadership combined with ability for working in a team environment.
•
Ability to prioritise own tasking to meet programme needs.
This vacancy requires all successful candidates to be processed for a HM Government
security clearance, which stipulates, at a minimum, that the applicant must have been a
resident in the UK for at least the last five years.
Standard Job Description:
Participates in specific training opportunities under the graduate programme involving
LM Manual for professional development, mentoring, role experience and graduate
projects. Candidates for this position are selected following completion of a bachelors
degree and assessed by the graduate board and BU Leadership team as possessing
requisite skills and abilities for future career development.