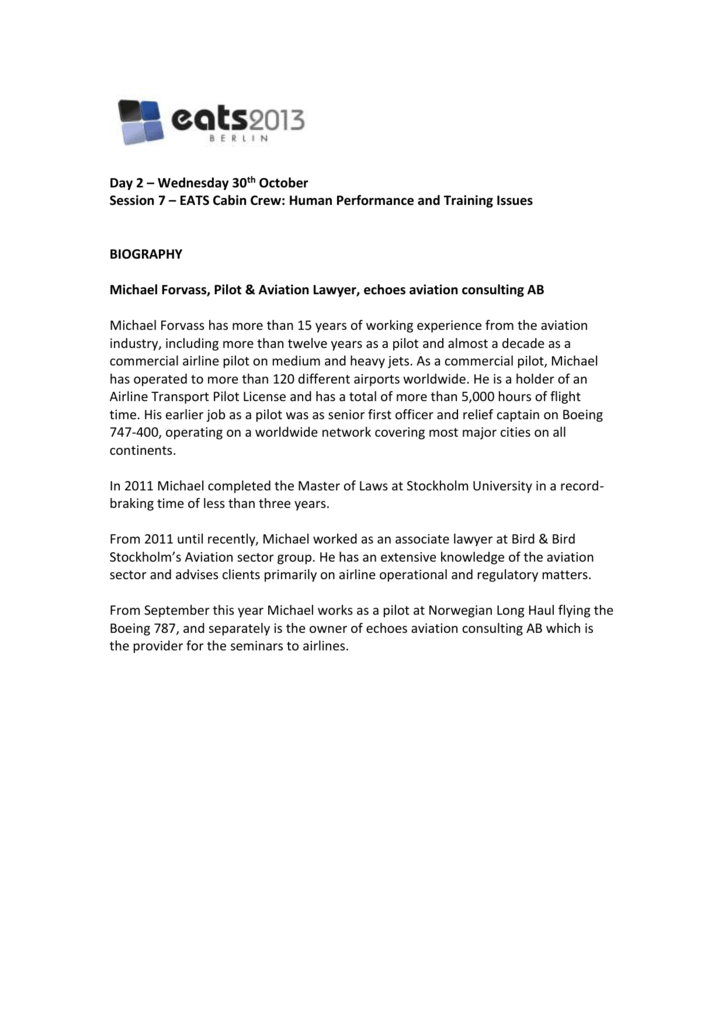 Day 2 – Wednesday 30th October
Session 7 – EATS Cabin Crew: Human Performance and Training Issues
BIOGRAPHY
Michael Forvass, Pilot & Aviation Lawyer, echoes aviation consulting AB
Michael Forvass has more than 15 years of working experience from the aviation
industry, including more than twelve years as a pilot and almost a decade as a
commercial airline pilot on medium and heavy jets. As a commercial pilot, Michael
has operated to more than 120 different airports worldwide. He is a holder of an
Airline Transport Pilot License and has a total of more than 5,000 hours of flight
time. His earlier job as a pilot was as senior first officer and relief captain on Boeing
747-400, operating on a worldwide network covering most major cities on all
continents.
In 2011 Michael completed the Master of Laws at Stockholm University in a recordbraking time of less than three years.
From 2011 until recently, Michael worked as an associate lawyer at Bird & Bird
Stockholm's Aviation sector group. He has an extensive knowledge of the aviation
sector and advises clients primarily on airline operational and regulatory matters.
From September this year Michael works as a pilot at Norwegian Long Haul flying the
Boeing 787, and separately is the owner of echoes aviation consulting AB which is
the provider for the seminars to airlines.