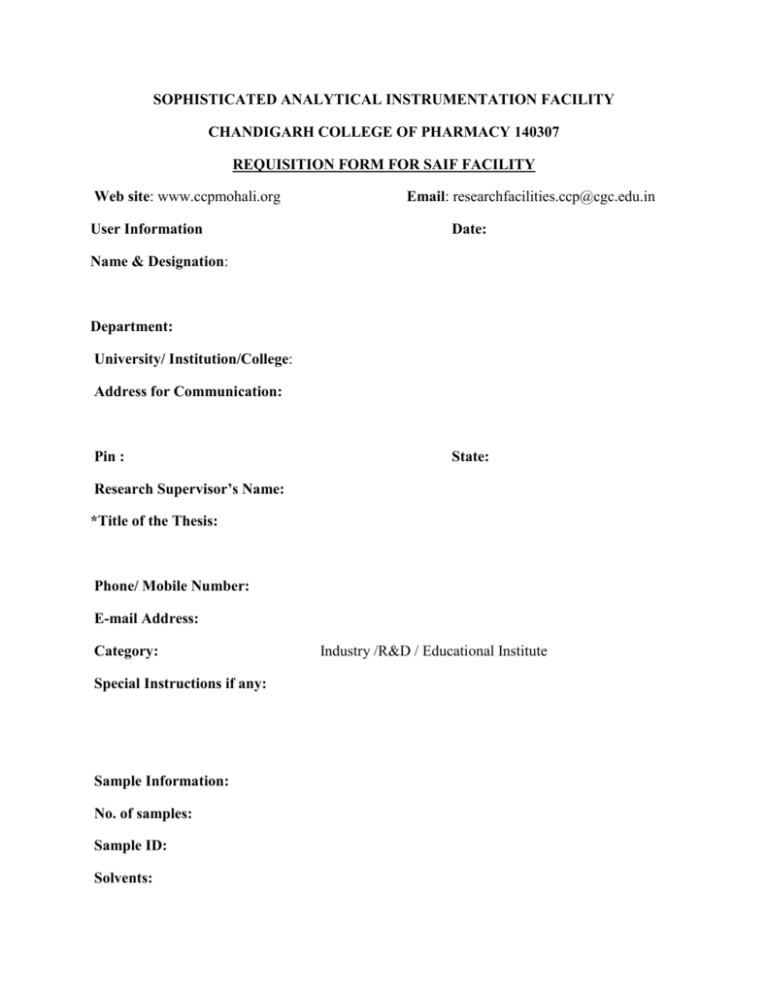 SOPHISTICATED ANALYTICAL INSTRUMENTATION FACILITY
CHANDIGARH COLLEGE OF PHARMACY 140307
REQUISITION FORM FOR SAIF FACILITY
Web site: www.ccpmohali.org
User Information
Email: researchfacilities.ccp@cgc.edu.in
Date:
Name & Designation:
Department:
University/ Institution/College:
Address for Communication:
Pin :
State:
Research Supervisor's Name:
*Title of the Thesis:
Phone/ Mobile Number:
E-mail Address:
Category:
Special Instructions if any:
Sample Information:
No. of samples:
Sample ID:
Solvents:
Industry /R&D / Educational Institute
Amount paid: ……………………………………
Draft
No…………………………………….. Dated:………………………………………..
Recommendation from Head of Department
The above samples may be accepted on the behalf of our department/ Institution
Signature of user
Supervisor's Signature
Guidelines for undertaking the work in ACC lab, Chandigarh College of Pharmacy,
Landran Mohali:
1. Any change in the approved work and protocol would require a written approval
from Supervisor of the candidate or Head of the institution.
2. The researcher should abide by all the rules and regulations being followed at the
laboratory and should maintain good laboratory practices while working.
3. An immediate report should be made to the lab in-charge in case of any breakage and
spill or malfunctioning of any instrument. If negligence is reported, the researcher has
to bear all the expenses incurred for repair of instrument.
4. Publications (thesis or journal communication) generated out of the research work
undertaken in the laboratory should be shared with due credit to the laboratory and the
person in-charge for participation in the work.
5. The researcher should follow the bio-safety level III guidelines while entering and
working in the laboratory.
Cost and pricing guidelines for candidates outside Chandigarh College of
Pharmacy, Landran Mohali:
1. Candidates from outside Chandigarh College of Pharmacy shall undertake to bear
the complete cost of consumables, cell lines and personnel and shall submit 50%
of the total cost while submitting this form with the help of demand draft in favour
of Chandigarh College of Pharmacy, Landran.
2. In case of any unforeseen delay and unprecedented circumstances that hinders the
planned study the money will be refunded with approval from Principal/Director,
Chandigarh College of Pharmacy, Landran on a request letter given by the candidate.
Signature of Head of Department With official Seal
For office use only
Payment received vides receipt no. …………………… Dated…………………… Amount:
…………………….
Note: If there are more samples, kindly attach separate list of sample with codes, solubility and
experiment to be done.