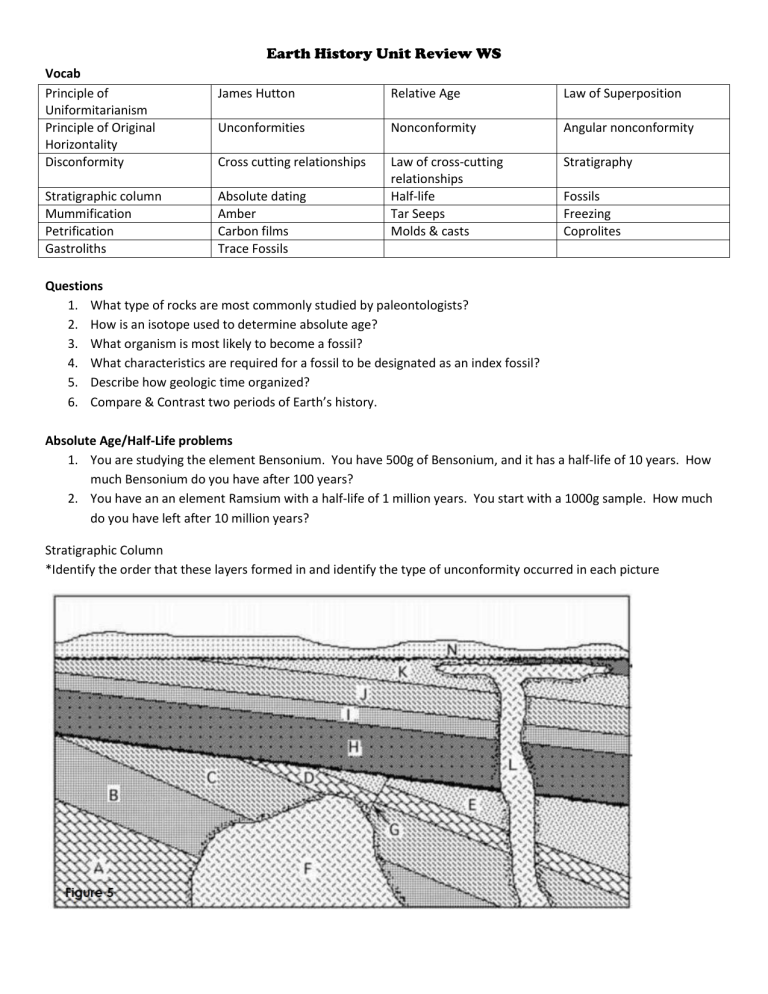 Earth History Unit Review WS
Vocab
Principle of
Uniformitarianism
Principle of Original
Horizontality
Disconformity
James Hutton
Unconformities
Relative Age
Nonconformity
Stratigraphic column
Mummification
Petrification
Gastroliths
Cross cutting relationships Law of cross-cutting relationships
Absolute dating
Amber
Carbon films
Trace Fossils
Half-life
Tar Seeps
Molds & casts
Questions
1.
What type of rocks are most commonly studied by paleontologists?
2.
How is an isotope used to determine absolute age?
3.
What organism is most likely to become a fossil?
4.
What characteristics are required for a fossil to be designated as an index fossil?
5.
Describe how geologic time organized?
Law of Superposition
Angular nonconformity
Stratigraphy
Fossils
Freezing
Coprolites
6.
Compare & Contrast two periods of Earth's history.
Absolute Age/Half-Life problems
1.
You are studying the element Bensonium. You have 500g of Bensonium, and it has a half-life of 10 years. How much Bensonium do you have after 100 years?
2.
You have an an element Ramsium with a half-life of 1 million years. You start with a 1000g sample. How much do you have left after 10 million years?
Stratigraphic Column
*Identify the order that these layers formed in and identify the type of unconformity occurred in each picture
Stratigraphy
*Correlate all the layers shown in the stratigraphic sections