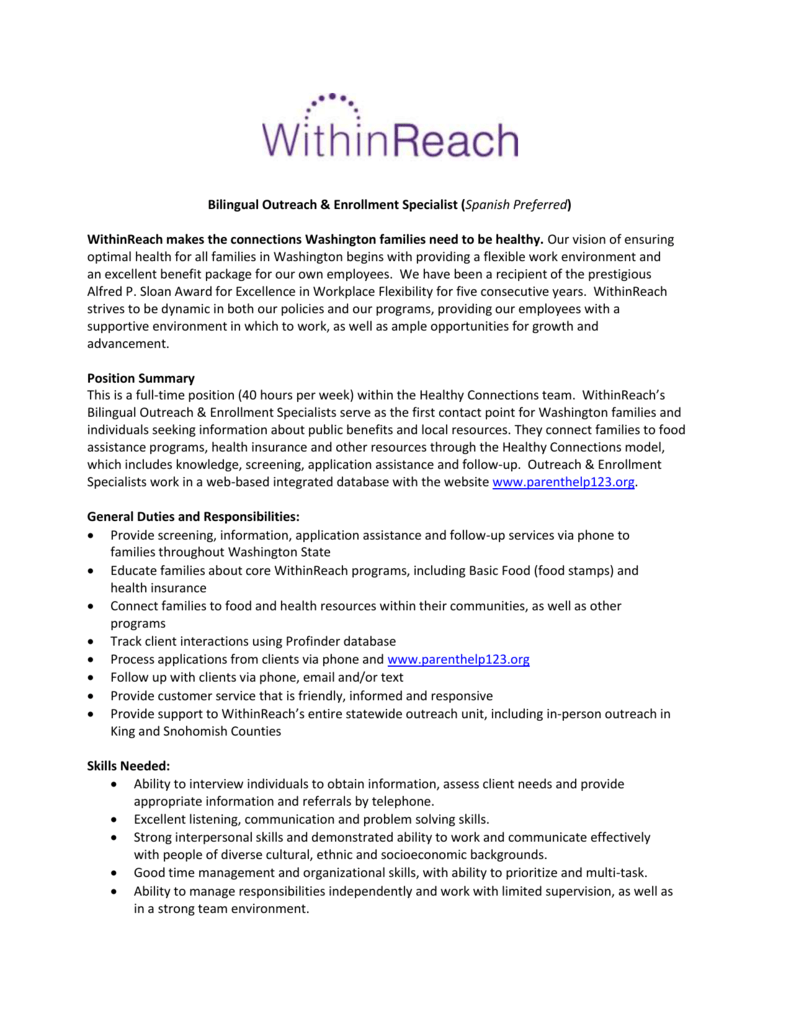 Bilingual Outreach & Enrollment Specialist (Spanish Preferred)
WithinReach makes the connections Washington families need to be healthy. Our vision of ensuring
optimal health for all families in Washington begins with providing a flexible work environment and
an excellent benefit package for our own employees. We have been a recipient of the prestigious
Alfred P. Sloan Award for Excellence in Workplace Flexibility for five consecutive years. WithinReach
strives to be dynamic in both our policies and our programs, providing our employees with a
supportive environment in which to work, as well as ample opportunities for growth and
advancement.
Position Summary
This is a full-time position (40 hours per week) within the Healthy Connections team. WithinReach's
Bilingual Outreach & Enrollment Specialists serve as the first contact point for Washington families and
individuals seeking information about public benefits and local resources. They connect families to food
assistance programs, health insurance and other resources through the Healthy Connections model,
which includes knowledge, screening, application assistance and follow-up. Outreach & Enrollment
Specialists work in a web-based integrated database with the website www.parenthelp123.org.
General Duties and Responsibilities:
 Provide screening, information, application assistance and follow-up services via phone to
families throughout Washington State
 Educate families about core WithinReach programs, including Basic Food (food stamps) and
health insurance
 Connect families to food and health resources within their communities, as well as other
programs
 Track client interactions using Profinder database
 Process applications from clients via phone and www.parenthelp123.org
 Follow up with clients via phone, email and/or text
 Provide customer service that is friendly, informed and responsive
 Provide support to WithinReach's entire statewide outreach unit, including in-person outreach in
King and Snohomish Counties
Skills Needed:
 Ability to interview individuals to obtain information, assess client needs and provide
appropriate information and referrals by telephone.
 Excellent listening, communication and problem solving skills.
 Strong interpersonal skills and demonstrated ability to work and communicate effectively
with people of diverse cultural, ethnic and socioeconomic backgrounds.
 Good time management and organizational skills, with ability to prioritize and multi-task.
 Ability to manage responsibilities independently and work with limited supervision, as well as
in a strong team environment.


Ability to learn and use computer programs to accomplish tasks and input client data
proficiently.
Taking initiative and having a positive attitude is essential.
Qualifications:
 AA in health and human services or related field required, BA preferred with 1-3 years
experience working directly with low-income families.
 Bilingual in Spanish language preferred.
 Strong knowledge of food and health assistance programs in Washington State, like Basic Food,
WIC, and Children's Medicaid. Knowledge of other community resources desirable.
The work for this position occurs at the WithinReach office during regular business hours, and offsite as directed by the supervisor.
Position Rating: Non-Exempt
Salary & Benefits:
Full-time (40 hours per week), starting at $17.68/per hour
Excellent benefits include fully paid medical coverage, vision and dental for employees and
generous coverage for spouses, partners and dependents. Paid time off and employer matched
retirement plan.
Job Location:
155 NE 100th Street, Suite 500, Seattle, WA 98125
Send Résumé and Cover Letter to: Allison Severinghaus, Accounting & Operations
Administrator: [email protected]
Closing Date:
Friday, July 31st, 2015, or until filled
WithinReach is an equal opportunity employer focused on cultivating a diverse workforce that
serves and reflects our community. All interested individuals are encouraged to apply.