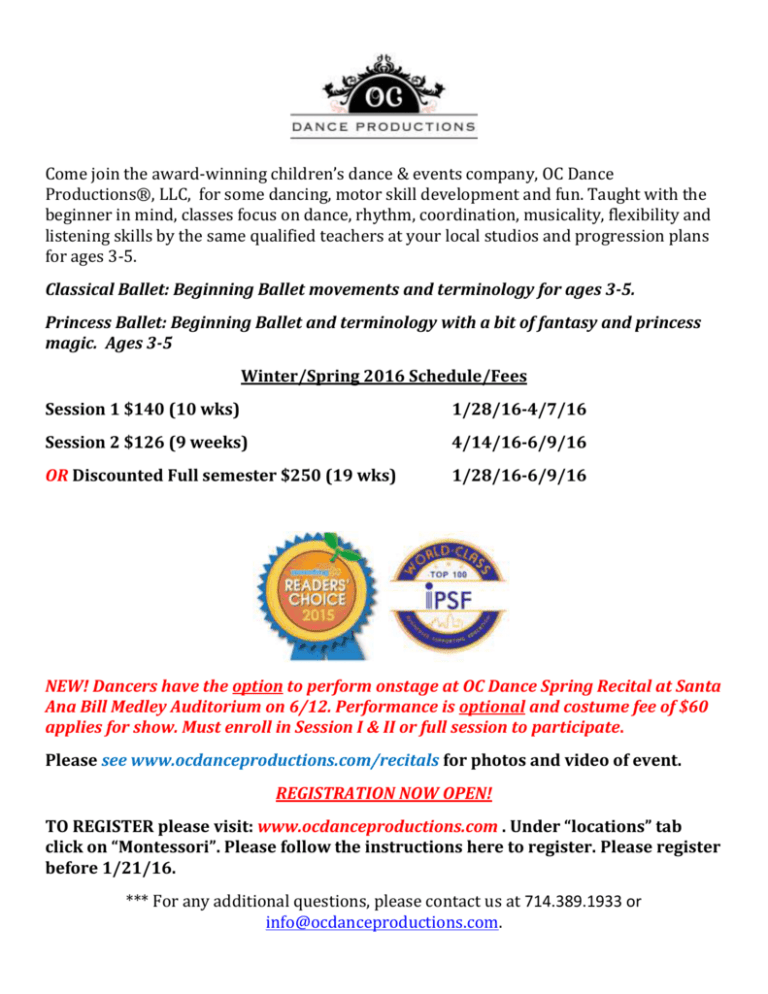 Come join the award-winning children's dance & events company, OC Dance
Productions®, LLC, for some dancing, motor skill development and fun. Taught with the
beginner in mind, classes focus on dance, rhythm, coordination, musicality, flexibility and
listening skills by the same qualified teachers at your local studios and progression plans
for ages 3-5.
Classical Ballet: Beginning Ballet movements and terminology for ages 3-5.
Princess Ballet: Beginning Ballet and terminology with a bit of fantasy and princess
magic. Ages 3-5
Winter/Spring 2016 Schedule/Fees
Session 1 $140 (10 wks)
1/28/16-4/7/16
Session 2 $126 (9 weeks)
4/14/16-6/9/16
OR Discounted Full semester $250 (19 wks)
1/28/16-6/9/16
NEW! Dancers have the option to perform onstage at OC Dance Spring Recital at Santa
Ana Bill Medley Auditorium on 6/12. Performance is optional and costume fee of $60
applies for show. Must enroll in Session I & II or full session to participate.
Please see www.ocdanceproductions.com/recitals for photos and video of event.
REGISTRATION NOW OPEN!
TO REGISTER please visit: www.ocdanceproductions.com . Under "locations" tab
click on "Montessori". Please follow the instructions here to register. Please register
before 1/21/16.
*** For any additional questions, please contact us at 714.389.1933 or
info@ocdanceproductions.com.