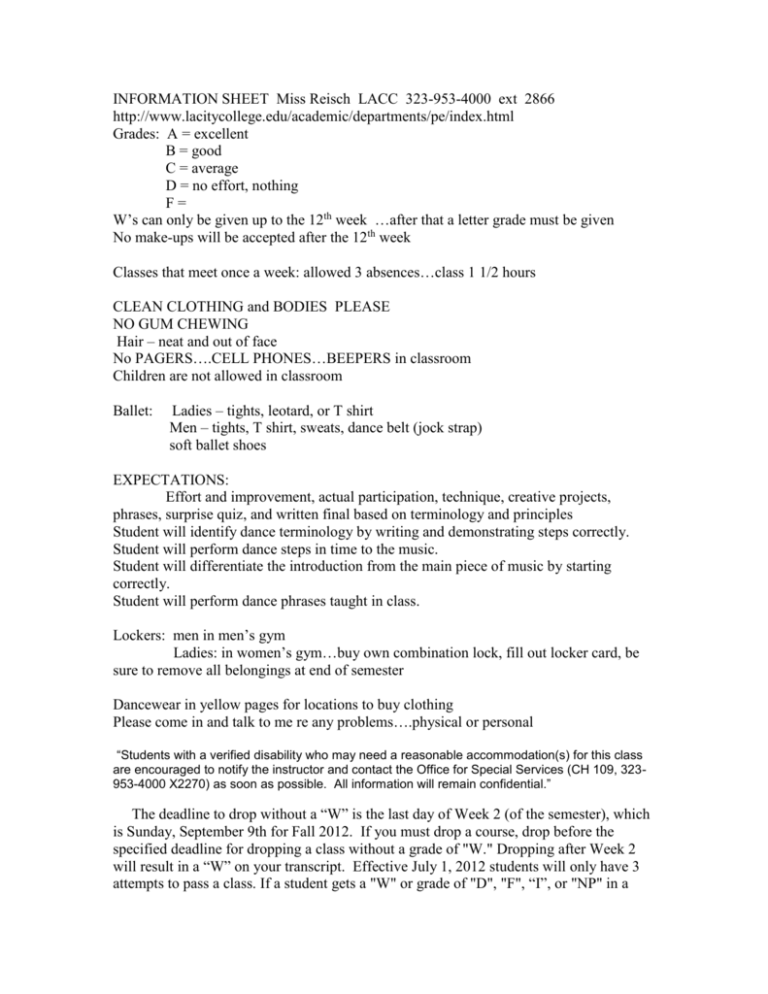 INFORMATION SHEET Miss Reisch LACC 323-953-4000 ext 2866
http://www.lacitycollege.edu/academic/departments/pe/index.html
Grades: A = excellent
B = good
C = average
D = no effort, nothing
F=
W's can only be given up to the 12th week …after that a letter grade must be given
No make-ups will be accepted after the 12th week
Classes that meet once a week: allowed 3 absences…class 1 1/2 hours
CLEAN CLOTHING and BODIES PLEASE
NO GUM CHEWING
Hair – neat and out of face
No PAGERS….CELL PHONES…BEEPERS in classroom
Children are not allowed in classroom
Ballet:
Ladies – tights, leotard, or T shirt
Men – tights, T shirt, sweats, dance belt (jock strap)
soft ballet shoes
EXPECTATIONS:
Effort and improvement, actual participation, technique, creative projects,
phrases, surprise quiz, and written final based on terminology and principles
Student will identify dance terminology by writing and demonstrating steps correctly.
Student will perform dance steps in time to the music.
Student will differentiate the introduction from the main piece of music by starting
correctly.
Student will perform dance phrases taught in class.
Lockers: men in men's gym
Ladies: in women's gym…buy own combination lock, fill out locker card, be
sure to remove all belongings at end of semester
Dancewear in yellow pages for locations to buy clothing
Please come in and talk to me re any problems….physical or personal
"Students with a verified disability who may need a reasonable accommodation(s) for this class
are encouraged to notify the instructor and contact the Office for Special Services (CH 109, 323953-4000 X2270) as soon as possible. All information will remain confidential."
The deadline to drop without a "W" is the last day of Week 2 (of the semester), which
is Sunday, September 9th for Fall 2012. If you must drop a course, drop before the
specified deadline for dropping a class without a grade of "W." Dropping after Week 2
will result in a "W" on your transcript. Effective July 1, 2012 students will only have 3
attempts to pass a class. If a student gets a "W" or grade of "D", "F", "I", or "NP" in a
class, that will count as an attempt. A student's past record of course attempts district
wide will also be considered. Therefore, before the end of Week 2 you should carefully
consider if you can reasonably manage this course with the other factors in your life (e.g.
work, family, course load). If you think you will not be able to complete this course with
a C or better, drop by Sunday, September 9th. If you have any questions, please don't
hesitate to talk to me. You may also see a counselor in the Counseling Center in AD 108.