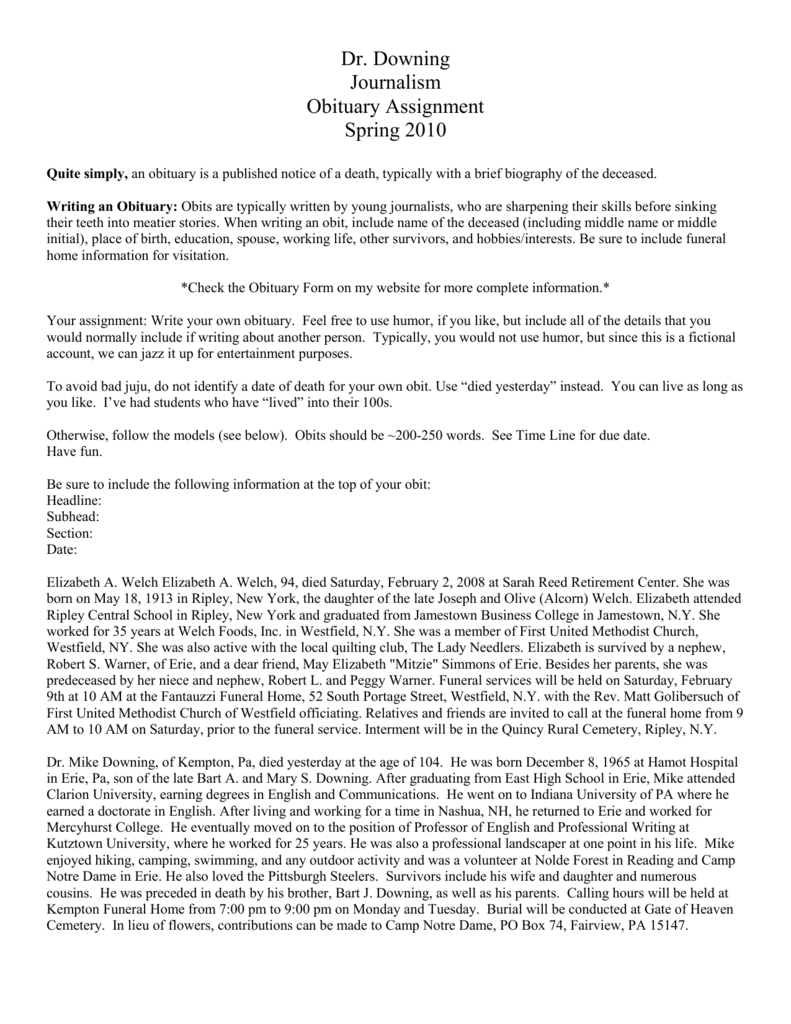 Dr. Downing
Journalism
Obituary Assignment
Spring 2010
Quite simply, an obituary is a published notice of a death, typically with a brief biography of the deceased.
Writing an Obituary: Obits are typically written by young journalists, who are sharpening their skills before sinking
their teeth into meatier stories. When writing an obit, include name of the deceased (including middle name or middle
initial), place of birth, education, spouse, working life, other survivors, and hobbies/interests. Be sure to include funeral
home information for visitation.
*Check the Obituary Form on my website for more complete information.*
Your assignment: Write your own obituary. Feel free to use humor, if you like, but include all of the details that you
would normally include if writing about another person. Typically, you would not use humor, but since this is a fictional
account, we can jazz it up for entertainment purposes.
To avoid bad juju, do not identify a date of death for your own obit. Use "died yesterday" instead. You can live as long as
you like. I've had students who have "lived" into their 100s.
Otherwise, follow the models (see below). Obits should be ~200-250 words. See Time Line for due date.
Have fun.
Be sure to include the following information at the top of your obit:
Headline:
Subhead:
Section:
Date:
Elizabeth A. Welch Elizabeth A. Welch, 94, died Saturday, February 2, 2008 at Sarah Reed Retirement Center. She was
born on May 18, 1913 in Ripley, New York, the daughter of the late Joseph and Olive (Alcorn) Welch. Elizabeth attended
Ripley Central School in Ripley, New York and graduated from Jamestown Business College in Jamestown, N.Y. She
worked for 35 years at Welch Foods, Inc. in Westfield, N.Y. She was a member of First United Methodist Church,
Westfield, NY. She was also active with the local quilting club, The Lady Needlers. Elizabeth is survived by a nephew,
Robert S. Warner, of Erie, and a dear friend, May Elizabeth "Mitzie" Simmons of Erie. Besides her parents, she was
predeceased by her niece and nephew, Robert L. and Peggy Warner. Funeral services will be held on Saturday, February
9th at 10 AM at the Fantauzzi Funeral Home, 52 South Portage Street, Westfield, N.Y. with the Rev. Matt Golibersuch of
First United Methodist Church of Westfield officiating. Relatives and friends are invited to call at the funeral home from 9
AM to 10 AM on Saturday, prior to the funeral service. Interment will be in the Quincy Rural Cemetery, Ripley, N.Y.
Dr. Mike Downing, of Kempton, Pa, died yesterday at the age of 104. He was born December 8, 1965 at Hamot Hospital
in Erie, Pa, son of the late Bart A. and Mary S. Downing. After graduating from East High School in Erie, Mike attended
Clarion University, earning degrees in English and Communications. He went on to Indiana University of PA where he
earned a doctorate in English. After living and working for a time in Nashua, NH, he returned to Erie and worked for
Mercyhurst College. He eventually moved on to the position of Professor of English and Professional Writing at
Kutztown University, where he worked for 25 years. He was also a professional landscaper at one point in his life. Mike
enjoyed hiking, camping, swimming, and any outdoor activity and was a volunteer at Nolde Forest in Reading and Camp
Notre Dame in Erie. He also loved the Pittsburgh Steelers. Survivors include his wife and daughter and numerous
cousins. He was preceded in death by his brother, Bart J. Downing, as well as his parents. Calling hours will be held at
Kempton Funeral Home from 7:00 pm to 9:00 pm on Monday and Tuesday. Burial will be conducted at Gate of Heaven
Cemetery. In lieu of flowers, contributions can be made to Camp Notre Dame, PO Box 74, Fairview, PA 15147.