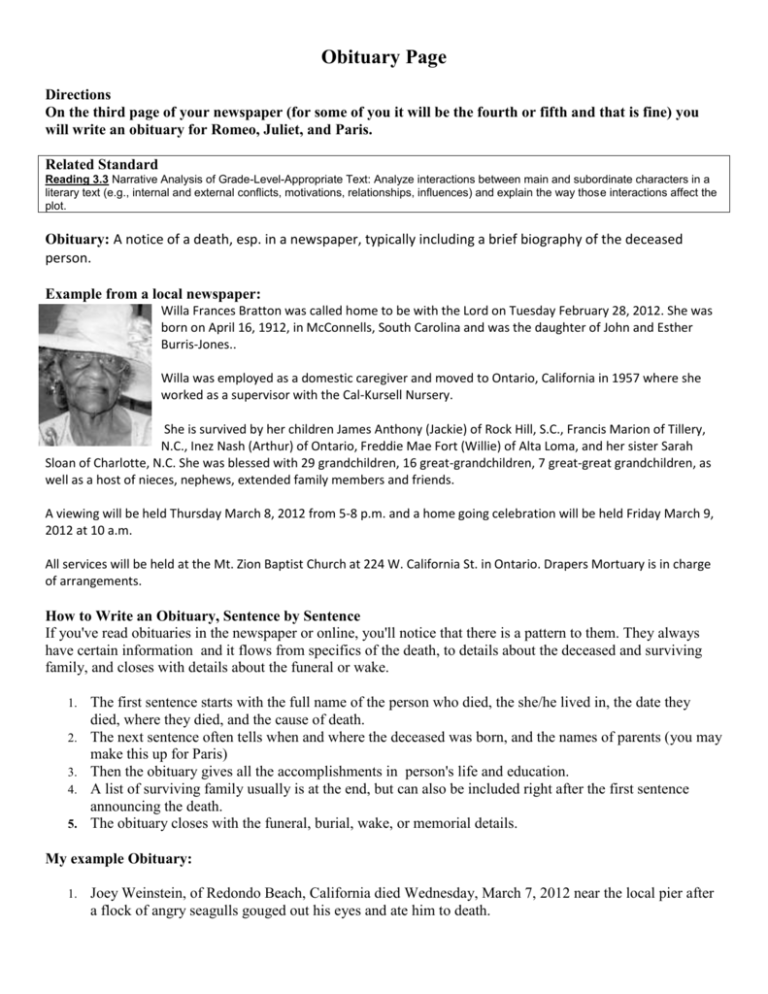 Obituary Page
Directions
On the third page of your newspaper (for some of you it will be the fourth or fifth and that is fine) you
will write an obituary for Romeo, Juliet, and Paris.
Related Standard
Reading 3.3 Narrative Analysis of Grade-Level-Appropriate Text: Analyze interactions between main and subordinate characters in a
literary text (e.g., internal and external conflicts, motivations, relationships, influences) and explain the way those interactions affect the
plot.
Obituary: A notice of a death, esp. in a newspaper, typically including a brief biography of the deceased
person.
Example from a local newspaper:
Willa Frances Bratton was called home to be with the Lord on Tuesday February 28, 2012. She was
born on April 16, 1912, in McConnells, South Carolina and was the daughter of John and Esther
Burris-Jones..
Willa was employed as a domestic caregiver and moved to Ontario, California in 1957 where she
worked as a supervisor with the Cal-Kursell Nursery.
She is survived by her children James Anthony (Jackie) of Rock Hill, S.C., Francis Marion of Tillery,
N.C., Inez Nash (Arthur) of Ontario, Freddie Mae Fort (Willie) of Alta Loma, and her sister Sarah
Sloan of Charlotte, N.C. She was blessed with 29 grandchildren, 16 great-grandchildren, 7 great-great grandchildren, as
well as a host of nieces, nephews, extended family members and friends.
A viewing will be held Thursday March 8, 2012 from 5-8 p.m. and a home going celebration will be held Friday March 9,
2012 at 10 a.m.
All services will be held at the Mt. Zion Baptist Church at 224 W. California St. in Ontario. Drapers Mortuary is in charge
of arrangements.
How to Write an Obituary, Sentence by Sentence
If you've read obituaries in the newspaper or online, you'll notice that there is a pattern to them. They always
have certain information and it flows from specifics of the death, to details about the deceased and surviving
family, and closes with details about the funeral or wake.
1.
2.
3.
4.
5.
The first sentence starts with the full name of the person who died, the she/he lived in, the date they
died, where they died, and the cause of death.
The next sentence often tells when and where the deceased was born, and the names of parents (you may
make this up for Paris)
Then the obituary gives all the accomplishments in person's life and education.
A list of surviving family usually is at the end, but can also be included right after the first sentence
announcing the death.
The obituary closes with the funeral, burial, wake, or memorial details.
My example Obituary:
1.
Joey Weinstein, of Redondo Beach, California died Wednesday, March 7, 2012 near the local pier after
a flock of angry seagulls gouged out his eyes and ate him to death.
2.
3.
4.
5.
6.
Born in Ridgefield, Connecticut, January 27, 1988, to Diane Warden and Daniel , Joey was an excellent
student and a talented artist; he received his Bachelor of Arts in 2006 from UCLA.
He went on to teach English at Cindy and Bill Simon Technology Academy High School where he
touched many children's lives and made them smile with his unflattering and outrageous moustache.
He was an avid outdoor adventurer who enjoyed hiking, camping, and scuba diving. He chose to live out
his days in Redondo Beach because he loves the beach atmosphere and spends most of his free time
down by the pier. n
Joey is survived his girlfriend, Liz, his brother, James, his sister, Natalie, his parents Diane and Dan, and
his wonderful students at CBS High School.
The funeral service will be held at 2:00 March 15, 2012 at In-N-Out because he would have wanted
people to eat and relax in honor of him.
Sentence Starters
1. (character name), from (name of city), died on Thursday, March 8th, (year of your paper), at/near (write where
the character died and how she/he died).
2. Born in (city where character was born), on (make up a birthday for the character), to (name of parents), this
character was (describe the most important things the character did in the play).
3. She/he was a (describe the character's job).
4. She/he was (describe the character's personality).
5. (Character name) is survived by (list all the people who are still alive from the character's family)
6. The funeral service will be held on (date of funeral), at (place of funeral) so that (make final closing).