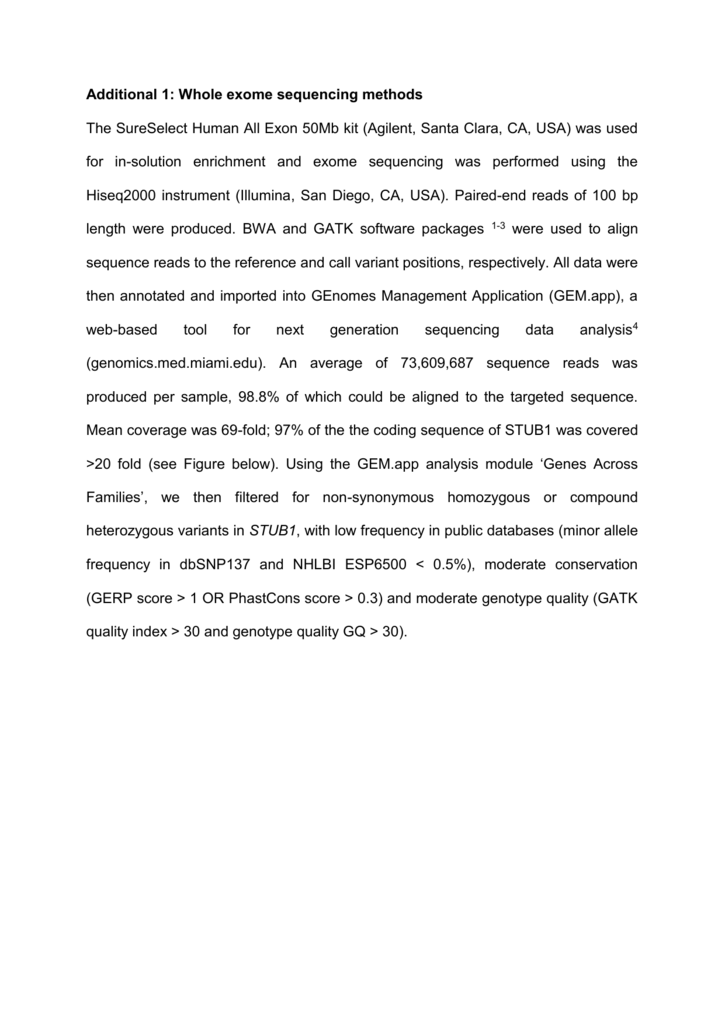 Additional 1: Whole exome sequencing methods
The SureSelect Human All Exon 50Mb kit (Agilent, Santa Clara, CA, USA) was used
for in-solution enrichment and exome sequencing was performed using the
Hiseq2000 instrument (Illumina, San Diego, CA, USA). Paired-end reads of 100 bp
length were produced. BWA and GATK software packages
1-3
were used to align
sequence reads to the reference and call variant positions, respectively. All data were
then annotated and imported into GEnomes Management Application (GEM.app), a
web-based
tool
for
next
generation
sequencing
data
analysis4
(genomics.med.miami.edu). An average of 73,609,687 sequence reads was
produced per sample, 98.8% of which could be aligned to the targeted sequence.
Mean coverage was 69-fold; 97% of the the coding sequence of STUB1 was covered
>20 fold (see Figure below). Using the GEM.app analysis module 'Genes Across
Families', we then filtered for non-synonymous homozygous or compound
heterozygous variants in STUB1, with low frequency in public databases (minor allele
frequency in dbSNP137 and NHLBI ESP6500 < 0.5%), moderate conservation
(GERP score > 1 OR PhastCons score > 0.3) and moderate genotype quality (GATK
quality index > 30 and genotype quality GQ > 30).
Coverage of STUB1 by whole exome sequencing in a large-scale screening of various
neurodegenerative phenotypes. The plot represents the average coverage across these
samples. The alternating green and blue lines represent different exons in the gene. Please
note the logarithmic scaling of the y-axis.