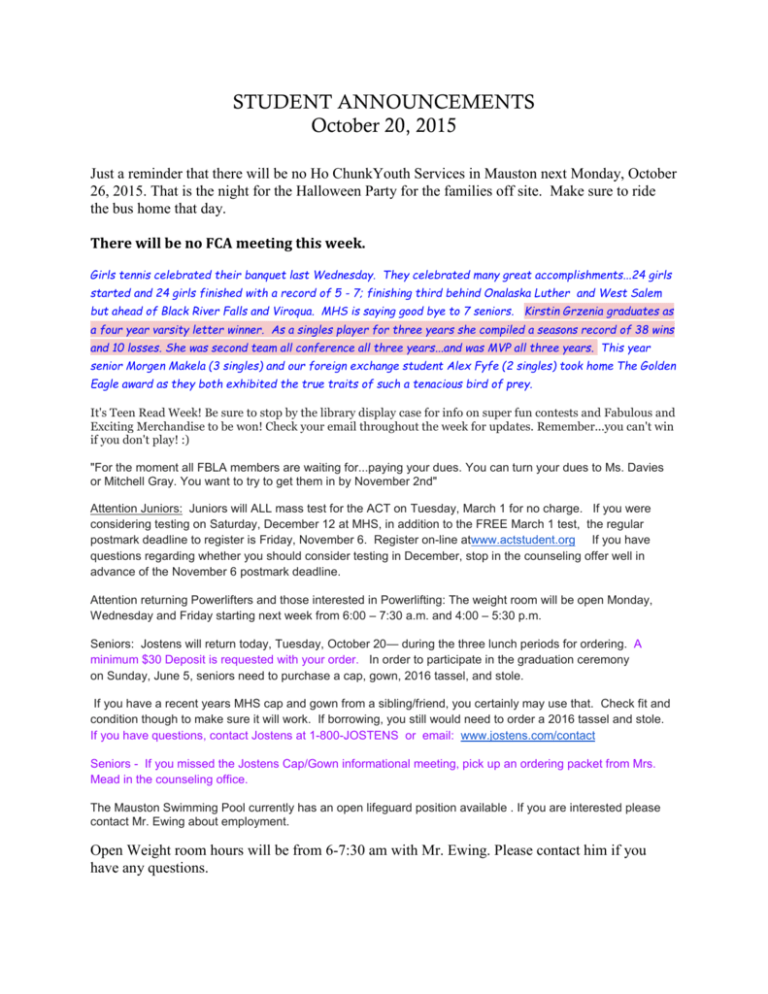 STUDENT ANNOUNCEMENTS
October 20, 2015
Just a reminder that there will be no Ho ChunkYouth Services in Mauston next Monday, October
26, 2015. That is the night for the Halloween Party for the families off site. Make sure to ride
the bus home that day.
There will be no FCA meeting this week.
Girls tennis celebrated their banquet last Wednesday. They celebrated many great accomplishments...24 girls
started and 24 girls finished with a record of 5 - 7; finishing third behind Onalaska Luther and West Salem
but ahead of Black River Falls and Viroqua. MHS is saying good bye to 7 seniors. Kirstin Grzenia graduates as
a four year varsity letter winner. As a singles player for three years she compiled a seasons record of 38 wins
and 10 losses. She was second team all conference all three years...and was MVP all three years. This year
senior Morgen Makela (3 singles) and our foreign exchange student Alex Fyfe (2 singles) took home The Golden
Eagle award as they both exhibited the true traits of such a tenacious bird of prey.
It's Teen Read Week! Be sure to stop by the library display case for info on super fun contests and Fabulous and
Exciting Merchandise to be won! Check your email throughout the week for updates. Remember...you can't win
if you don't play! :)
"For the moment all FBLA members are waiting for...paying your dues. You can turn your dues to Ms. Davies
or Mitchell Gray. You want to try to get them in by November 2nd"
Attention Juniors: Juniors will ALL mass test for the ACT on Tuesday, March 1 for no charge. If you were
considering testing on Saturday, December 12 at MHS, in addition to the FREE March 1 test, the regular
postmark deadline to register is Friday, November 6. Register on-line atwww.actstudent.org If you have
questions regarding whether you should consider testing in December, stop in the counseling offer well in
advance of the November 6 postmark deadline.
Attention returning Powerlifters and those interested in Powerlifting: The weight room will be open Monday,
Wednesday and Friday starting next week from 6:00 – 7:30 a.m. and 4:00 – 5:30 p.m.
Seniors: Jostens will return today, Tuesday, October 20— during the three lunch periods for ordering. A
minimum $30 Deposit is requested with your order. In order to participate in the graduation ceremony
on Sunday, June 5, seniors need to purchase a cap, gown, 2016 tassel, and stole.
If you have a recent years MHS cap and gown from a sibling/friend, you certainly may use that. Check fit and
condition though to make sure it will work. If borrowing, you still would need to order a 2016 tassel and stole.
If you have questions, contact Jostens at 1-800-JOSTENS or email: www.jostens.com/contact
Seniors - If you missed the Jostens Cap/Gown informational meeting, pick up an ordering packet from Mrs.
Mead in the counseling office.
The Mauston Swimming Pool currently has an open lifeguard position available . If you are interested please
contact Mr. Ewing about employment.
Open Weight room hours will be from 6-7:30 am with Mr. Ewing. Please contact him if you
have any questions.
College Rep Visits to MHS:
Wed. November 4 - Panache Academy of Beauty of Lake Delton will be in the lunchroom during the
three noon hours for interested students.
UW-LaCrosse Thursday, November 5 at 2:30 p.m.
See Mrs. Mead for a pass if you are interested in seeing these college representatives.
Seniors Scholarships:
Horatio Alger Scholarship Program- for seniors pursuing a 4-year college degree and financial need
($55,000 or less adjusted gross family income), involvement in co-curricular and community activities Apply
online by October 25
$3000 Kohl Excellence Scholarship—
Seniors will be evaluated on their leadership, citizenship, school and community involvement and academic
achievement. Pick up applications from Mrs. Mead. Only the MHS two finalists need to obtain the three
recommendation letters.
Apply by Wed. October 28..
Coca-Cola Scholarships-
Coca-Cola is awarding 150 merit based scholarships to outstanding high
school seniors with a 3.0 minimum GPA. Apply by October 31. on-line.