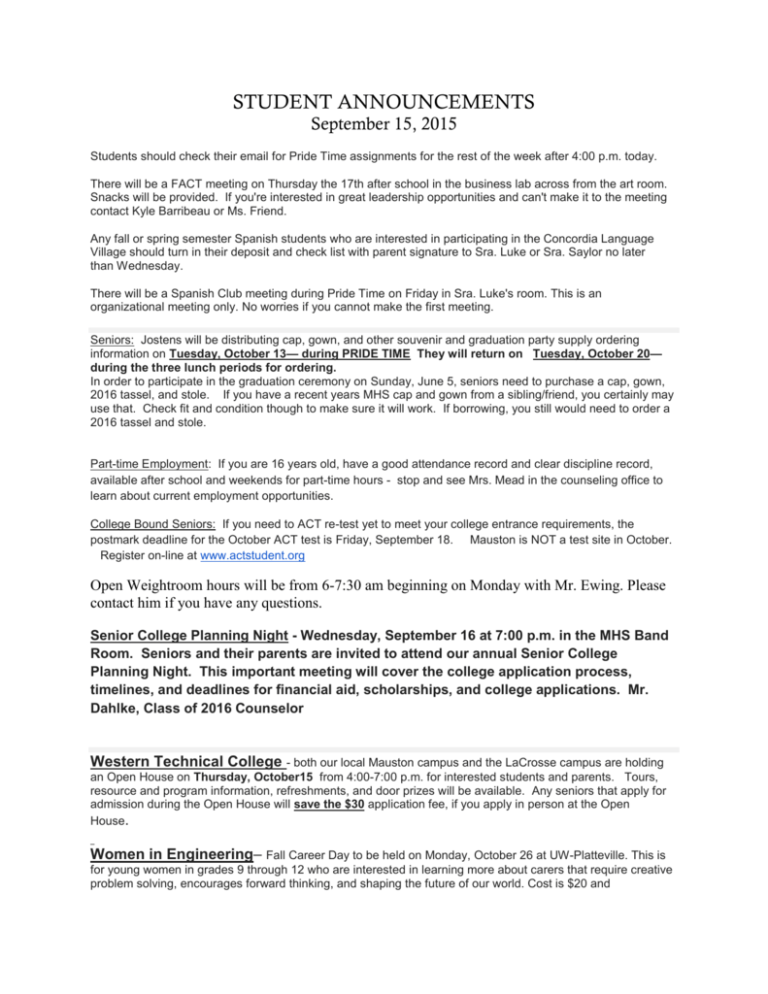 STUDENT ANNOUNCEMENTS
September 15, 2015
Students should check their email for Pride Time assignments for the rest of the week after 4:00 p.m. today.
There will be a FACT meeting on Thursday the 17th after school in the business lab across from the art room.
Snacks will be provided. If you're interested in great leadership opportunities and can't make it to the meeting
contact Kyle Barribeau or Ms. Friend.
Any fall or spring semester Spanish students who are interested in participating in the Concordia Language
Village should turn in their deposit and check list with parent signature to Sra. Luke or Sra. Saylor no later
than Wednesday.
There will be a Spanish Club meeting during Pride Time on Friday in Sra. Luke's room. This is an
organizational meeting only. No worries if you cannot make the first meeting.
Seniors: Jostens will be distributing cap, gown, and other souvenir and graduation party supply ordering
information on Tuesday, October 13— during PRIDE TIME They will return on Tuesday, October 20—
during the three lunch periods for ordering.
In order to participate in the graduation ceremony on Sunday, June 5, seniors need to purchase a cap, gown,
2016 tassel, and stole. If you have a recent years MHS cap and gown from a sibling/friend, you certainly may
use that. Check fit and condition though to make sure it will work. If borrowing, you still would need to order a
2016 tassel and stole.
Part-time Employment: If you are 16 years old, have a good attendance record and clear discipline record,
available after school and weekends for part-time hours - stop and see Mrs. Mead in the counseling office to
learn about current employment opportunities.
College Bound Seniors: If you need to ACT re-test yet to meet your college entrance requirements, the
postmark deadline for the October ACT test is Friday, September 18. Mauston is NOT a test site in October.
Register on-line at www.actstudent.org
Open Weightroom hours will be from 6-7:30 am beginning on Monday with Mr. Ewing. Please
contact him if you have any questions.
Senior College Planning Night - Wednesday, September 16 at 7:00 p.m. in the MHS Band
Room. Seniors and their parents are invited to attend our annual Senior College
Planning Night. This important meeting will cover the college application process,
timelines, and deadlines for financial aid, scholarships, and college applications. Mr.
Dahlke, Class of 2016 Counselor
Western Technical College - both our local Mauston campus and the LaCrosse campus are holding
an Open House on Thursday, October15 from 4:00-7:00 p.m. for interested students and parents. Tours,
resource and program information, refreshments, and door prizes will be available. Any seniors that apply for
admission during the Open House will save the $30 application fee, if you apply in person at the Open
House.
Women in Engineering– Fall Career Day to be held on Monday, October 26 at UW-Platteville. This is
for young women in grades 9 through 12 who are interested in learning more about carers that require creative
problem solving, encourages forward thinking, and shaping the future of our world. Cost is $20 and
students/parents would be responsible to transport their child to UW-Platteville. Register by October 11. A
brochure is available in the counseling office.
Seniors Scholarships:
Juneau County Peace Scholarship—
Seniors design and execute a peacemaking project in their community. Awards range from $200-$1000 per
project. Pick up an interest sheet from Mrs. Mead by Friday, October 16 You will have until March to
complete your project.
$3000 Kohl Excellence Scholarship—
Seniors will be evaluated on their leadership, citizenship, school and community involvement and academic
achievement. Pick up applications from Mrs. Mead. Only the MHS two finalists need to obtain the three
recommendation letters.
Apply by Wed. October 28..
Coca-Cola Scholarships-
Coca-Cola is awarding 150 merit based scholarships to outstanding high
school seniors with a 3.0 minimum GPA. Apply by October 31. on-line.
Horatio Alger Scholarship Program- for seniors pursuing a 4-year college degree and financial need
($55,000 or less adjusted gross family income), involvement in co-curricular and community activities Apply
online by October 25
AES Engineering Scholarship– AES Engineering is pleased to be able to offer scholarships to
motivated students to help in the furthering of their education. Apply on-line by October 7.
College Reps coming to MHS:
Ripon College—Friday, September 18—8:45 a.m.
See Mrs. Mead for a pass ahead of time if interested.