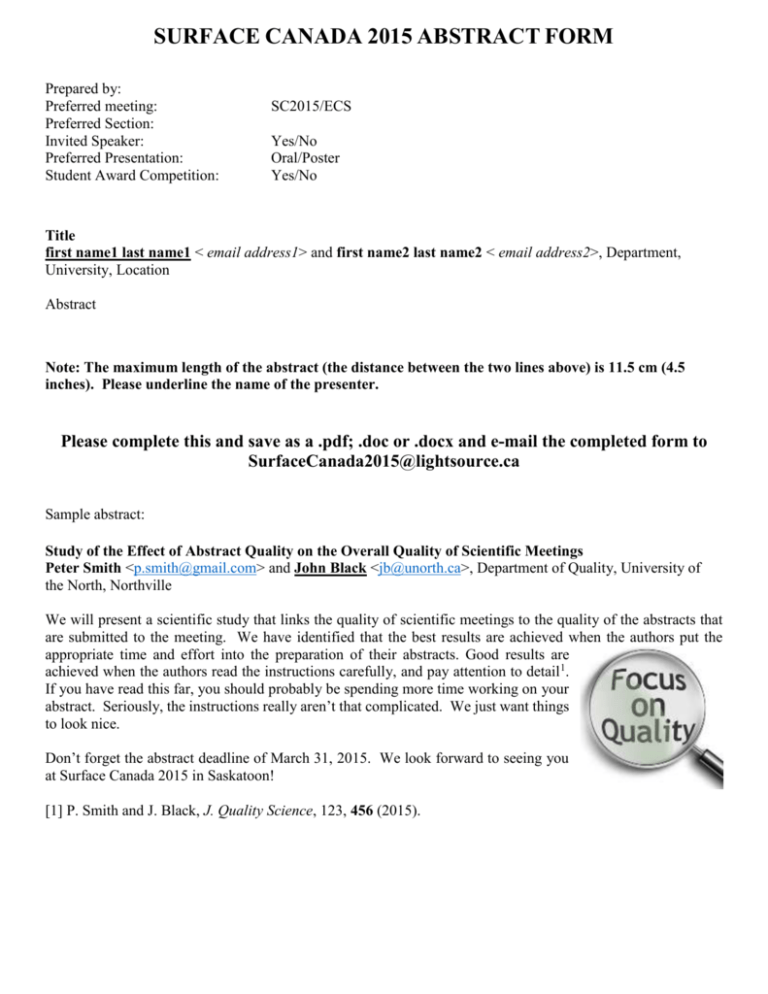 SURFACE CANADA 2015 ABSTRACT FORM
Prepared by:
Preferred meeting:
Preferred Section:
Invited Speaker:
Preferred Presentation:
Student Award Competition:
SC2015/ECS
Yes/No
Oral/Poster
Yes/No
Title
first name1 last name1 < email address1> and first name2 last name2 < email address2>, Department,
University, Location
Abstract
Note: The maximum length of the abstract (the distance between the two lines above) is 11.5 cm (4.5
inches). Please underline the name of the presenter.
Please complete this and save as a .pdf; .doc or .docx and e-mail the completed form to
[email protected]
Sample abstract:
Study of the Effect of Abstract Quality on the Overall Quality of Scientific Meetings
Peter Smith <[email protected]> and John Black <[email protected]>, Department of Quality, University of
the North, Northville
We will present a scientific study that links the quality of scientific meetings to the quality of the abstracts that
are submitted to the meeting. We have identified that the best results are achieved when the authors put the
appropriate time and effort into the preparation of their abstracts. Good results are
achieved when the authors read the instructions carefully, and pay attention to detail 1.
If you have read this far, you should probably be spending more time working on your
abstract. Seriously, the instructions really aren't that complicated. We just want things
to look nice.
Don't forget the abstract deadline of March 31, 2015. We look forward to seeing you
at Surface Canada 2015 in Saskatoon!
[1] P. Smith and J. Black, J. Quality Science, 123, 456 (2015).