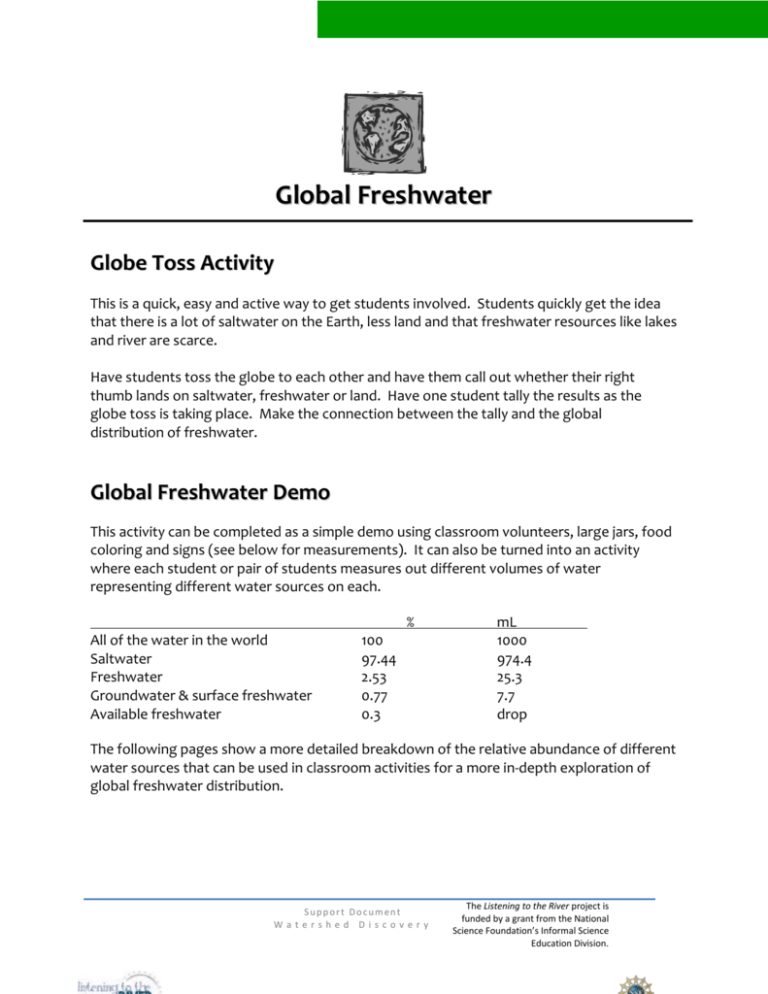 Global Freshwater
Globe Toss Activity
This is a quick, easy and active way to get students involved. Students quickly get the idea
that there is a lot of saltwater on the Earth, less land and that freshwater resources like lakes
and river are scarce.
Have students toss the globe to each other and have them call out whether their right
thumb lands on saltwater, freshwater or land. Have one student tally the results as the
globe toss is taking place. Make the connection between the tally and the global
distribution of freshwater.
Global Freshwater Demo
This activity can be completed as a simple demo using classroom volunteers, large jars, food
coloring and signs (see below for measurements). It can also be turned into an activity
where each student or pair of students measures out different volumes of water
representing different water sources on each.
%
All of the water in the world
Saltwater
Freshwater
Groundwater & surface freshwater
Available freshwater
100
97.44
2.53
0.77
0.3
mL
1000
974.4
25.3
7.7
drop
The following pages show a more detailed breakdown of the relative abundance of different
water sources that can be used in classroom activities for a more in-depth exploration of
global freshwater distribution.
Support Document
Watershed Discovery
The Listening to the River project is
funded by a grant from the National
Science Foundation's Informal Science
Education Division.